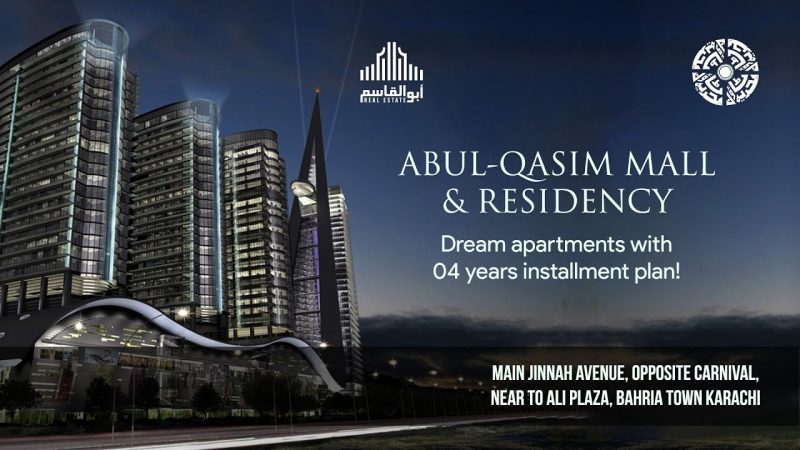 Abul Qasim Mall and Residency
Abul Qasim Mall and Residency: New Opportunities for Investors
The Abul Qasim Mall and Residency are situated near the main gate of Bahria Town Karachi. The prime location of the mall makes it a new opportunity for investors looking to buy property in Bahria Town Karachi.
The Abul Qasim Mall and Residency is a commercial opportunity for shop and business owners. You may also purchase apartments for living and residential purposes. The mall is equipped with a proper food court, shopping arcade, residential wing for apartments and parking areas. This allows the prices of the property available for buying to rise steadily and consistently.
There are different apartment sizes and configurations for different kinds of investors. Whether you are looking to invest for a short-term period, long-term purposes this is a great opportunity from trusted and well-reputed developers. These apartments are fit for rental and personal usage. You may choose from a 2-bed, a 3-bed, and a 4-bed apartment.
The developers of this project have developed and fulfilled similar projects with Baria Town Karachi and Bahria Town Rawalpindi as well in the past.
Many people suffering from disputed files that were in conflicting territories in Bahria Town Karachi have been able to exchange their files with shops, flats, and offices in this mall. The towers are three in total. The Abul Qasim Mall and Residency are helping in the adjustment of the disputed Bahria Town Karachi Sports City, Paradise and Old City files into authentic and fully legal properties within the mall.
One of the most attractive features of this project is its credibility. The developers have a list of well-delivered projects in Bahria town Karachi and Rawalpindi accredited to their name. The developers also have a decent reputation for delivering their projects before time.
The triple towers are divided into different sectors. The apartment sizes vary from 1100 sqft to 1750 sqft. These come with different premium add ons. Investors willing to add greater value in their apartments can select choices with the terrace, servant corner, and extra living areas attached.
You can look into the prices and the installments plans in greater detail below. The down payment of 25% is required initially. Possession will be given after a further 25% payment. There is a 16 installment plan available for interested buyers as of now. Car parking payment is separate as usual for similar malls and arcades.
If you are looking to adjust your file and you have already missed the readjustment policy of Bahria Town Karachi, then this can be a final call for you. Other interested investors and prospects buyers are welcomed too.
Note: Please click the icon below to download this price chart.