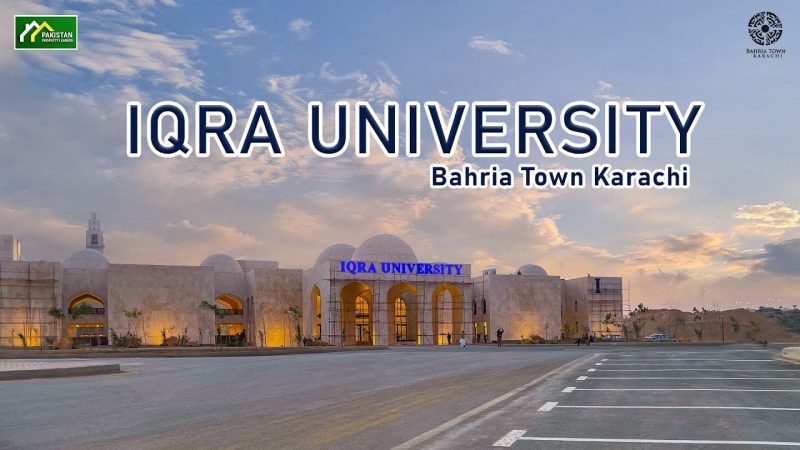 Admissions to Iqra University Bahria Town Karachi
A demand-oriented workforce struggling with professional excellence will bring about a knowledge revolution in a developing nation, such as Pakistan. IQRA University has many campuses in Pakistan and collaborates with international universities.
Location:
Right beside the Grand Jamia Mosque, over 200 acres, the IU campus in Bahria City, Karachi, is being built to accommodate about 800,000 people. This puts the university inside Precinct 12, a 10-minute drive from society's main gate.
Courses:
They offer a broad variety of foreign PhD programs in Management Sciences, Computer Sciences and Engineering, Education and Learning Sciences, Media Sciences, and Fashion Design, as well as graduate and post-graduate courses. At all campuses, with lots of equipment, they actively aspire to build a cosy learning atmosphere.
Facilities:
At all Campuses for Comprehensive Academic Training, technologically equipped classrooms, high-tech computer laboratories with internet facilities and a rich Knowledge Resource Centre are built. Students are often provided with special facilities, such as placement, transport and accommodation, etc.
The main activities of the Department of Health Sciences at Iqra University are ageing awareness, environmental assisted living, education, study and advancement inside Physical Therapy. Collectively, each of these fields contributes to the diversity of skills required to address potential challenges in the health sciences The medical and nursing school of Iqra University will feature a patient-centered curriculum, elective courses, and early exposure to a clinical and hospital environment.
Admission updates:
A lot of individuals are using this great platform to get admission to one of Pakistan's renowned universities. Admission for different fields has already been declared.
Bahria Town is the perfect residence for families, along with many other lifestyle-based facilities and entertainment opportunities it offers. If you've considered investing in a plot in Bahria City, Karachi, stay tuned to the Pakistan property leaders where we'll cover all the latest societal updates.