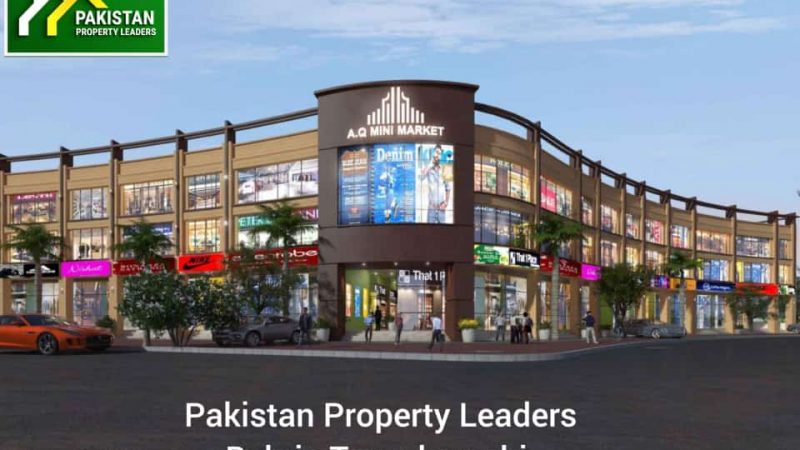 AQ Mini Market Bahria Town Karachi
The past few years have seen a complete commercial boom in Bahria Town's commercial plots and commercial plazas. Due to their huge potential in the eyes of investors, newly developed projects are being created and are being sold off very quickly. Property brokers from over Pakistan are actively engaging in helping clients buy, rent, or sell commercial plazas or plots in the Bahria Town neighborhoods. This is only possible because they are aware of the potential benefits and gains that these business endeavors may provide.
To draw potential customers with the market's rising prices, Bahria Town had been routinely offering new business districts. Rates for these commercial projects are likewise offered in all price ranges. These business enterprises are easily accessible to investors from all income ranges.
About Developers:
The most prosperous real estate venture in Karachi is Bahria Town. Real estate investors in Bahria Town, Karachi, have a fantastic investment opportunity thanks to Abul Qasim Real Estate & Builders. The project is being worked on by a reputable function Object, and it is already nearing completion as it stands on its grey structure.
The Bahria Communities in these cities have numerous different commercial projects in areas that make it easy for customers to shop, as can be seen over time. Sale/purchase in Bahria Commercial Shops and Plaza have been one of the largest avenues for investors in Karachi, Lahore, Islamabad, and Rawalpindi as well as for overseas investors.
Major Insights To AQ Mini Market:
AQ mini market, also known as the Abul Qasim mini market, would have a total size of around 87,120 square feet, 3 levels (ground + first + second), and about 1300 retail outlets. The largest supermarket, AQ, offers a variety of rental spaces, including areas for mobile and gadgets, clothing, jewelry, and accessories, as well as entertainment and recreational activities. The Imtiaz Super Store, the Bahria Town Hospital, and the Bahria Town residential apartments are all within proximity to the AQ supermarket.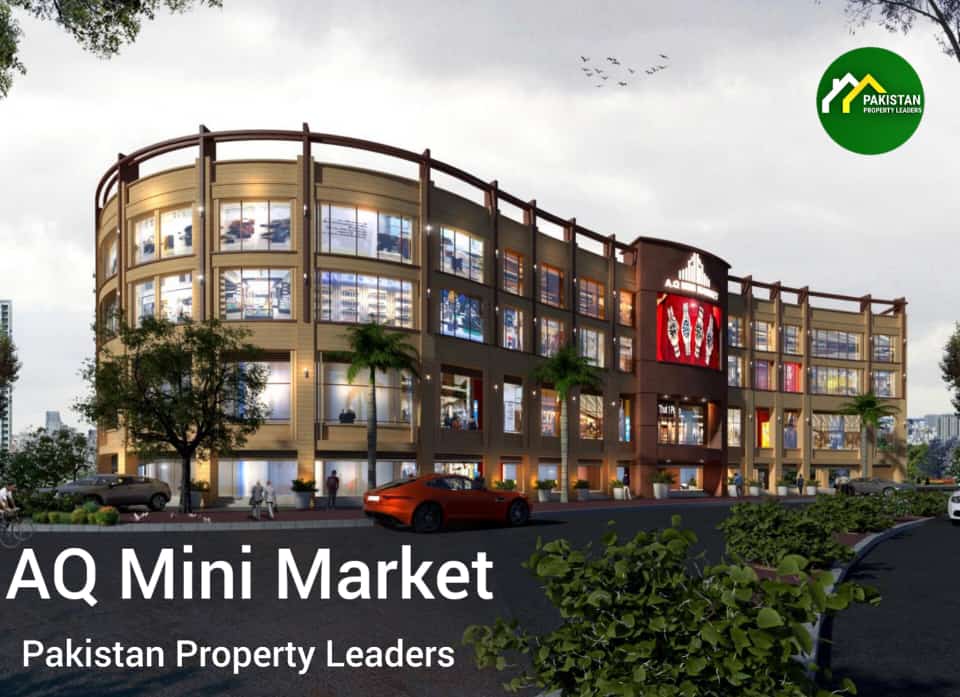 Given its specifications and aims, the investments are justified. In addition to the shop floors, the supermarket has a basement parking lot with room for 370 cars and a ground-floor parking lot that can accommodate 380 cars. Customers and store employees have three ways to enter the supermarket thanks to its layout.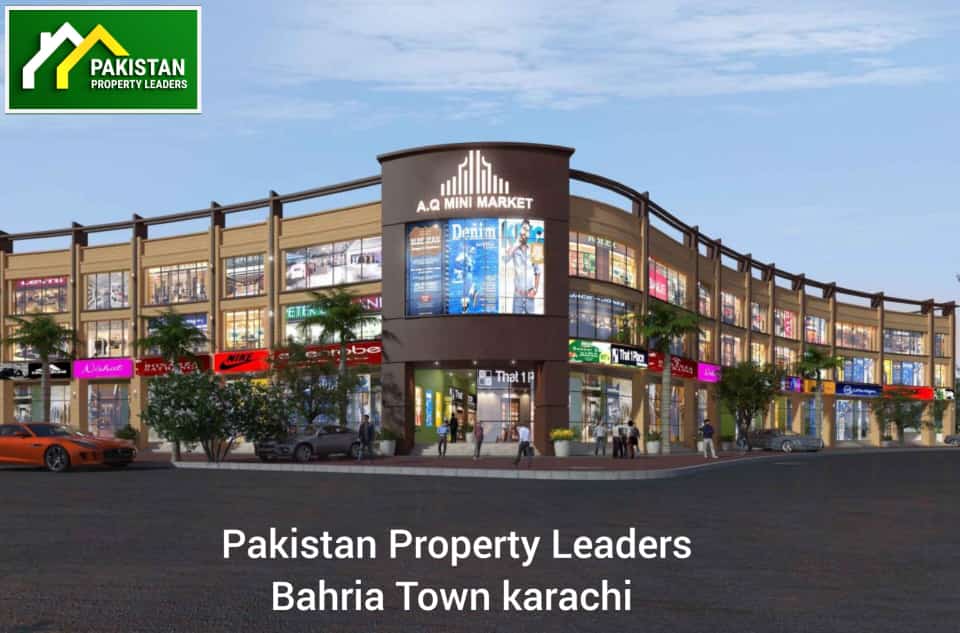 Main Features AQ Mini Market
4 stories of building
lower ground
ground floor
first floor
second floor
masjid on the rooftop
location hills commercial opposite midway commercial
total units 600 approx.
parking per unit 2,50, 000. per shop on all floor
Need Of Commercial Projects Like AQ Mini Market
Bahria Town, a place of style and refinement, contains some of the best residences and business districts you can find in Pakistan. Each one combines modern conveniences with leisure to provide residents a chance to enjoy an upbeat lifestyle in tranquil surroundings. Huge expanses of verdant fields, profusions of fruit trees, and a region covered in a covering of yellow mustard blossoms, juxtaposed with the abrupt absence of electricity and contemporary conveniences, have undoubtedly prolonged our desire to live in the country.
Choosing between our demanding modern lifestyles and the goodness of the natural bounty has always been a challenge. That tranquil place making our wishes come true is Bahria Town.
Payment Plan Of AQ Mini Market
Lower ground 16 lac
Lower ground outer 25 lac
Ground floor 22 lac
Ground floor outer 40 lac
First floor 16 lac
The second floor is 14 lac
PER UNIT
Down payment 5 Dec 2022
1st installment 10 June 23
2nd installment 10 September 23
3rd installment 10 December 23
4th installment 10 Mar 24
5th installment 10 June 24
6th installment 10 September 24
7th installment 10 Dec 24
8th installment 10 Mar 25
Possession 10 June 2025
Importance Of Projects Like AQ Mini Market
New Businesses:
For those looking to launch new businesses in this society, these commercial ventures are best. Commercial plazas and stores are getting a lot of attention and can easily attract new clients. The owners of businesses stand to gain greatly from this.
Employment Creation:
The commercial plots and plazas in Bahria Town are creating a lot of jobs and are assisting a lot of individuals in earning money to support themselves and their families. Increased employment also improves workers' quality of life. Within their means, individuals can easily afford the things they want. This advantageous characteristic of job creation also contributes to the stability of the economy.
An Increase In The Area's Value:
Commercial establishments in Bahria Town have traditionally raised the value of the neighborhood in which they are situated. For instance, Sector C's business area is more valuable than Sector C's apartment buildings in Bahria Town Lahore. As new firms meet the needs of the local populace, their value always rises.
Income Potential:
Compared to investments in the residential sector, those in the commercial sector (stores and plazas) are believed to yield higher returns. Commercial stores and plazas often produce 7%–13% more revenue than investments in the housing sector, depending on the region. Although there is more possibility for ROI, this income is just as safe and secure as the other industry.
The Great Investment Opportunity
With shops of all sizes and categories, the AQ mini market offers investment options for everyone. The project payment schedule is cleverly created to avoid taxing investors' funds. The AQ mini market offers a simple payment schedule that requires a small down payment and periodic installment payments to meet the cost.
Due to its proximity to the Bahria residential apartments, which draw thousands of families within a 5-kilometer radius, there are stores selling clothing, electronics, food, and other small businesses for accessories, among other things. The building process for AQ mini market is moving very quickly and will soon be finished. To receive a good deal, be sure to reserve your interest right away.
The retail spaces in Bahria Town Karachi's AQ Mini Market could be a wise investment. They provide small businesses with profitable prospects to run a long-running food, apparel, accessory, or gadget-related enterprise.
Summing Up
Abul Qasim mini market serves all the other housing societies located on the main highway in the vicinity of Bahria Town Karachi, in addition to its local inhabitants and investors. As a result, Precincts 17 and 18 have 1000 and 500-square-yard dwellings respectively. It indicates that there will be affluent homes nearby, creating a significant market that may be tapped into by offering daily necessities.