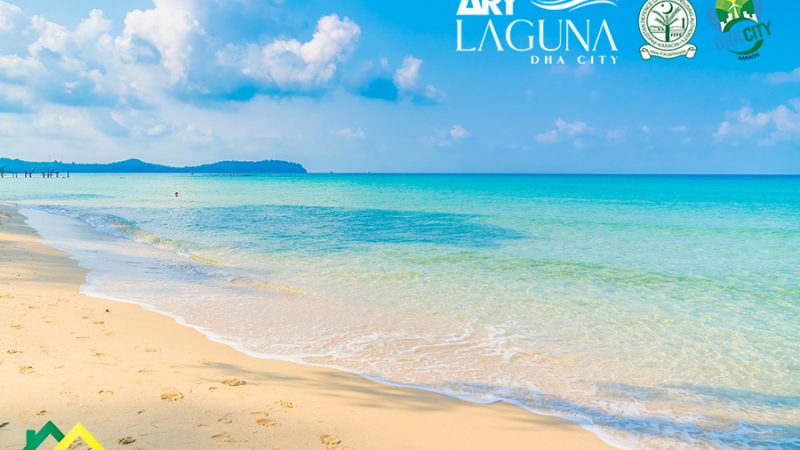 ARY Laguna DHA City Karachi – Pakistan's First Artificial Beach
Ary Laguna is Pakistan's first man-made beach and resort. The beach is going to be accompanied by a residential town. This is named as the ARY Laguna DHA City Karachi.
This is away from the polluted and dirty natural beaches of Karachi that have lost their beauty and value. It is carefully planned and going to be administered as a premium living space for contemporary individuals, investors, and families. Karachi is an industrial hub. It is a cornerstone of Pakistan's overall economic performance. However, the city is layered with multiple layers of pollution, disturbance and scenic misery relating to urban issues. ARY Laguna is designed to be away from all of those stress factors, depressing issues and derailing pollution.
Dirt, traffic, pressures, and crowds can lead to major stress in today's fast-moving world. This is why something as premium and as controlled as a man-made beach is essential. The housing project around the beach is going to be a great addition to the scenic landscape of Karachi. Although this is a first of its kind project. There is nothing like it in the whole country or region.
This private beach is the brainchild of ARY group's CEO and president Salman Iqbal. Salman Iqbal also owns Karachi Kings, the PSL team from Karachi. It reflects the innovation and forward-thinking on his part pushing this project to become one of Pakistan's most prime areas to live in.
The concept of artificial beaches is relatively new. One of the most common and popular choices is Palm Jumeirah in Dubai. It is a center point of global attention. Such concepts are new and these create a lot of hype. However, the management is keeping things under a lot of suspense for now.
ARY group has established its name in the business community. We expect nothing less than premium delivery from them regarding this project as well. The beach is expected to be a recreational and residential peace harbor. It is to be equipped with luxury, nature and pure class. ARY is sharing as little information as possible at the moment. They are convinced to provide a top-notch, global standard service based on international examples and precedents.
More details are soon to be revealed. In order to stay in touch, you may head on to the following page where you can contact any of the property experts mentioned there. CLICK HERE