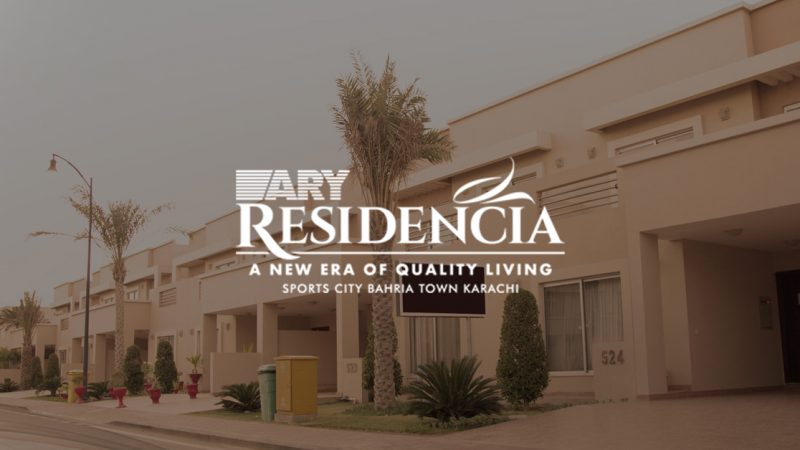 ARY Residencia Villas Bahria Town Karachi
The superbly constructed deluxe villas for sale in Bahria Town Karachi are known as ARY Residencia Villas. This project, which was launched in 2018, consists of roughly 300 villas that will be equipped with all modern amenities and attractions. As the name suggests, this is an ARY Group project being developed in conjunction with Bahria Town Karachi. Although construction on the villas has begun, they are still available at affordable prices with flexible payment options. So, let's have a look at the latest Ary Residencia Villas Bahria Town Karachi development news, location data, and pricing/payment plans.
Size and Layout Plan:
These are lovely villas with three bedrooms that are 200 square yards in size. The villas' design, development, and layout plan are identical to Bahria Town Karachi's 200 square yards.
Ground Floor Layout Plan:
One bed with its own bathroom, as well as a drawing-room, a lounge, a kitchen, a front lawn, and a vehicle porch
First Floor Layout Plan:
Two bedrooms, each with its own bathroom, as well as a lounge, a store, a terrace, a low terrace, and a servant room.
Location:
Precinct 23 is home to the ARY Residencia Villas. These villas are close to the Rafi Cricket Stadium, and they are nicely surrounded by other attractions. Like it's within a 5-minute drive from Jinnah Avenue and adjacent to the Grand Mosque.
Development Status:
After much anticipation, the construction of Ary Residencia Villas has finally begun and is nearing completion. The development of approximately 100 villas has begun. The grey construction of most villas is complete, and the rest of the work is progressing steadily. With the current rate of development, we can tell you that these villas will be ready to live in shortly. It is expected that 50 residences would be handed over in February 2022.
Prices and Payment Plan:
The ARY Residencia Villas were available with a three-year payment plan. These villas have a launch price of 1.55 crores. Because the construction is nearing completion, the price of these three-bedroom villas has been raised to 1.95 crores. The property can be reserved with a 10% down payment, with the remaining balance paid in equal quarterly installments.
Booking Price
Upon Confirmation
Quarterly
Installments (x9)
On Possession
Total Price
1,95,000
1,950,000
1,300,000 (x9)
1,800,000
19,500,000
It's important to note that the ARY Group is the project's sole investor. The entire project will be managed by Bahria Town Private Limited, from booking through development and finally possession. Those looking to invest in one of the affordable properties for sale in Bahria Town Karachi could call ARY Residencia Villas Precinct 23 for more information.
Please contact Pakistan Property leaders to book any of the properties in ARY Residencia Villas!