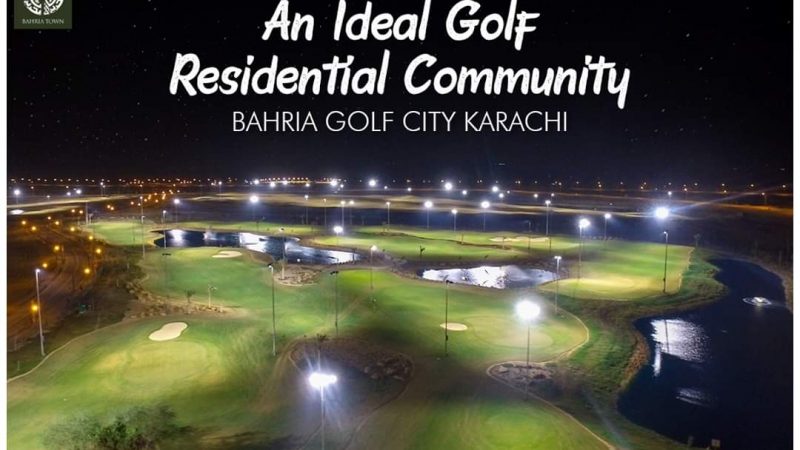 Bahria Golf City Karachi is a purpose-built housing development in the heart of Bahria Town Karachi. Bahria Golf City was designed to meet worldwide standards for a golf course-based residential complex, and it offers inhabitants a world-class living experience. Various plot cuttings have reached the end of their development cycle, while the remainder are nearing completion. A few dozen plot owners have been given possession of their new homes in Bahria Golf City Karachi, and they have already begun building.
Location
Bahria Golf City covers the entire sector 20 of Bahria Town Karachi. The township is directly across from the Dancing Fountain, and the Grand Jamia Mosque is only 2 kilometers away. Bahria Sports City and the Rafi International Cricket Stadium will be 5 kilometers apart. Jinnah Avenue will run on one side of the project, while Avenues 18 and 19 will run on the other.
Plots Size:
There are three types of residential plots available in Bahria Golf City Karachi. These are the following:
500 Sq. Yard
1000 Sq. Yard
2000 sq. yard
Some of these plots have been fully constructed, and the buyers have been given possession. Some plots, on the other hand, are still in development and can be purchased after paying a modest fee for the plot files. In Bahria Golf City, plots are classified into three categories:
Views of the golf course, the lake, and Jinnah Avenue
Plots Prices
Prices in Bahria Golf City Karachi vary not only due to varying property sizes and locations, but also due to the city's developed and undeveloped condition. If you wish to buy a residential plot in Bahria Golf City Karachi, below is the latest plot file that must be paid:
500 to 2000 sq. Yards.
Payment Plan
Residential plots in Bahria Golf City Karachi are available for purchase with a four-year payment plan that will be completed in the coming months.
| | | | |
| --- | --- | --- | --- |
| Plot Category | Down Payment | Installment | Total Price |
| 500 Sq. Yard | Rs. 2,250,000 | Rs. 390,625 | Rs. 8,500,000 |
| 1000 Sq. Yard | Rs. 4,000,000 | Rs. 718,750 | Rs. 15,500,000 |
| 2000 Sq. Yard | Rs. 5,500,000 | Rs. 1,250,000 | Rs. 25,500,000 |
Developmental Status
The majority of residential plots in Bahria Golf City Karachi have been completed. Almost all of the 2000 and 1000 square yard plots in Bahria Golf City are presently under construction. The location of 500-square-yard plots is likewise moving steadily, with over 80 percent of the project's development completed.
It is extremely likely that development in this area of Bahria Golf City will be completed in 2018. In the Bahria Golf City, a gorgeous lake has also been built, improving the appeal of Lake facing home plots. Bahria Golf Course's clubhouse is surrounded by lush green fields. Residents and golf aficionados can already use the 9-hole golf course. . This golf course, which is lit up at night with floodlights, offers stunning views and a unique way of life.
Contact Pakistan Property Leaders if you are interested in purchasing a beautiful plot in Bahria Golf City.