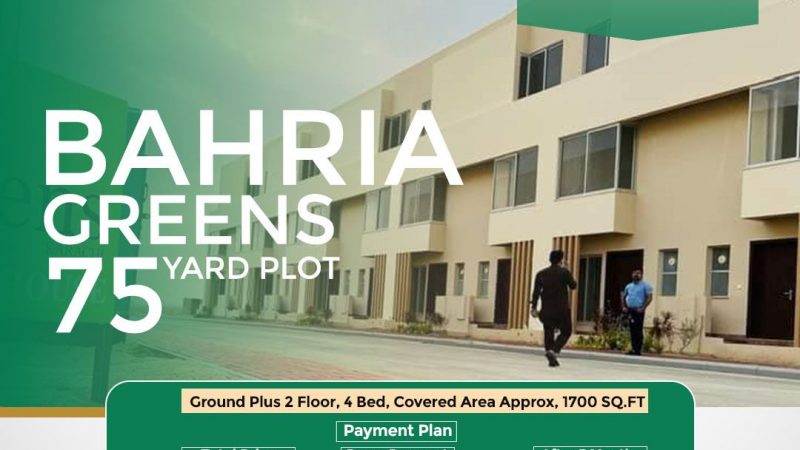 Bahria Greens Karachi 75 Yard Plots
Bahria Greens Karachi, a Bahria Town Pvt Ltd project, will open shortly. With Bahira Town Karachi Lifestyle, Pakistan's largest low-cost scheme offers inexpensive living. Bahria Town, which you've heard about in your hearings. In the Karachi countryside, Bahria Town Karachi is a surrounding residential estate. The community was built around a neighbourhood idea to provide superior living services to its members and to set a higher for community development in Karachi. Residential plots of 75 square yards Bahria Town Karachi, the many housing societies where anyone may invest in any category with confidence, is now providing you with something appealing and inexpensive. A leading real estate company has announced a new deal for 75 square yard residential plots. There are a limited number of residential properties with easy instalments in Bahria Town Rawalpindi, which were just introduced.
Bahria Greens
Bahria Greens currently offers the same livelihood as Bahria Town by providing a low-cost instalment system. So don't wait because there are only a few plots left with the best return guarantee. Bahria Greens is a fantastic area to live in because it caters to a wide range of lifestyle requirements.
Location of 75 Square Yards Residential Plots
The developers have chosen the ideal location for this first-ever and most-awaited 75 Square Yards home plot. Bahria Sports City will be the location of these plots. The plots' exact spot is kept a secret. These plots, however, will be positioned between Precinct 34 and Precinct 40.
Bahria Greens Karachi Price And Booking Details
Bahria Town has announced a new property called Bahria Greens, including a 75-yard plot. This low-cost scheme, accessible from Bahria Greens, 25 kilometres from Main Avenue, is a fantastic long-term investment. The construction is well underway, and possession will be handed out in three years.
This project has a total amount of Rs.10,500000, his booking is Rs.1,000,000, and his instalment is Rs.1,000,000, with each instalment lasting three months. The permitted construction in Bahria Greens Karachi is Ground + 2 (4-bedrooms + drawing + dining).
Payment Schedule for Bahria Green Karachi
Possession in three years, with four years of simple payments. Please see the price of a 75-yard plot at Bahria Greens Karachi listed below.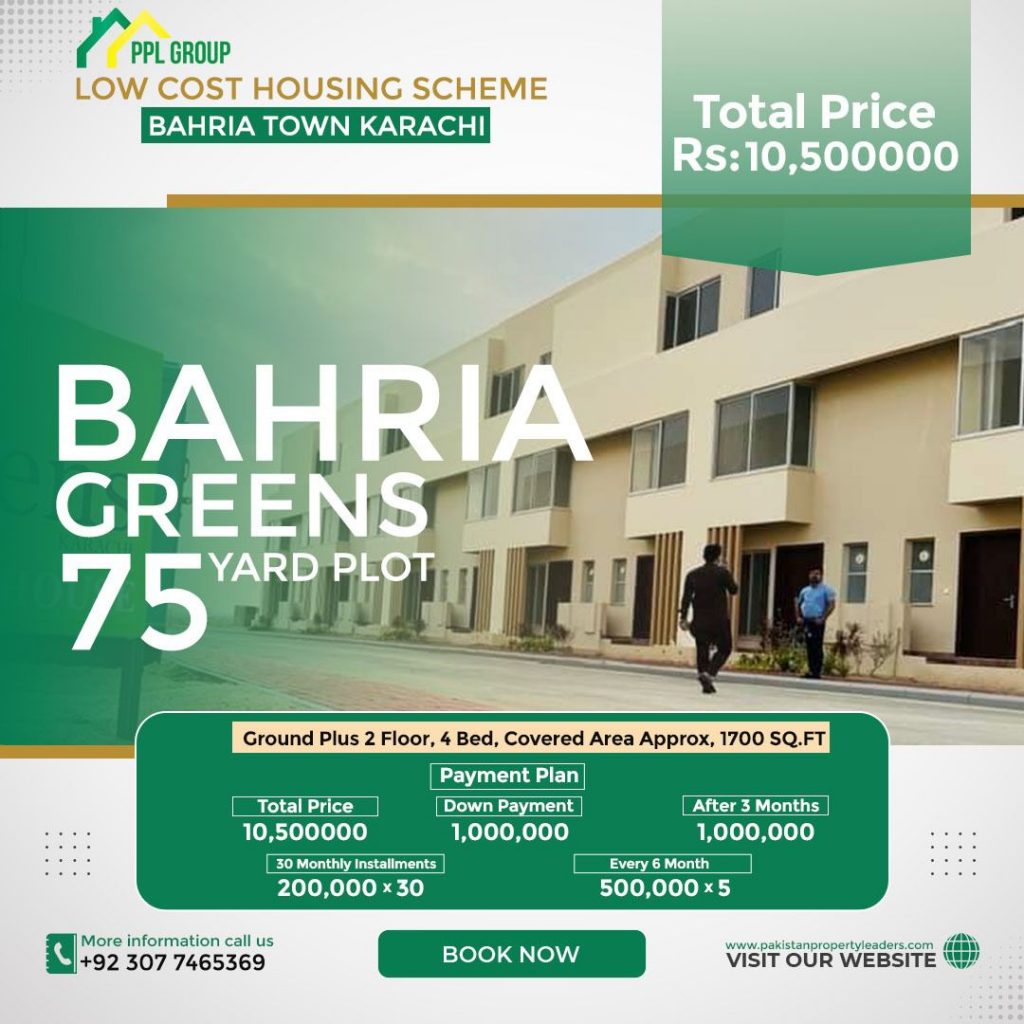 | | | | | |
| --- | --- | --- | --- | --- |
| Total Price | Down Payment | After 3 Month | Every 6 Month | 30 Months |
| 10,500000 | 1,000,000 | 1,000,000 | 500,000×5 | 200,000×30 |
Size Of Plots And Prices In Bahria Town Karachi
In Bahria Town Karachi, a new deal for 75-square-yard residential plots will be available soon. The entire cost of these plots is estimated to be around Rs.10,500,000. The properties require a down payment of around Rs.1,000,000. Bahria Town Karachi also offers a three-year flexible payment plan to make payments more manageable. The most exciting aspect of these 75-square-yard plots is that Bahria Town will develop Ground + 2 Floors.
Overseas Block In Bahria Greens Karachi
The Bahria Greens Special Overseas Block aims to provide an excellent lifestyle for Pakistanis living in other countries. This is, of course, a particular section of the block, except that its development standards are significantly higher than those of the other blocks. Drive from Karachi's Bahria town to Bahria Greens, a unique international neighbourhood.
Features Of This 3 Marla Deal
The main features of this Bahria Greens plots are:
For the First Time in Bahria Karachi.
65 per cent green area
35 per cent only constructible area
75 sq yard plot sizes
Ground floor as well as 2 floors allowed
4 bedrooms allowed
Expected price 10,500000 (including development charges)
A four-year payment plan with a predetermined abroad quota
Finally
Bahria Town Karachi is always the most acceptable option for investing in Karachi real estate. This community already has a wide range of residential property options. On the other hand, this new bargain has a lot of appeal. The plots are in an excellent position. The rates are similarly reasonable, with the option of paying in instalments.