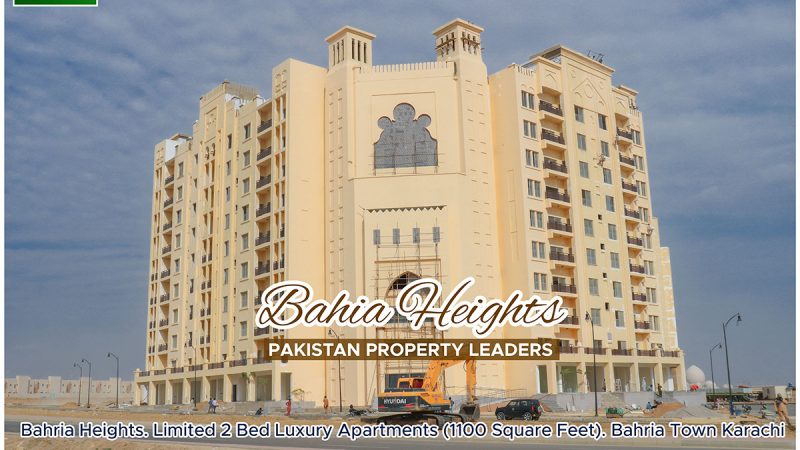 Bahria Heights 2 Bedroom Apartments Bharia Town Karachi
Bahria Heights 2 Bedroom Apartments
If you are in the need for a premium but affordable housing prospect then the 2 Bedroom Apartments in Bahria Heights are ideal. Whether you want to buy property for residential use, or you want to rent it out in the future, these 2 bedroom apartments have immense promise. You can get these for investment and personal use purposes, but if you are low on budget then they are also available on a rental basis.
Premium Quality and Unmatched Beauty
The first thing we recall by hearing "Bahria Town" is Reliability and Comfort. Bahria town is one of the most elegant private or public society across the country. It started from Islamabad, and then after providing so many facilities at such a low cost has been amazing and a game-changer for everyone. It provided top-notch security, lavish living style, and a proper housing society where middle-class Pakistani were wishing for so long, similar to DHA or Cantt.
After that, there was no stopping for Bahria; they decided to expand their projects in megacities such as Lahore and then Karachi. Now Bahria town has started its flats by the name "Bahria Heights.
Bahria Town has mastered the art of urban and town planning and transformed a great vision into reality. Our world-class communities are far ahead of their time. All developments have the most advanced infrastructure and world-class facilities in the country
Bahria Heights is a unique community concept with a fully integrated lifestyle that provides a luxury environment. Modern and chic two-bedroom apartments in Bahria Heights are suitable for families of all kinds. They offer easy access to all lifestyle facilities such as shopping areas, gym, spa, restaurants, mini-golf, and much more.
The apartments have been designed with each block consisting of 4 identical buildings in a neighborhood concept. Each block offers its amenities and facilities, and an enclosed central courtyard serving as a safe playground for children.
Security 24/7 at Bahria Heights gives you a sense of comfort in living a life without worries. Uninterrupted electricity, maintenance around the clock, and other services provided by Bahria Town make Bahria Heights an ideal location for comfortable living.
Following facilities are provided by this high esteemed project:
· 24/7 Complete Security
· Mini Golf Club
· Commercial Areas
· Gym
· Spa
· Restaurant
· Indoor Swimming Pool
· Secured Play Area in Each Block
· Large Car Parking Areas
Development Details of Bahria Heights
This stunning Bahria Heights project was launched four years ago. The development of this project began a short time later by Bahria administration. Nearly 90 percent of the work is completed, according to new details. Work is already underway to finish like paint, grills, and tiles. By analyzing the current Bahria Heights development status, it is confirmed that the region will soon be ready to live.
Location Details of Bahria Heights
Bahria Heights is a gorgeously located Bahria Town Karachi project. It lies in the vicinity of 10 A Villas at Precinct. Bahria Heights is located just across Main Jinnah Avenue on the right. One of Bahria Heights' key attractions is the 12-Ali Block Precinct. Bahria Heights is located in Precinct 17. Some of those apartments' nearby attractions are Precinct 8, Midway Commercial, & Bahria Hills.
Two-bedroom apartments
It is located 8 km away from the main gate; the size of these extraordinary apartments is 11 Sq. feet consisting of two beautifully designed bedrooms and three new bathrooms. There are a total of 8 towers, named by Alphabets starting from Tower-A to Tower-H.
As you enter the apartment, you'll notice a living area and a small storeroom so that you can place your extra items over there. There is a washroom in the living room for guests so that you don't need to take them to your room if they are sitting in your living room. This quite lovely as if someone is in your place, such as your family, then their privacy wouldn't hinder because of your guest, and you can enjoy your time with them. Other than this, you'll find a kitchen well established and well designed. There is a room quite spacious and beautifully crafted with an attached bath. They have provided cupboards in the place as they always have been presenting before. Then they have another bedroom which looks like the other one, with the same features and a bathroom attached. Most importantly, you are going to enjoy the view as they have provided excellent quality windows in both rooms, which allows for superior ventilation and memorizing views from the height.
Suppose you notice the best part about them is their prices compared to the market's valuation for 2 BHK. In that case, it's way too much than what Bahria heights are providing to you people, which ranges from 85- 95 lacs, whereas Bahria Heights is offering at a lower price, which is incredible. This is very much affordable, and for those people who don't have any home yet then, this is the right opportunity for them to buy this flat as we know that when the construction is completed, which for now is 80% completed and when people will start living here than the value of these apartments will rise exponentially.
Bahria Heights – Latest Prices
These 2 Bed Apartments started at the booking price of 50 lacs four years ago. All these flats were offered with easy installments at that time. But now, all the payments are complete, and you can only purchase them on full cash.
2 Bed Apartment in Bahria Heights has a starting price of 55 lacs and goes up to 70 lacs. Bahria Heights facing Main Jinnah Avenue is comparatively expensive to the apartments in the inner circle available.
In the past, these 2-bedroom apartments have been sold in the 75 lacs price bracket. But as these days, property rates are down, and now you can purchase them at the lowest prices.
These are pretty affordable if you compare it to the properties nearby or on the seaside of Karachi. The older the apartments in the main Karachi city, the dirtier and poorer in terms of maintenance they get. Hence if you need something clean and fresh and you need to stick to your budget then you have to go for the Bahria Heights Apartments as they are fresh, clean, and well maintained.
You are likely to get thrice these prices in other apartments across the city. If you need to save money yet live in a much more posh area than half of the city then you must invest in Bahria Town Karachi's own constructed Bahria Heights. This way you will not have to rely on a third-party construction and you will know that the company or the builders involved are actually a part of several big projects hence you should be alright with living in these. These are going to be safe and secure in terms of their construction quality.
Why invest in Bahria Heights?
These 2 Bedroom Apartments are priced reasonably. All these apartments have an ideal location and offer tremendous investment potential. By maintaining the current Bahria Heights development status, we assure you that Bahria Town will soon announce possession. Upon completion of development work and availability of ownership, people will move to their apartments.
Apartment prices in Bahria Heights are sure to rise. So, we suggest you buy in these Bahria Town Karachi 2 Bedroom apartments. Not only apartments but also the shops designed on the ground floor of each Bahria Heights tower, you can consider buying.
The best way to know that you are making a safe and well-informed choice or not when it comes to buying property is by making sure that you have run it with your real estate agent. It is alright if you do not have a real estate agent before. With Pakistan Property Leaders you can get in touch with an expert who is equipped to help you and handle your needs with the best possible information. In order to make a booking or to get further information then you can contact us on the details provided below.