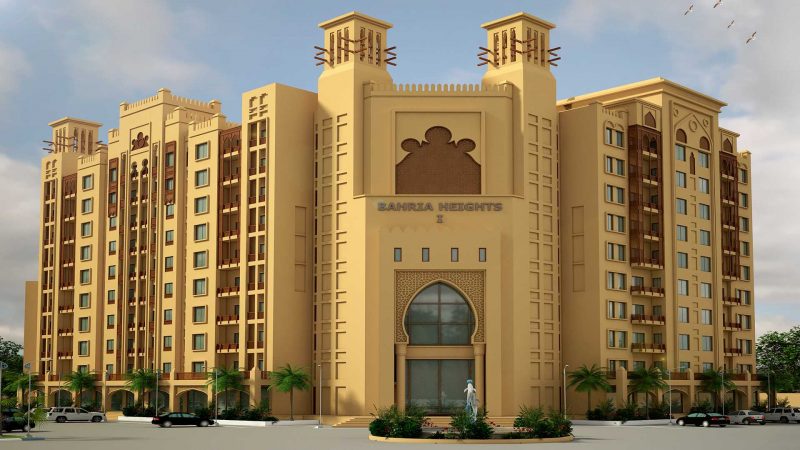 Bahria Heights Karachi-Elevate Your Life Style in an Impeccable Way
For those who love to live in luxury, Bahria Town is the best and the perfect option to choose in order to lead an opulent lifestyle. Bahria town has Karachi's most luxurious apartments for luxurious living. Bahria Heights will give you the perfect environment and amenities for a living.
Here is all you need to know about Bahria Heights.
The Mesmerizing Infrastructure of Bahria Heights
After having a look at the infrastructure of Bahria Heights, exactly then you will know that why it is so named Bahria Heights. Bahria Height's infrastructure is so captivating, gigantic, and fine. Its infrastructure is captivating and gives luxurious vibes.
Luxurious 2 Bedroom Apartments in Bahria Heights
The apartments of Bahria Heights have a jaw-dropping infrastructure. Bahria Height's Luxurious apartments are built with an impressive infrastructure and have 2 bedrooms each apartment on a 1100sq ft. This was basically to encourage the concept of a neighborhood. By choosing Bahria Heights, you will definitely get to live the most luxurious lifestyle. These apartments were first introduced only for a 4 years installment plan but now, you can also purchase these 2-bedroom apartments by full cash payment and get the possession at the time of the payment. If you purchase the 2 bedrooms apartment, you get all of the amenities and facilities that Bahria Heights has to offer.
Luxurious 3 Bedroom Apartments in Bahria Heights
In Bahria Heights, you can also purchase a 3-bedroom apartment. With it you will get three attached bathrooms, a lounge area, and a kitchen. Which is perfect to spend a luxurious life.
Luxurious 4 Bedroom Apartments in Bahria Heights
You can also get a 4-bedroom apartment in Bahria Heights Karachi, with four bedrooms, you will get four attached bathrooms and a lounge with kitchen as well. The prices depend if the apartment is on sale by Bahria Heights or it is on resale. If you are purchasing it, you have down payment option and an installment option as well.
Bahria Height Apartments Location
The luxurious Bahria heights apartments are located near Precinct 2 in the 19-neighborhood. At a walking distance from the main entrance of Bahria Town, you can reach Bahria Heights via Jinnah Avenue very easily. It is located near International Amusement Park and Night Safari.
Availability of Security
Bahria Heights provides you with the best possible security. For security, they have both a staff and CCTV cameras as well. This will make sure that the people who live in the apartments are fully secure, safe, and sound. They have secure compartments for earthquakes and asteroids like rare accidental events. They make sure to provide you with the best security protocol possible.
Indoor Swimming Pools in Bahria Heights
Bahria Heights provides innumerable amenities for its inhabitants and one of the best ones is their indoor swimming pool facility. They provide you with the amenity of an indoor facility so that your privacy remains intact and you are not bothered by outsiders. Also, this swimming pool in winter is temperature controlled so that you enjoy the poolside without getting sick.
Organized Parking Area
In order to use the parking area as an inhabitant, you have to get your car registered in their office and then they will assign you a proper area for the parking of your car or vehicle. In your mind, there might pop a question that, why is that so? And the answer to that question is because different cars are made in different sizes so sometimes it is difficult to reverse or park a car. So, to solve that problem, Bahria Heights has organized its parking area in order to exclude these types of problems.
Also, some of the cars are imported and insanely expensive and if their spare parts get stolen then they are impossible to find in Pakistan. They have made a special secure parking area for that type of car.
Easy Access to Restaurants in Bahria Town
Whenever you are choosing to buy an apartment or a place to live, look if that place has restaurants nearby. Because when you have to plan a family outing for a recreational get-together, restaurants are the best options. Bahria Heights is located in a prime location that has very famous restaurants nearby in Bahria Town.
So, if you ever want to plan a dinner or lunch out then you won't have to worry as you can go to the restaurant that is located near your apartment.
Availability of GYM and SPA at the Bahria Heights
One of the most luxurious facilities to maintain your health and body is a GYM. If you choose to live in the most Luxurious apartments of Bahria Heights then you will get to avail yourself of the facility of a GYM where you can go regularly and exercise. It will help you to maintain your body and you will stay fit.
You can also avail the facility of the spa where you can go and relax your mind by getting various massages and other relaxing stuff.
Play Area for Kids
There are sometimes when kids show tantrums and won't listen to anything that you have to say. You can get them to obey you by taking them to a play area. In the apartment, kids don't have much to do and all they will do is play video games. It is better if you get them involved in some physical and outdoor games by taking them out in a kid's play area. The play area of kids has various rides and swings that they can take and play with them. It will boost their confidence and they will get to make various friends.
Wrapping It Up!
Bahria Heights provides the most opulent living style that you could need to lead a luxurious lifestyle in a two-bedroom apartment in Bahria Town. You will find every type of facility and amenity there and you will spend a life there that people dream to live their whole life.