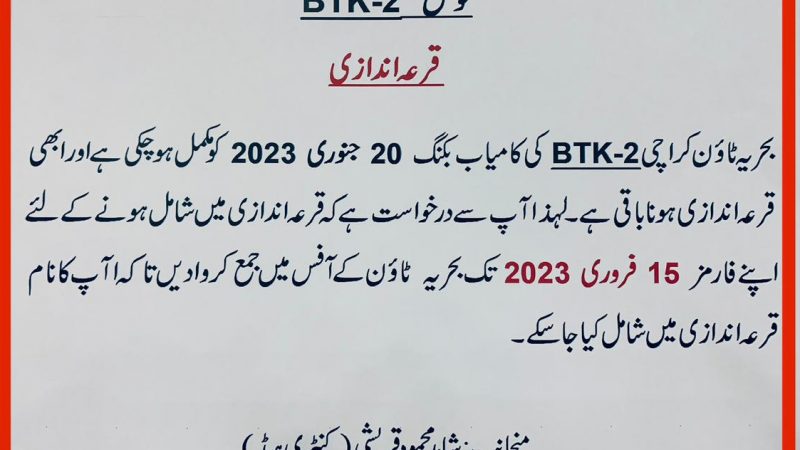 Bahria Town Karachi 2 – Booking Completion
Bahria Town Karachi is the center for all types of people in Karachi, the country's largest city. It is a beautiful project by the real estate investment firm Bahria Town Developers. Since 2014 and since 1996, it has offered opulent living conditions across Pakistan.
The housing project consists of for-sale residential lots, homes, flats, and villas. It boasts all the amenities of a contemporary metropolis, including many schools, colleges, and universities, as well as commercial centers, healthcare facilities, parks, and other recreational areas. The community delivers top-notch amenities and top-notch security with expert guards patrolling the streets around the clock.
The project consists of two phases, both of which are situated in prominent urban areas.
Bahria Town Karachi 2 is developing continuously. Construction on the Grand Gatehouse on the M9 Motorway, the Wide Road Network, the 400-foot-wide Allama Iqbal Avenue, and the International Standard Lifestyle Amenities are all moving forward quickly!
SDA NOC and SBCA approval
Booking fees include development costs.
Residence Plots – 125, 250, 500, and 1000 Square Yards
Commercial Plots – 125 and 250 Square Yards
Bahria Homes- 3 Bed, Approximate C
Over Area 1800 Sq Ft
The BTK- 2 bookings are completed on 2oth January 2023 and the draw is going to be held soon. Get your forms now and submit them before 15 February 2023. It's your time to submit your forms to Bahria Town Karachi 2 office before the due date so that you can get the chance to be in the draw.
Bahria Town Karachi 2 NOC
Bahria Town Karachi 2, a city within a metropolis, would undoubtedly establish a high standard of exceptional living. For individuals seeking a long-term investment, the Bahria Town 2 Housing Scheme offers a fantastic option. It is well known that you should consider the NOC and the legal status of any home project before spending your hard-earned money.
The NOC is crucial because it contains details on the developer, the construction schedule, the zoning and land use laws, and the safety and security precautions that must be taken while the building is underway.
The builders of Bahria Town Karachi 2 must apply to the appropriate authority, together with a thorough explanation of the proposed development and its intended use, to get a NOC. The nice aspect is that Sindh's SBCA and SDA departments have approved this housing project. Therefore, making an asset in this inventiveness is entirely safe.