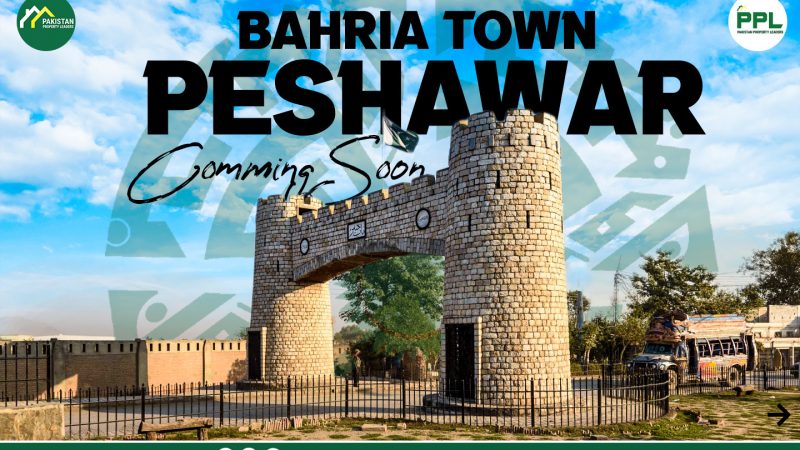 Bahria Town Peshawar Launching Soon!
Bahria Town, renowned for its successful real estate ventures in various cities across Pakistan, is set to make its mark in Peshawar. With its upcoming project, Bahria Town Peshawar aims to revolutionize the city's real estate landscape, offering a range of residential and commercial plots to cater to diverse needs. This exciting development promises to bring the trademark quality, innovation, and lifestyle amenities that Bahria Town is known for.
Bahria Town Peshawar Location:
Bahria Town Peshawar's prime location is one of its standout features. Situated strategically, the project ensures easy access to major highways, transportation hubs, and important landmarks. This enables residents to enjoy a convenient and well-connected lifestyle while benefiting from Peshawar's vibrant cultural heritage.
Bahria Town Peshawar Residential Plots:
The project offers a variety of residential plot sizes to cater to different preferences and budgets. Whether you're looking for a 5,8,10 marla plot or a spacious 1,2 kanal plot, Bahria Town Peshawar has you covered. With meticulous planning and attention to detail, the residential communities within Bahria Town Peshawar will provide residents with a serene and secure environment to call home.
Bahria Town Peshawar Commercial Plots:
For entrepreneurs and investors seeking lucrative business opportunities, Bahria Town Peshawar also presents commercial plots. Ranging from 4 marla to 8 marla in size, these plots offer an ideal setting to establish thriving businesses, ensuring a vibrant and bustling commercial district within the development.
Modern Infrastructure and Amenities:
Bahria Town is synonymous with world-class infrastructure and amenities, and Bahria Town Peshawar will be no exception. From well-paved roads to reliable utilities, residents can expect a well-planned and efficiently designed community. The project will also feature green spaces, parks, recreational facilities, educational institutions, healthcare facilities, and commercial centers, ensuring a holistic and self-contained living experience.
FOR BOOKING OR MORE INFO