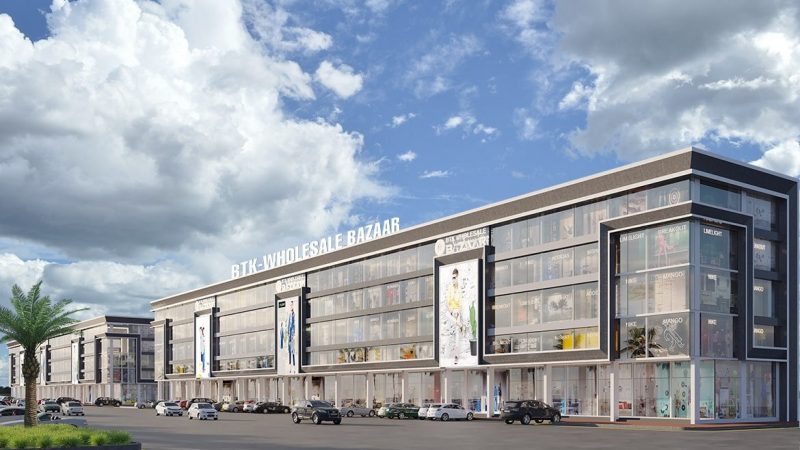 BTK Wholesale Bazaar – Bahria Town Karachi
The idea behind BTK Wholesale Bazaar came from the idea of expanding your business from Karachi to Bahria Town Karachi. There are a few reasons why you might think moving your wholesale bazaar to Bahria Town Karachi is the best option. BTK Wholesale Market is a recent addition to Bahria Town Karachi's landscape. It's a ground-breaking, unique concept that offers outlets for the wholesale sector. This brand-new structure in the heart of Bahria, designed superbly by Californian Builders, presents fresh possibilities. This project, which recently got off the ground, has a very enticing concept driving its growth and planning.
It is in a great location and offers a wide range of options at reasonable prices. Bookings start at 11.15 lacs, with the remaining amount due over a flexible three-year payment structure. Moreover, the possession will arrive on time.
Karachi Old Bazaars Have Facing Some Problems
Bazaars in Karachi face several challenges, from obstacles that must be avoided when operating a wholesale business to how people have begun to adapt.
Elimination of Continuous Electrical Cut-Off
As operating a wholesale business is not simple, people seek out a setting that reduces stress. We have seen that in this situation, people experience electrical outages while operating their enterprises.
When you run your wholesale business carefully, you can prevent these frequent cuts, but with BTK Wholesale Bazaar's help, you can transform and grow your company by dealing with power outages.
Cleanse Bumpy Roads With Luxurious Broad Roads
No matter how many bazaars you visit in Karachi, the unsteady, poorly maintained roads will always be a challenge for all of your loaders.
We are aware that big trucks frequently visit bazaars daily, but because of the unmaintained, uneven roads, loaders begin to experience problems when traveling. Yet, when you reserve a seat at the BTK Wholesale Bazaar, you may operate your wholesale business with ease in comparison to these bazaars. This project meets all of your needs because Bahria Town Karachi offers luxurious, broad roads that prevent you from making any more jumps.
Bazaars Maintained by High Duty Getting Rid of the Local Bazaars Mentality
While there are no authorities taking charge of maintaining the cleanliness of the Bazaar, the bazaars constructed in Karachi's various sites are not well-maintained.
When you need to think creatively to improve the wholesale standards of your firm, this is where taking the appropriate action is crucial.
BTK Wholesale Bazaar is the ideal way to grow your wholesale business because it is modeled by Zainab Market, Empress Market, Manzoor Colony, Urdu Bazaar, Jama Cloth, Bolton Market, and Jodia Baazar.
The Wholesale Market Could Be Revived By BTK Wholesale Bazaar
The wholesale market is revived by BTK Wholesale Bazaar. The people of Karachi urgently need the BTK Wholesale Market, a commercial conceptual project of California Real Estate & Builders. The idea behind BTK Wholesale Bazar is a modernized version of Zainab Market, Empress Market, Manzoor Colony, Urdu Bazaar, Jama Cloth, Bolton Market, and Jodia Bazaar.
It's time to give back to the bazaar genre by reserving your place in a nearby bazaar that is more up-to-date and better kept and that encompasses everything. You might think of Bahria Town Karachi as a city of lights within a city of lights, and BTK Wholesale Market is only a path leading you there.
Doing your wholesale business in BTK Wholesale Bazaar will introduce you to a better type of bazaar than those Karachi residents are familiar with, one that has high-duty lifts, no power outages, a well-maintained building, an improved environment, spacious roads, and much more.
Location Of BTK Wholesale Bazaar
The location of the BTK Wholesale Bazaar Project is crucial. Californian Builders developed this most current property as a result, and Bahria Town Karachi is a fantastic location. BTK Wholesale Bazaar is located near Precinct 4 on the Jinnah Parallel Ring Road. This road is adjacent to Bahria Town's main entrance. Nonetheless, it also has significant development. The developed portion of this path is almost 10 kilometers long.
Midway Commercial, Bahria Town's business hub, is nearby. The Bahria Town Head Office is also close by. You'll surely believe that this project is well-located and in a desirable area. This project is perfect in terms of location and accessibility. Due to the development of the neighboring districts, there will be a huge population.
Investing In BTK Wholesale Bazaar Has Several Advantages
It may be advantageous to invest in BTK Wholesale Bazaar because, It is a ground-breaking project in Bahria Town, Karachi.
There are stores for wholesale marketplaces.
There are more than 400 stores available, all with different sizes and price points.
The usage of low rates.
The first step in reserving a shop is to make a small down payment.
the unpaid amount under the three-year payment schedule.
The environment is favorable for this project. There will be a lot of foot traffic.
This location is perfect for starting a business and optimizing rental income. It also has a parking lot with plenty of space and easy access.