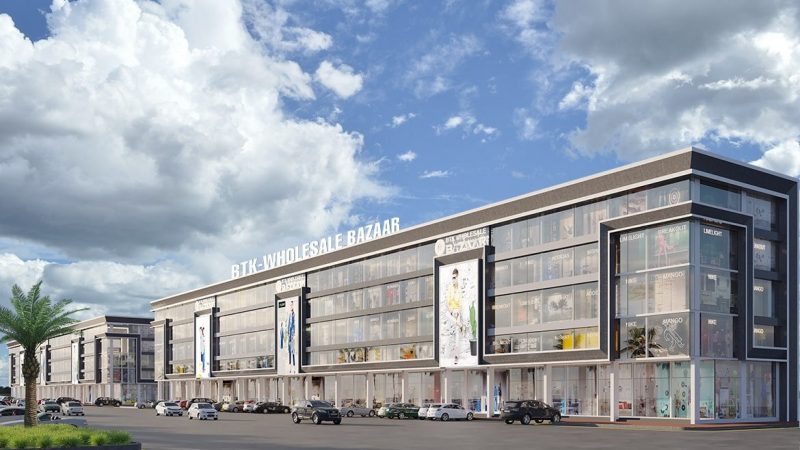 BTK Wholesale Bazaar Bahria Town Karachi
A recent addition to Bahria Town Karachi's landscape is BTK Wholesale Market. It's a groundbreaking, original idea that provides shops for the wholesale industry. This brand-new building in the center of Bahria, which Californian Builders created with exceptional design, offers new opportunities. The idea behind planning and the growth of this project, which was just launched, is extremely alluring.
It provides a variety of options at affordable pricing and is situated in an excellent area. Bookings begin at 11.15 lacs, with the balance due over a three-year, flexible payment schedule. Moreover, the possession will be delivered on schedule.
Wholesale BTK Market
It is the most recent construction, with 60,000 square feet of space. The project is envisioned as a high-rise with a basement, ground level, first and second floors, and more than 400 businesses for the wholesale market. The front of this project is 800 feet broad, and it is visible from a great distance. The stores here are spread out over all of the floors and range in size from 230 square feet to 570 square feet. These choices are divided into various groups.
Location of BTK Wholesale Bazar
The project location is very important. Because of this, Californian Builders created this most recent project in Bahria Town Karachi, a great location. On the Jinnah Parallel Ring Road, close to Precinct 4, lies BTK Wholesale Bazar. The major entrance of Bahria Town is close to this road. Nonetheless, it also includes strong development. Almost 10 kilometers of this route have been built.
The commercial center of Bahria Town, Midway Commercial, is close. Moreover, the Bahria Town Head Office is nearby. You will undoubtedly think this project is well-situated and in a good neighborhood. In terms of accessibility and location, this project is ideal. There will be a ton of people because the surrounding areas are developed.
About Developers
A Californian Builders project is BTK Wholesale Bazaar. It is a well-known brand, particularly in Karachi's real estate industry, and it has a stellar reputation in Bahria Town. Even before one of their premium projects is given to clients, they have already developed 8 projects. This BTK wholesale market is a top-notch development because it was cleverly organized as well. It will undoubtedly be produced and delivered by international norms and rules.
Benefits Of Investing In BTK Wholesale Bazar
Investing in BTK Wholesale Bazaar may be beneficial because:
It is a groundbreaking project in Karachi's Bahria Town.
Shops for wholesale markets are provided.
There are more than 400 stores accessible in various shapes and pricing ranges.
Low rates are used.
A modest down payment serves as the initial step in shop reservation.
the remaining balance of the three-year payment plan.
This project is in a favorable environment. Heavy foot traffic is anticipated.
parking lot with plenty of space and convenient access.
Also, this location is excellent for establishing your business and for maximizing rental income.
In Bahria Town, BTK Wholesale Market may be a superb choice for a commercial venture. Your money will be secure, and you may expect to receive great returns. Don't pass up this opportunity because reservations may be made at pre-launch prices right now. The cost will rise quickly. Regardless of whether you are an investor or a businessperson, BTK Wholesale Bazaar guarantees that your money is 100% secure and that it will pay off way beyond your expectations.