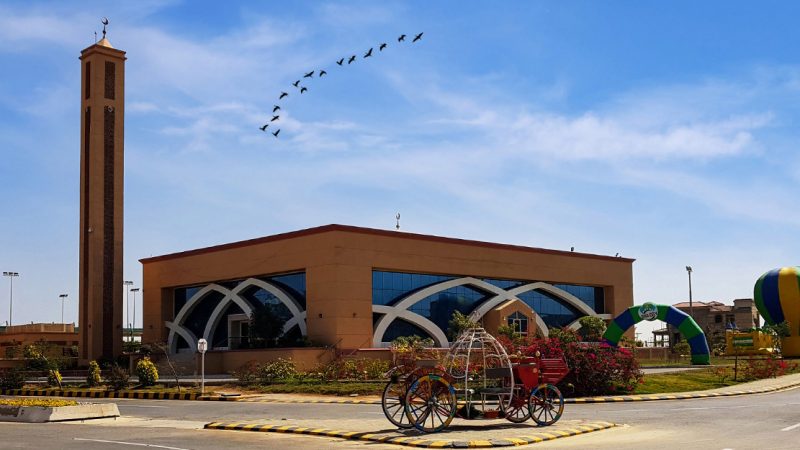 DHA City Karachi – A Complete Project for Complete Lifestyle
Defence Housing Society is one of the top housing projects located in the different major cities of Pakistan. DHA is known for its standard infrastructure, modern development, and quality lifestyle. But DHA City Karachi is a place where you can live your dream. At first, it was established for the welfare of our honorable Army officers. However, now it becomes a top-choice of investors and buyers. In simple words, society is playing major role in the overall real estate market of Karachi. It is a world-class environment-friendly project located within the Clifton Cantonment Board of Karachi. Let's check some important details of this society given below:
Map & Location Details:
The master plan of DHA City Karachi is completed within 12 months. It is beautifully located on the Karachi -Hyderabad highway at the eastern border of Karachi. The society is bordering Thatta district in the south and Jamshoro district in the east.
DHA City Karachi is only 56 km away from the zero points of Karachi and having a distance of 35 km from Karachi Airport. Moreover, it is 26 km far from the Toll Plaza and having a distance of 120 km away from Hyderabad city.
Total Phases:
DHA City is beautifully categorized into total Eight Phases. This division/development is made to make society simple and smart. Moreover, all these phases are further divided into Blocks & Sectors. Each Phase has its own proper commercial area.
Total Sectors:
DHA City Karachi has 17 sectors, and each sector is further divided into sub-sectors (A, B, C, D, etc.)
Residential Plot Sizes Available:
The residential plots sizes available in DHA City Karachi are 5 Marla to 2 Kanal .5 Marla is approx. 1361 square feet and 2 Kanal is approx. 10890 square feet.
Commercial Properties in DHA City Karachi:
The commercial plots of 200 sq. yards, 500 sq. yards, 1000 sq. yards and 2000 sq. yards are available for sale in DHA City Karachi.
DHA Oasis (Farmhouses)
It is a new project recently launched in DHA Karachi. DHA Oasis is basically a resort with the specialization of high end living area. It is located at the prime location in DHA Phase 2, Sector 1, just near to Karachi-Hyderabad Motorway.
This project is offering various sizes of luxury and furnished farmhouses. The farmhouses are beautifully designed by foreign architects with modern kitchens, swimming pools, specific barbecue areas, and beautiful lawns. These are available in 3 Bedroom and 4 Bedrooms Sizes. Basically, these farmhouses are built on 2000 sq. yards, 2500 sq. yards, and 3000 sq. yards of land area.
Lanes and Streets in DHA City Karachi:
System of streets and lane:
The streets and lane of any residential project simply play an important role to raise business activity.
There are 6 Major streets and lanes in DHA City Karachi. These are:
Normal Street and lanes
Commercial Street and lanes
Gizri Street and lanes
Zamzama street and lanes
South/Central/North Street
Sunset Street and lanes
Famous Play Areas in DHA
The Hungry Caterpillar
Zamzama Park
Hilal Park
A.K.Khan Park
Bukhari Park
Tennis Court
Squash court
Mini Zoo
Educational Institutions DHA Karachi
The C.A.S. School
DHA Model School
DA Public School O&A Level
DHACSS Iqra Campus Ph VIII DHA Karachi
Beacon house Defence Campus
D H A Junior School Beach View
The City School Defence Campus
The Educators School
Southshore School for A-Level Studies
The City Nursery School Defence Campus
Hospitals in DHA Karachi
Aga Khan University Hospital – Clifton Medical Services
Australian concept infertility medical center
Clifton Clinics
DHA Medical Center and DHA clinics
Healing Hands
Health Care Hospital
Mahar Medical Center
Medical & Oncology Associates
Medi Link
Parklane Hospital
Shaukat Khanum Diagnostic Center and Clinic
South City Hospital
Ziauddin Hospital
Conclusion: DHA Karachi is a society that will meet each and every need. So the investment is highly recommended in both commercials as well as residential properties.
For more details, latest prices of property and booking contact Pakistan Property Leaders.