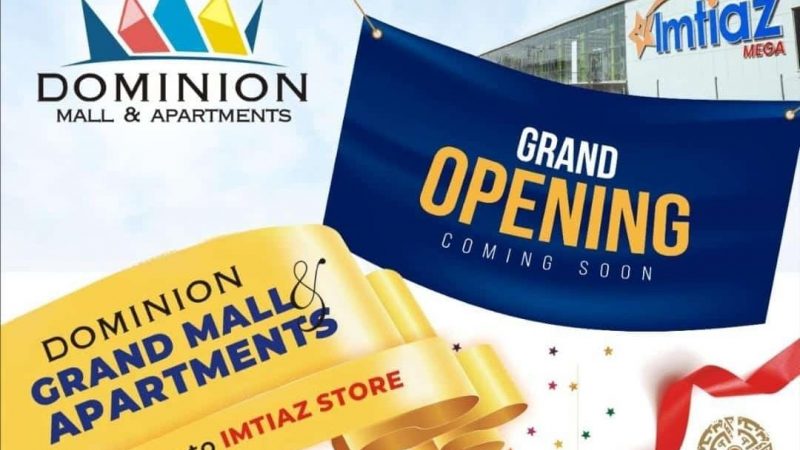 Dominion Mall & Apartments Booking -Bahria Town Karachi
Dominion Mall is a project that Dominion Builders and Developers have undertaken. This mall is located near the popular Abu-Ul-Qasim Mall and the Bahria Maintenance and Security Bureau in Precinct 1. It's the opposite of Imtiaz Mega, too. The Precinct 19 apartments are on the right side. It has about 11,000 to 12,000 square yards of covered land.
Features:
The various incredible characteristics of this shopping mall are given below:
This mall is open to the west, meaning it faces Jinnah Avenue straight away.
In addition to the ground floor, it consists of 4 floors.
It has 2 basements, known as B1 and B2, which are reserved for parking. For 350 cars at once, there is enough parking space.
With capsule lifts, cargo lifts and elevators, the whole mall is equipped. Stairs are also available for use in emergency situations.
The entire building is completely air conditioned.
The entire structure is very spacious. All the passageways are at least 12 feet wide.
34 feet wide is the main passage.
Near the capsule elevator, the building also has a glass view.
The food court will be on the 3rd floor of the mall.
The 4th floor is dedicated to banquets, a fun area, a cyber area, a children's play area, an indoor snow world, a mosque and plenty of open restaurant space.
Prices and number of shops:
| | | |
| --- | --- | --- |
| Ground Floor | 218 shops | 35,000 per sq. feet |
| First floor | 252 shops | 25,000 per sq feet |
| Second floor | 252 shops | 20,000 per sq feet |
| 3rd floor | 111 shops | 25,000 per sq feet |
The entire floor, with an unlimited seating capacity, is designed according to international standards.
Down Payment:
PKR 1,200,000 can be used as a down payment for shops that are less than 300 square feet. Whereas stores larger than 300 square feet can be booked with a down payment of 20 percent of the total payment.
Therefore, if you want to book a store in the Bahria City Karachi Dominion Mall, Rush to Pakistan Property Leaders today because we are one of Bahria Town Karachi's best and most respected estate advisors for various projects.