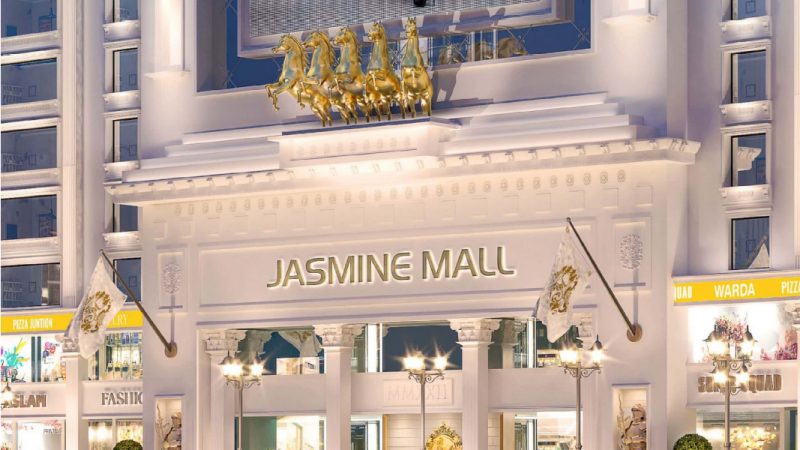 Jasmine Mall Payment Plans – Bahria Town Karachi
Jasmine Mall, a luxurious development by the Q-Link Developers, is the area's main commercial hub and largest mall, including several of the area's very well businesses, event spaces, and anchor stores.  Here you can invest in development, retail, and a variety of other business options. Hundreds of stores are planned for Jasmine Grand Mall, providing you with a variety of investment opportunities. Jasmine Mall is a 10–12 story building with a ground level. It is a well-planned, most prominent mall in Bahria Town Karachi, covering a big land area of around 16,000 sq ft.
Jasmine Mall Bahria Town Karachi Payment Plan
This high-rise mall project is set to open with a diverse selection of retail outlets. These properties will have cheap and reasonable costs. You will also have the opportunity to purchase your shop in Jasmine Mall for pre-launch prices. A deposit of 25-30% will be required to reserve a shop. The balance will be paid over three years on a flexible payment plan.
Basement
This project's basement contains 320 square foot shops with standard and corner lobby options. The shops range in price from 73.50 lacs to 83 lacs.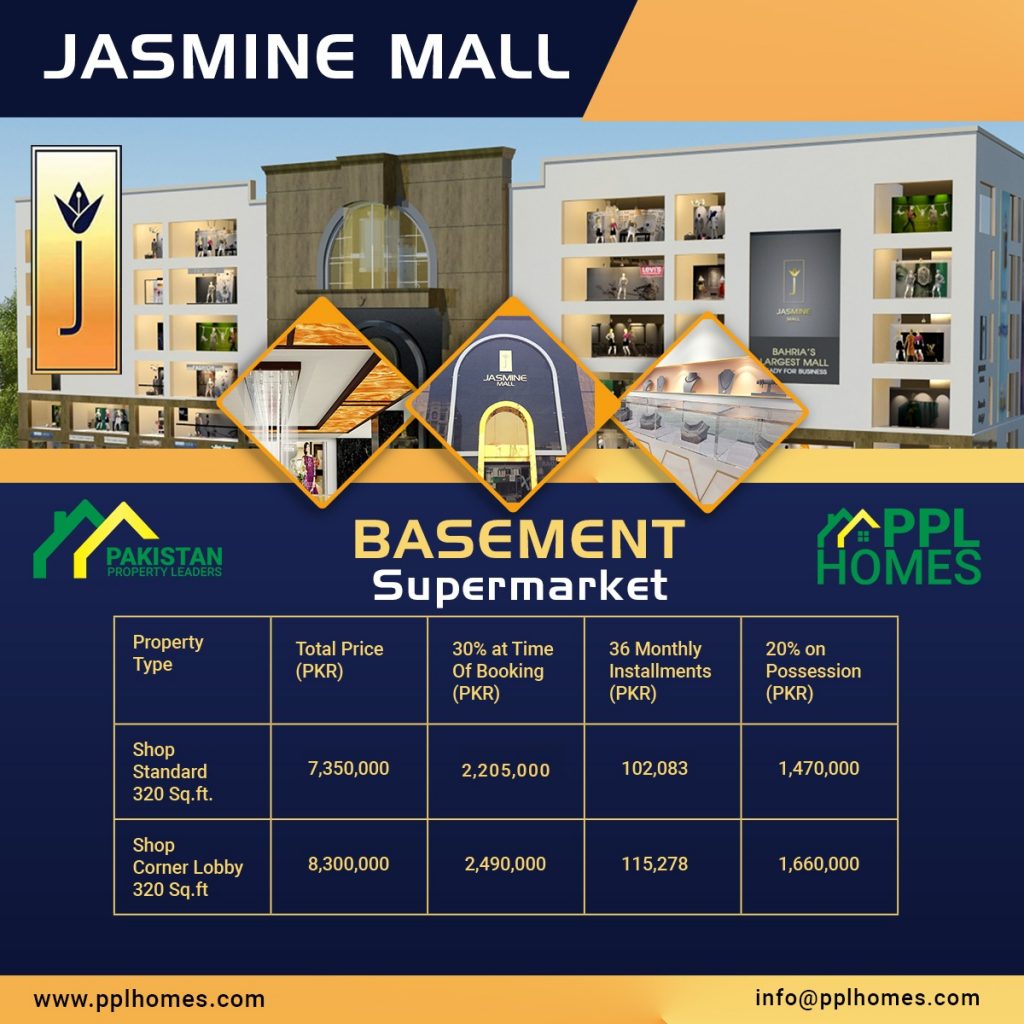 Ground Floor
This project's ground floor has 640 square feet of front and front corner categories stores for sale. The shops' prices range from 35 lakhs to 38.50 lakhs.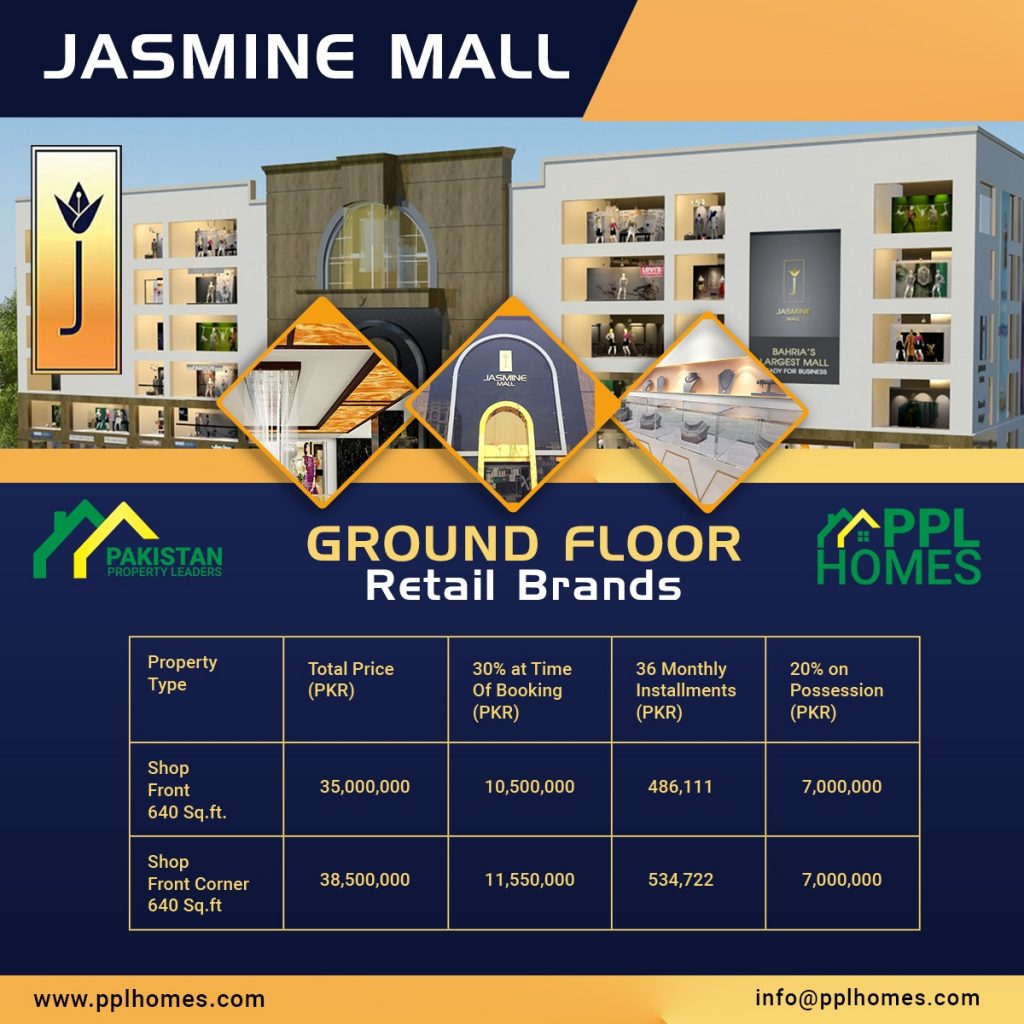 First Floor
The first level of this building includes 320 square foot retailers in the standard, front, corner, and front corner categories. The shops range in price from 76.50 lacs to 95 lacs. Bookings range from Rs. 1 lac 6 thousand to Rs. 1 lac 32 thousand.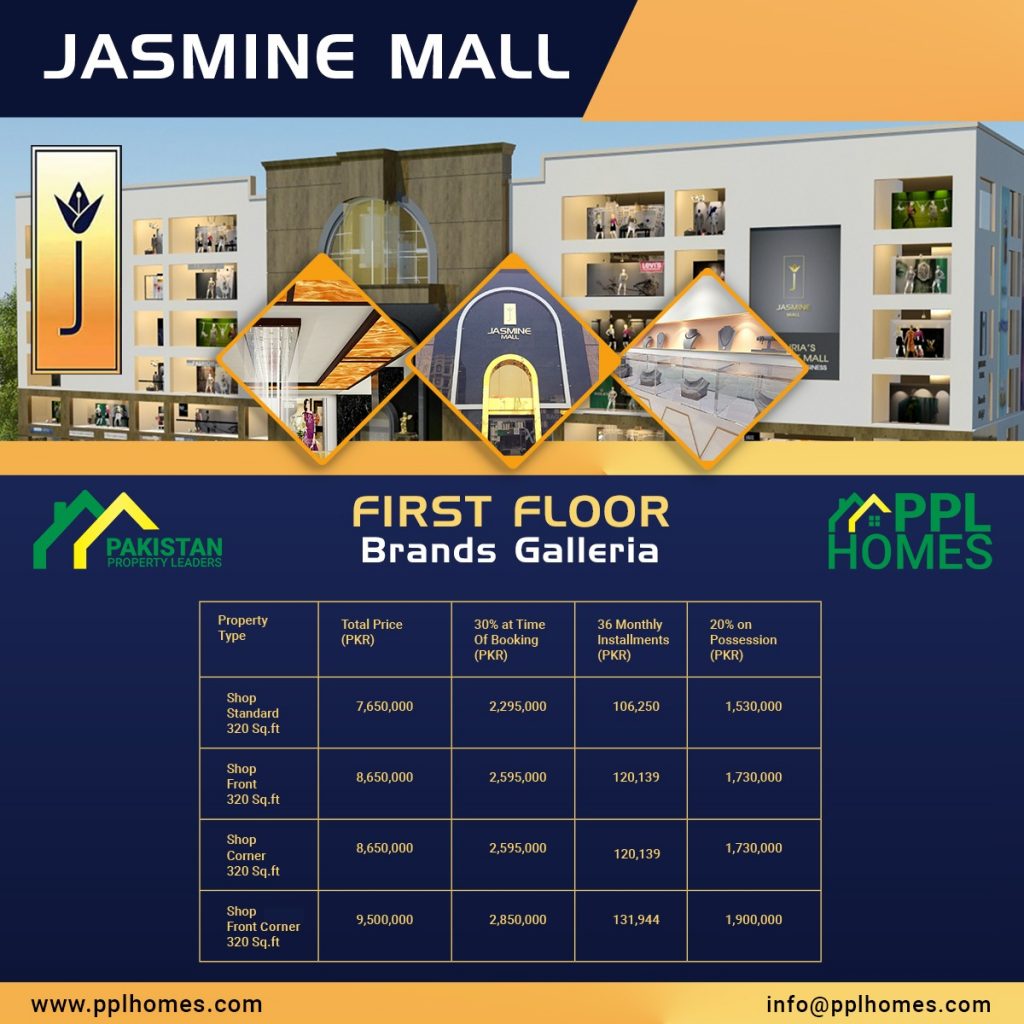 Second Floor
The second floor of Jasmine Mall also has 320 square foot stores. The shops are divided into four categories: regular, front, corner, and the front corner. The shops' values range from 64 lakhs to 83 lakhs. Furthermore, the booking fee is 30%, with the remaining balance paid in 36 monthly installments.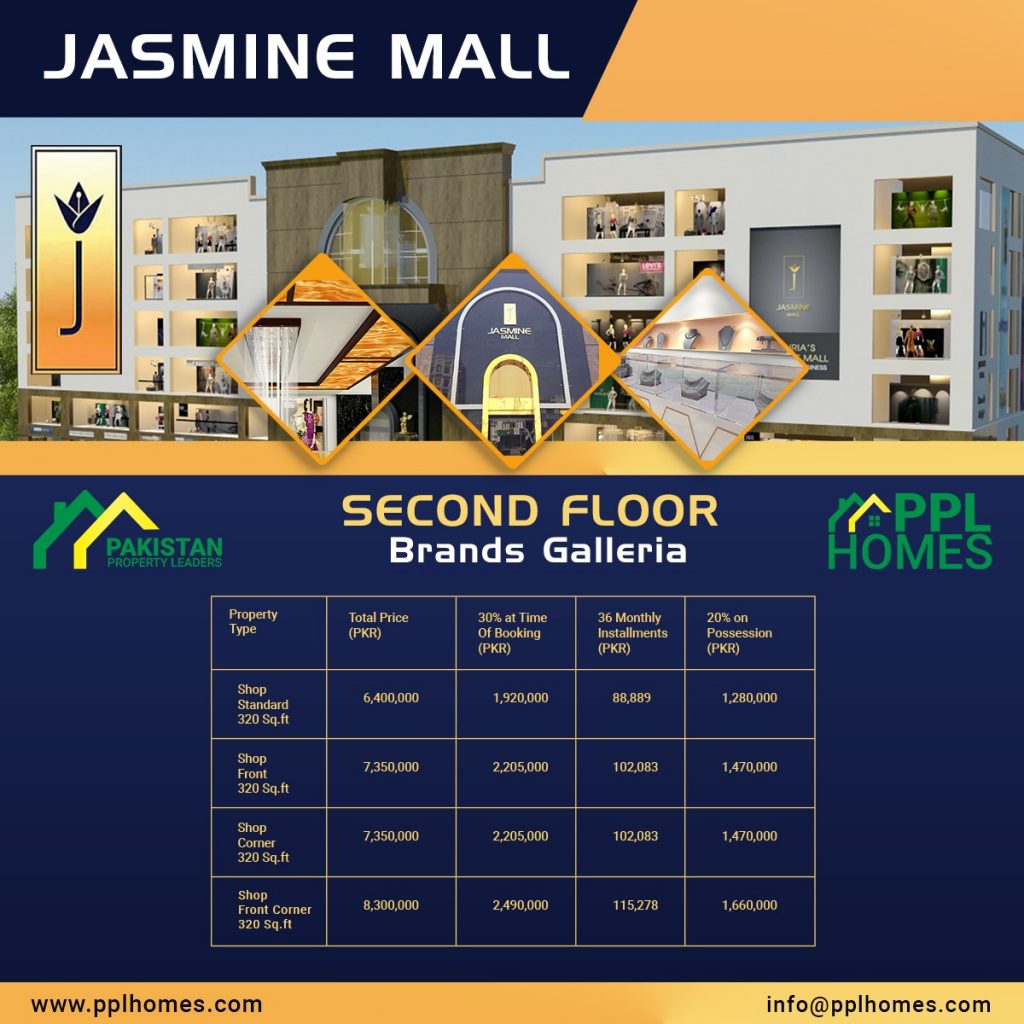 Third Floor:
This floor offers to invest in 320 sq ft shops. These shops are available in three different categories: standard corner, front corner, and front. The shops' cost varies from 53.50 lakhs to 73.50 lakhs. Reservations begin at 16.35 lacs. The remaining balance will be paid in over three years.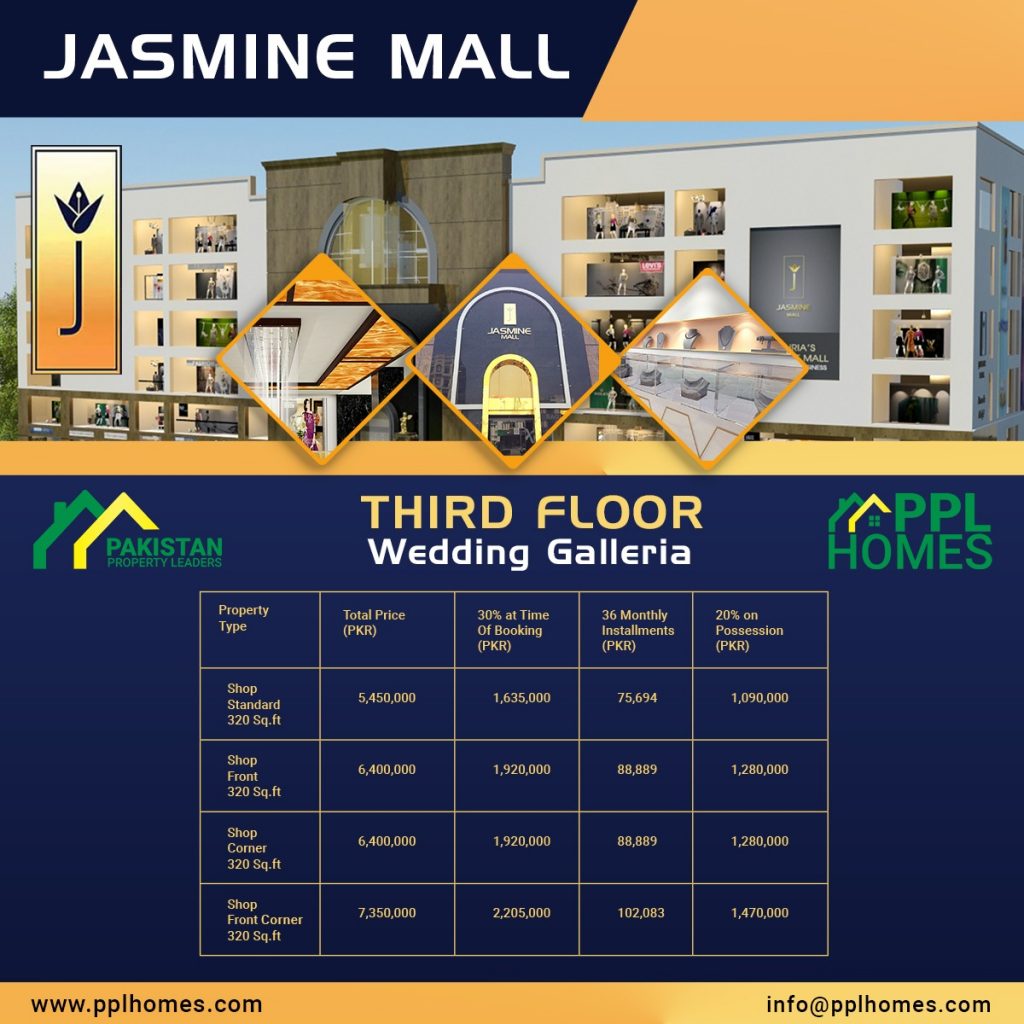 Fourth Floor
The best shops of 320 sq ft are offered on the 4th floor of Jasmine Mall Karachi in the standard, front, corner, and front corner categories. The shops' prices range from 45 lakhs to 64 lakhs. To make a reservation, a 30% deposit is necessary. The remaining balance can be paid in 36 monthly installments with ease.