Liberty Park's Residencia, Bahria Town Karachi
Liberty Park's Residencia, Bahria Town Karachi has recently launched. The groundbreaking ceremony took place a few weeks ago. The tower received its legal notice to begin selling immediately after submission of all important paperwork that adds credibility to the project.
This property is spread of multiple story's and each one of the floors has its own eccentric and beautiful view. The luxury tower is being developed and administered by the Homeland Enterprises Living Solution Builders and Developers builders. This project is developed based on future needs and principles. This will be a great addition to Bahria Town Karachi's skyscape.
The esteemed building is going to be a successful project because of two main reasons. One is the versatility of living options offered by it. This means that whether you want to live alone, with family, with a friend, with coworkers, or even if you want your siblings and parents to move in it with you this can be a great place. The homes here come in the sizes of one to three bedrooms. People can choose well-lit apartments that let the beautiful sun in every morning if they choose the corner apartments. The great thing about these apartments is that their layout provides quality and beauty to those living in it.
The second thing that makes this project an essential and perhaps successful addition to the town is its value of money. The project is in its nubile stages. It is likely to expand rapidly and the value that you can get out of your small minuscule investment right now is enormous in terms of the results you will get in the future.
Liberty Park's Residencia, Bahria Town Karachi Apartments:-
If you want a property that is not as difficult to take care of as a home or a villa, then this one can be perfect. Liberty Park's Residencia, Bahria Town Karachi offers many small and concise apartments that are suited to the needs of modern families and individuals. This building is going to offer you 1, 2, and 3 bedroom apartments on a range of floors. What this means is the higher you go in terms of the floor level, the prettier the views from your residence become.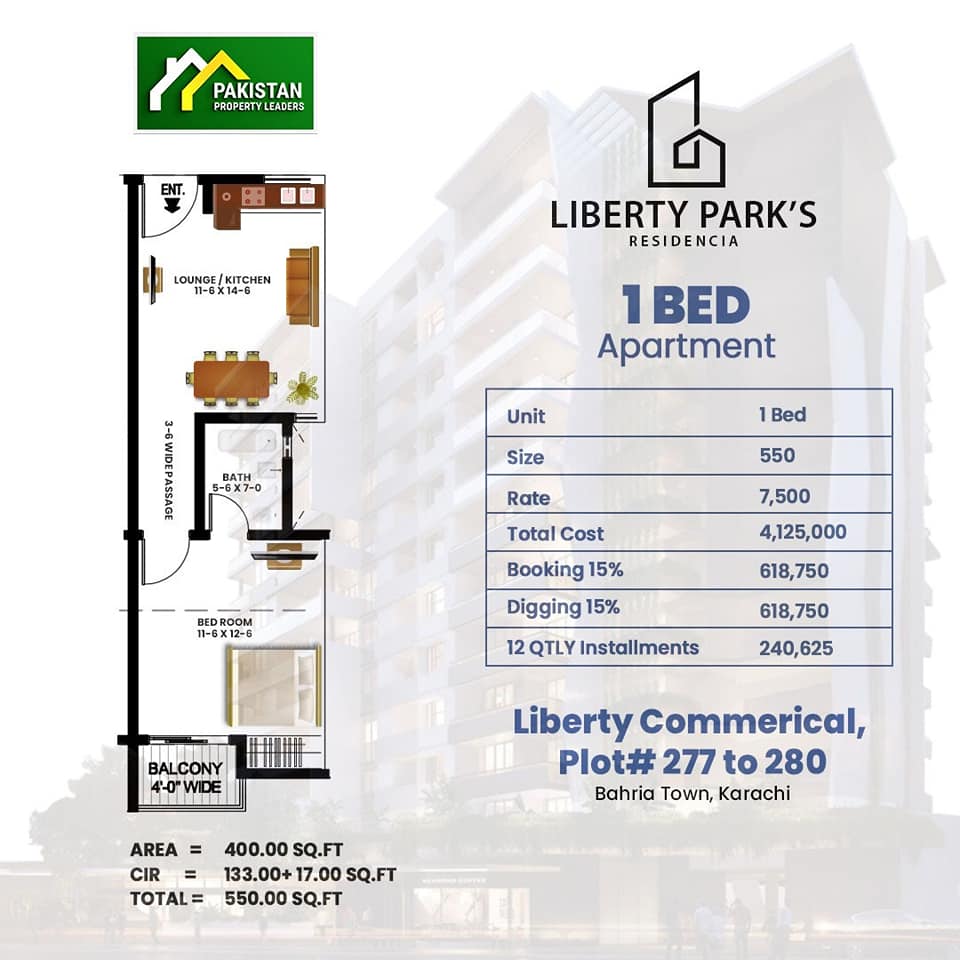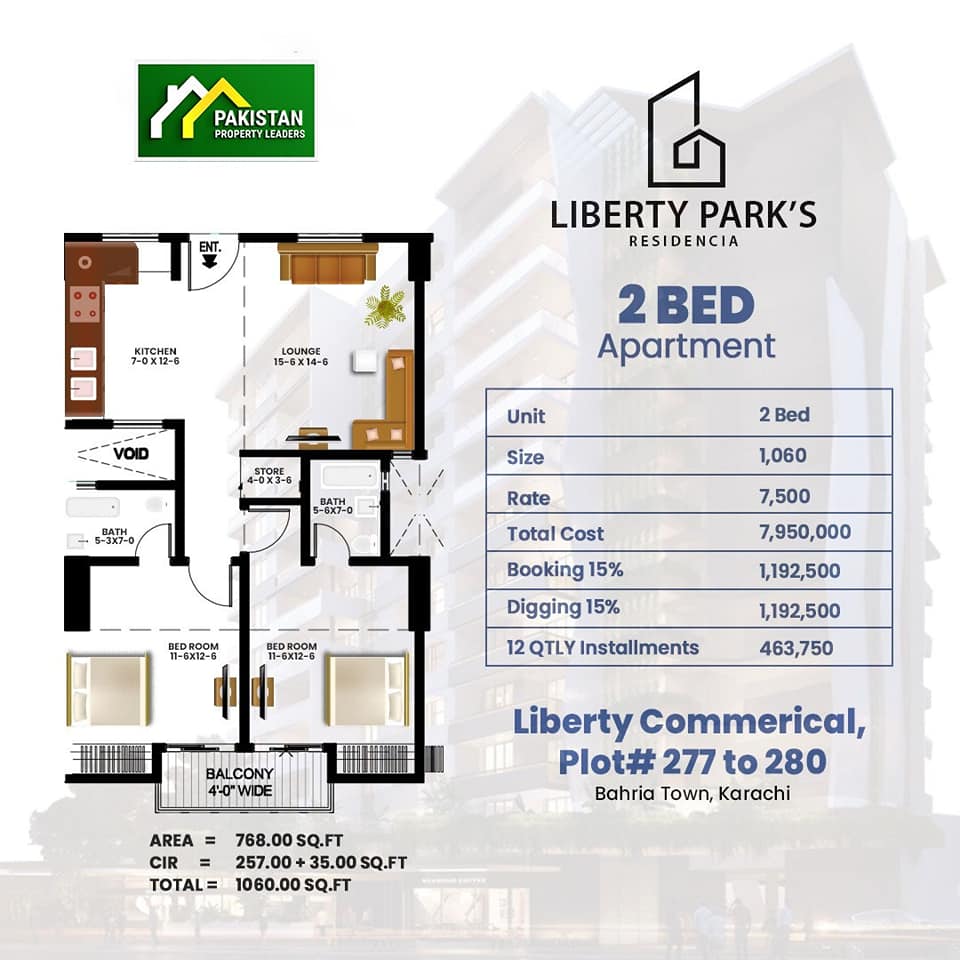 Their size is better than the ones you get in most places in Karachi. Considering this is a high-end project, it is very low priced at the moment. The price plan for the property is as follows: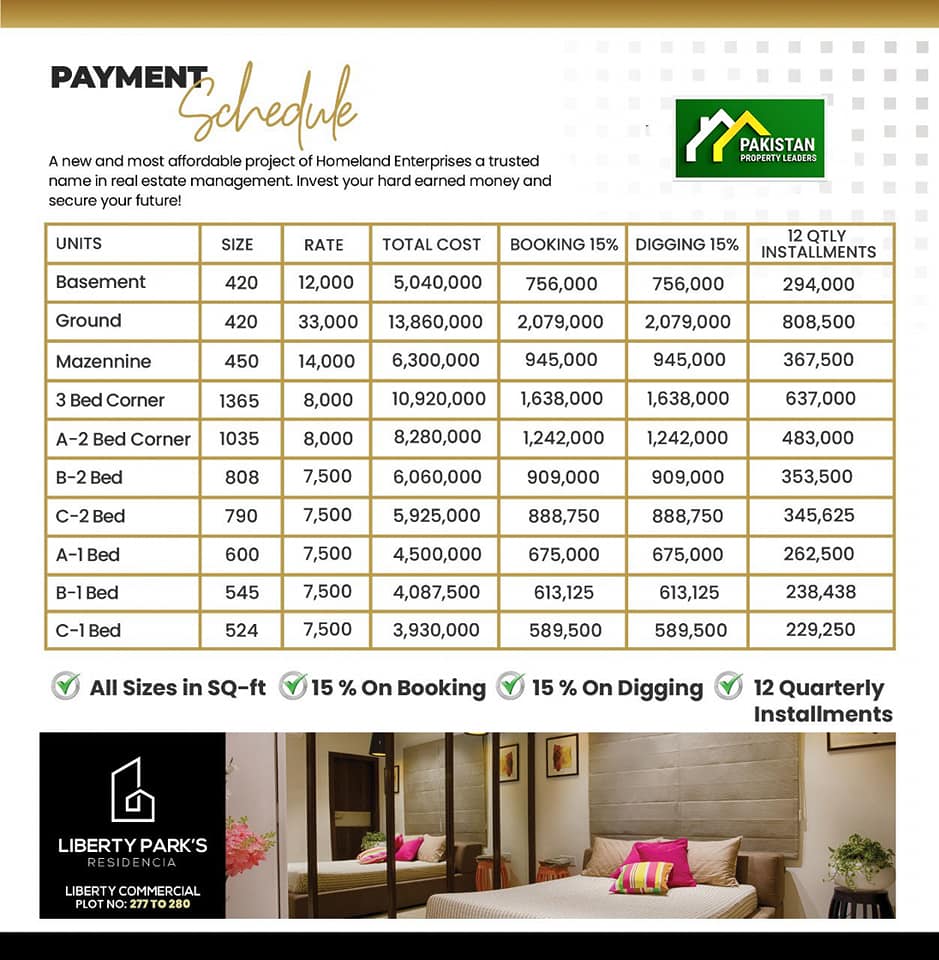 Other benefits for living in Liberty Park Residencia:-
One of the best deals that you can find in terms of freshly built apartments is going to be this one. This is because in the future the main Karachi city will only become more and more congested. Investing and living in a project like this which is set in a residential and commercial boulevard in Bahria Town Karachi, you will be able to get some serene views and reduced city pollution.
Profits and capital gains:-
Looking for a long term investment that brings you consistent side income? Liberty Park's residencia can be one of those projects. It is clearly a premium luxury place to live for anyone. The design and layout of the apartments in Liberty Park's Residencia Karachi suits various needs of different types of people.
Many people will be living in Bahria Town Karachi in the near future because of their jobs and businesses in the region. Instead of living on a two hours drive in the Karachi old corporate center, they would rather want to live in this peaceful and aesthetically built region.
These people can rent out a property from you. Whether your budget right now is big or small this project can fall in your range easily. This is because you only need to pay 15% at the time of the booking. Then you can get yourself a 12-month installment plan to make the remaining payments. Within the time of 2-3 years, you can begin recovering this money. This will be through renting out of your property to posh individuals from very sophisticated families. As the tower is designed for an urban yet beautiful living experience, you will only attract very decent tenants. This allows you to make sure that your property does not lose its beautiful touch via renting out.
Relocation:-
Karachi has become too saturated. This is why many people are already shifting to places like DHA Karachi and Bahria Town Karachi which is slightly away from the pollution, corruption, congestion, and stress of the main Karachi city. These megaprojects are like cities in themselves. They aim to limit the need for people to step out of the house. This is why you must invest in these projects and secure a home for you. How long can you live in your old neighborhood with the same problems after all?
Even if you can not afford a big villa or if you think a villa is not a safe choice, then there are options for you in the shape of projects such as the Liberty Park's Residencia. The project allows you all the benefits of living in a Porsche urban town, with added beauty and all modern amenities missing in Karachi.
As an investor, you can really target the people who want to relocate. Whether the influx of these relocating people is in the shape of their complete family or just themselves, the Liberty Park Residencia can cater to it quite well. This project will allow you to choose from a diverse range of apartments, and that allows you to diversify your investment portfolio.
For example, if you want to get two properties, you can choose one in the shape of a 2 bedroom apartment on the corner side, and a 3 bedroom apartment as well. There is a 1 bedroom studio and duplex suites available too. These options allow you to aim and target different kinds of people in the future. You can either sell your property to these people or rent it out making capital gains. Or, you can do both.
Liberty Park's residencia is a unique project that combines true contemporary experience, modern amenities, fast-life culture and serene living together. This makes it a great place to raise a family, work on your career or invest into as an asset.
In order to get more information or to make a booking you can contact one of our representatives and they will send you all the details you need to get started right away. Even if you are not in the mood to invest today and you can afford to buy expensive property in the coming future, then you can contact one of our agents at Pakistan Property Leaders for a consultation.
We highly recommend utilizing the lower prices right now to make the maximum gains possible.