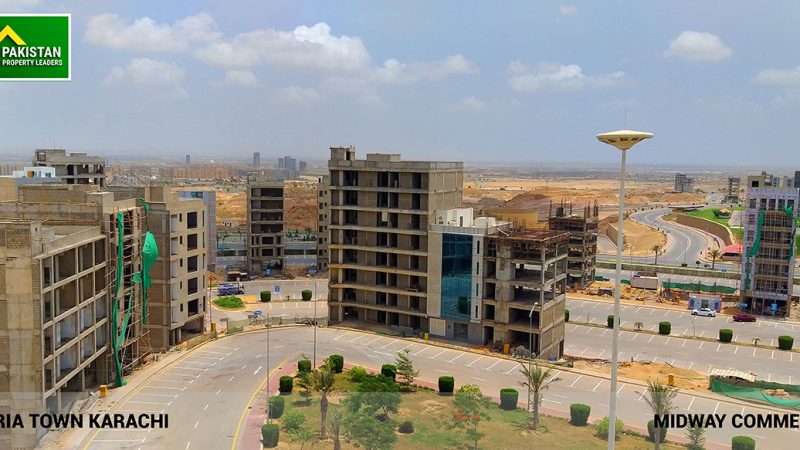 Midway commercial A – B Bahria Town Karachi
Commercial property in Bahria Town Karachi is in high demand, just like residential property. Bahria Town Karachi, as a master-planned housing society, provides a diverse range of commercial investment opportunities; however, Midway Commercial is one of the best.
Location:
Midway-Commercials is located in Karachi, Bahria City, in a prime spot. These commercials are located in front of Precinct 6. One of the most prominent features of these commercials is that Bahria Town's headquarters are located in the heart of this commercial center, with the office facing the majority of the available plots. Bahria Town Karachi has recently introduced Liberty commercials, which are also located near Midway Commercials.
Midway Commercial Plot Sizes & Availability:
A and B are the two sides of Midway. In these commercials, you'll find 125-square-foot commercial plots. Ground +06 floors can be built on limited-size commercial parcels, but Ground +08 floors can be built on larger commercial parcels available in Midway Advertisements, according to the Bahria Administration.
Payment plan:
Midway advertisements were first broadcast in 2014, and the payment schedule is as follows:
Total Price: * Crore
Down Payment: ** Lac
Qtr. Installments: *** Lac x 8
Reasons of different prices in midway commercial
These commercials are currently selling for a lot of money. Especially in B block, the area opposite the head office is selling for more than RS*** crore profit, and in A block, the area next to the theme park with large parking is selling for more than 1.5 crore profit. Other plots in usual locations are selling for 70 lacs or more, which is a significant profit in such a short time.
Midway Commercial- Perfect Investment Opportunity:
Midway Commercial provides you with the best investment opportunity. For the plots available, purchasing and making a good profit is strongly advised. You can invest and then sell the plot after it has been built, start your own company because the location is appealing, or rent out a square, offices, or shops.
If you have any questions about the Midway Commercial area, please contact Pakistan Property leaders by email or the phone numbers mentioned on our website or YouTube Channel