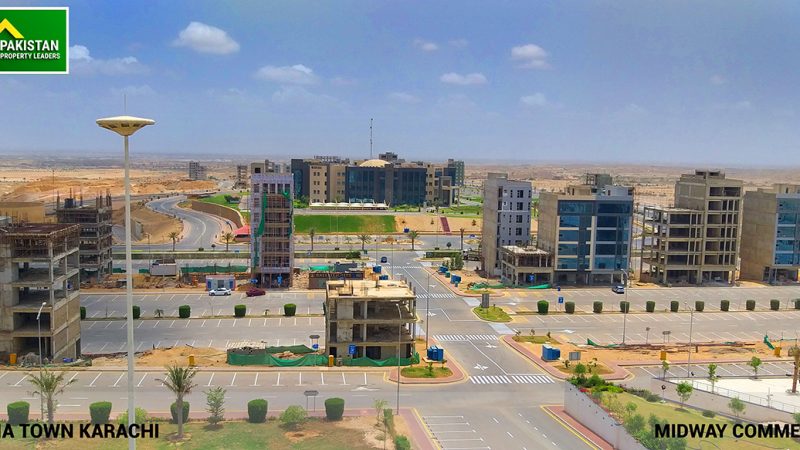 Midway Commercial Street Tour
Bahria Town Karachi is the largest housing project offering various options, such as residential parcels, built houses, villas, and apartments of various sizes.
But not only for residential property, this master-planned community is attractive, as buyers also consider this as the amazing option available in their commercial zone. In order to invest and start your company, Midway Commercials holds significant value. These Midway Commercials are essentially split into two sides, the A-side and the B-side.
Midway Commercial A-Side- & B-Side Information & Access for Location:
Midway-Commercials is located in the prime location of Karachi, Bahria City. In front of Precinct 6, these advertisements are situated. One of the key features of these advertisements is that the head office of Bahria Town is situated in the center of this commercial area and the office faces most of the available plots. Liberty advertisements that are also located near Midway Commercials have recently been launched by Bahria Town Karachi.
Plots Sizes & Availability for Midway Commercials:
There are two sides of Midway, A & B. You can find commercial parcels of 125 sq. in these advertisements. Yards & sq. 250. Uh, yards. The Bahria Administration has allowed the elevation of Ground +06 floors to be built on the limited size of commercial parcels; however, Ground +08 floors can be built on larger sizes of commercial parcels available in Midway Advertisements.
Details of Possession:
So far the developmental work at Midway is already over. And the good news for potential buyers is that plots are still available for ownership. You can see on the site the construction of several plazas and structures.
For plazas, banks, brands, public buildings or anything you want, you can create a commercial building here.
Prices:
Midway was introduced in 2014 and the payment plan is very flexible, as seen below:
Complete Price: 1.50 Crore
Down Payment: 35 Lac Lacs
14.375 Lac x 8 Installments:
The Midway commercial area is conveniently situated just along with Precinct 4, Precinct 6, and Precinct 9, right next to the International Theme Park. There are two Midway commercial blocks, Block A and Block B. Block A begins after the Theme Park, while Block B begins after the Bahria Town Kara headquarters.
These commercials are currently selling at high profits. In particular, more than 1.5 crore profit is sold in the area opposite the headquarters in B block and the area next to the theme park with large parking space in A block.
Other standard position parcels sell at a profit of 70+ lacs, which in such a short time is very high. However as buildings have not yet begun, there is still much more space for growth in Midway.
Nearby population and commercial scope
The Midway Residency Karachi is an ideal project undertaken by Bahria Town itself situated next to the Midway Commercial Street. This project gives you access to a huge population in Bahria Town that loves to enjoy a great range of modern amenities and facilities at affordable rates. You can situate your business here to tap into the market.
Bahria Town Management and private builders have approximately 40-50 ongoing projects in the area. These include the Liberty Park Tower, Liberty Park Residency, Tech Mall, Midway Residency, Abul Qasim, Precinct 1 among others.
All these properties are affordable so a lot of people are investing in them. This proves a huge market of future consumers for your shop or business in the Midway Commercial. For the convenience of buyers, developers are also offering simple payment plans for commercial properties.
In addition, this area is ideally surrounded by so many attractions, such as Midway Ads, Cine Gold Cinema, and the Bahria Town Karachi Five Star Hotel.
Midway Commercial- Perfect Investment Opportunity:
The best investment opportunity is given to you by Midway Commercial. Purchasing and making a good profit are strongly recommended for the plots available. You can make the investment and sell the plot after construction, start your own business as the location is appealing, or rent out a square, offices, or shops as well.
We hope that the detailed guide has helped you tour around and inside the streets of Midway Commercial. This virtual tour was designed to give you insider knowledge and help you analyze the plan and construction of the commercial area in the Midway Commercial. These are a good option in the real estate market that is sprouting in Bahria Town Karachi currently. For further information and bookings, please feel free to contact us here.