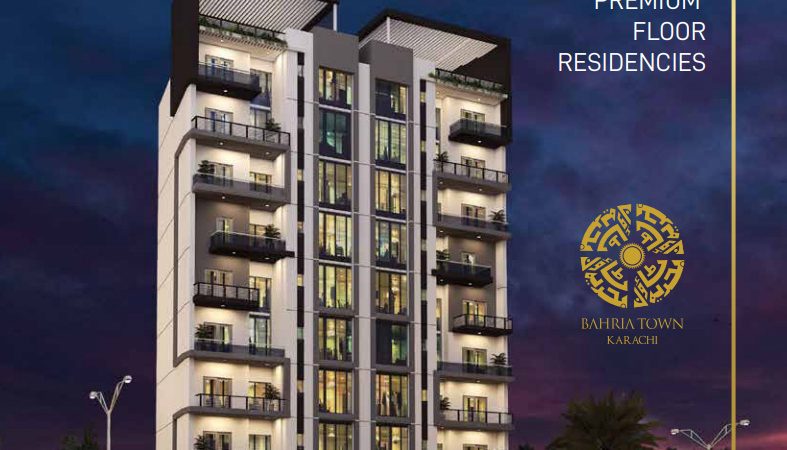 MJM Residency Bahria Town Karachi
The MJM Residency is planned to build in Bahria Town, Karachi's prominent location. It is one of Karachi's most ideally placed projects. This approaching mixed-use development's planned location makes it conveniently accessible from practically all central districts of the city.
MJM Residency is the best community with unique and essential facilities that enhance privacy, promote beauty, increase safety, and absorb renovated activities, allowing you to live your dream. Creating the idea of a peaceful housing community provides a quiet, secure, and serene setting. Kids and children of all ages can enjoy healthful activities in a park, walkways, and a nicely designed area.
Location
The MJM residency in Bahria Town Karachi is in a very convenient and developed city area. The apartment site is situated in the city's heart, with quick access to nearby business areas, theaters, a theme park, and other numerous attractions, ensuring excellent life quality and comprehensive providing of the best technology and amenities.
MJM Residency Property Developers Pvt. As part of an impressive Group Portfolio, Ltd seeks to be the most recognized builder in Karachi by meeting the real estate demands and requirements of professional, residential, and wholesale markets.
Notion Behind MJM Residency Project
The project's overall purpose is to provide a wholly developed and properly planned lavish residential design that considers its inhabitants' social requirements and needs. The project is nearly completed and is working on providing all the best facilities for comfortable living to the residents.
Facilities And Amenities At The MJM Residency
The MJM Residency's best amenities and services will allow you to experience luxury living in the heart of a vibrant neighborhood. The project also includes a variety of social, commercial, and shopping amenities, making it an ideal living resort. A big hall for the community is also included in the project, allowing locals to enjoy their events in a pleasant place. A beautiful mosque is also included in the plan. It is situated in a serene setting.
For the convenience of its residents, MJM residence provides some of the following noteworthy facilities and amenities of this highly anticipated mixed-use development:
Backup Generator, Gymnasium, and Fire Protection System
BBQ Area
Car Parking Under Cover
24-hour surveillance system
Elevators with high speeds
Group Activities and Shop by Department
Recreational Area with Multiple Uses
Children's Playgrounds and Restaurants
The community center, Commercial zone, Walkways
Living in a closed neighborhood is safe and secure.
Site is level
Lifts that meet international standards
Annual Maintenance, Backup Generator, Surveillance cameras
Intercom System with Centralized Control
Service of Security Guards
Cinemas, Amusement Park, Mosque
Provide Affordable Accommodation And Workspace
In response to the growing demand for real estate, MJM Residency Property Developers Pvt. Ltd is trying to give the public the most low-cost housing and office in a secure and appreciated environment. As a result, the first phase will include a 1,000,000 square foot master plan with commercial, apartment, and business units.
MJM Residency Payment Schedules
The units are available for rent in both installments and cash payments. In the rising Bahria Town Karachi, the project gives a combined building with 30 apartment residences, including a rooftop option, and 1800 square feet of ground-floor shop and cafe space.
Starting price of 422 sq. ft. (1 bed and lounge) apartment is Rs. 37,98,000/-, cash price of 512 sq. ft. (1 bed and lounge) apartment is Rs. 4,60,8000/-., and cash price of 967 sq. ft. (2 bed and lounge) apartment is Rs. 8,703,000/- and the cash price of 967 sq. ft. (2 bed and lounge) apartment is Rs. 8,829,000/-
These all payment schedules are also based on easy installments. You have to pay (15%) for booking and (10%) for digging. These installments will be completed in 30 months. Additional charges include PKR. 600,000/- for west open, Dacon tower facing, and road facing.
Latest Development Updates On The MJM Residency
The MJM Residency is now complete, with development operations at full speed. All of the building's apartment units designated for commercial use are nearly finished.
Investment Options In The MJM Residency
The best chance to purchase a magnificent flat in Bahria Town Karachi is to invest in the MJM Residency. The MJM residency's top and lower stories have 1-2 bedroom residential units and a lounge with aesthetically beautiful decor and modern layouts. The MJM residence apartments are incredibly affordable.
Lower stories on the building's podium, on the other hand, are mostly built on commercial apartments that are part of a shopping mall, making it an attractive location for global brand retailers.
Why Invest In The MJM Residency
The MJM Residency is an excellent investment opportunity. Here are the benefits it provides to investors:
Captain Ghulam Mustafa, a well-known figure in the industry, is the visionary head of MJM Residency Property Developers Pvt. Ltd.
MJM Residency Property Developers Pvt. Ltd is a part of Pakistan's most dependable and trusted corporation, the Waterlink Group of Companies.
This large-scale development is finished and includes all of the amenities required for a high-profile lifestyle.
Because of the project's outstanding position, it will have high visibility. The opening of commercial units in the MJM residence is projected to result in a significant increase in visitor numbers.
The project's residential properties with flexible payment plans.
Capital gains of up to 40% are expected within the following few years.
Finally,
The MJM Residency has already started to get local unit buyers and business investors interested. The project's apartments are rapidly depleting. So, if you want to take advantage of this good investment opportunity, you must act quickly. You can contact them by visiting their website to get further information.