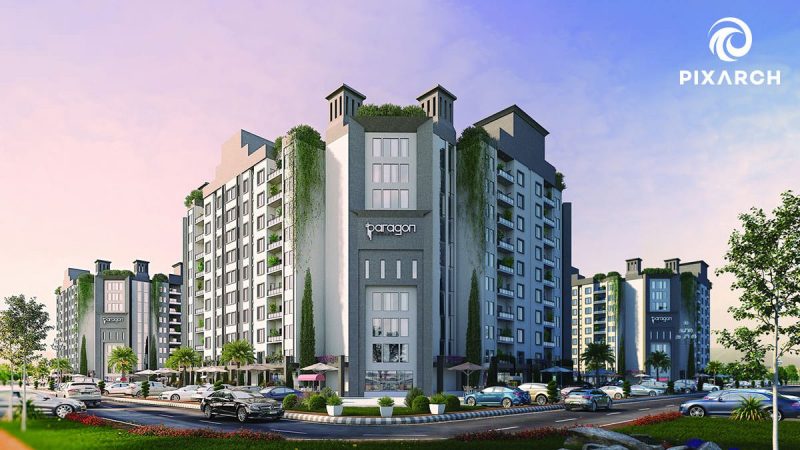 Paragon Towers – Paragon Apartments Bahria Town Karachi
Bahria Town Karachi's Paragon Towers is a unique neighborhood concept that offers a luxurious atmosphere and modern amenities for a high-class and modern lifestyle. Paragon Towers' modern and trendy 2 bedroom apartments are ideal for all types of families and offer convenient access to all lifestyle amenities such as commercial areas, gyms, spas, restaurants, mini-golf, and more.
Paragon Towers Location:
The Paragon Towers are conveniently placed in Bahria Town Karachi's Precinct 17. These towers are located on Jinnah Avenue, approximately 5 kilometers from the community's main entrance. Ali villa in Bahria Town Karachi, Malik Riaz Private Helipad, Bahria Hills, and Usman Mosque are all within walking distance of Paragon Tower.
Paragon Towers Layout Plan:
G +9 storeys have been permitted for Paragon Towers. The commercial plots will be located on the ground floor, on the buildings outside. Only residential flats will be presented on floors 1 through 9.
There are two alternative floor plans for the units. There are two bedrooms, two bathrooms, a kitchen, balconies, and a living room in this apartment. Residents can pick between these two layout plans based on their interests.
 Available properties:
The residential flats and commercial sectors at Paragon Towers are designed to meet the needs of a wide range of investors and inhabitants. The 2 bedroom apartments are 1400 sq. ft. in size, and there are two possible layouts for these apartments to suit different sorts of investors and tenants. The commercial area is divided into two sections, each with its own set of shops. One type is 385 square feet in size, while the other is 435 square feet in size.
Paragon Towers Payment plan:
The payment schedule for the Paragon Towers is simple and convenient, with a 36-month payment plan spread out over three years.
If you pay in full at the time of booking, you will receive a 5% discount.
At the time of booking, a processing fee of PKR 5000/- will be collected.
A fee will be charged for a preferred location.
Additional balcony on the first floor (PKR 500,000)
Jinnah Avenue is on the other side of the building (PKR 400,000)
In front of the road (PKR 300,000)
Apartments payment plan
| | |
| --- | --- |
| Total price | 8,400,000 |
| Down payment | 1,500,000 |
| Monthly Installments x 36 (PKR) | 177,778 |
| Possession (PKR) | 500,000 |
| 300 sq. Ft. Circulation area not charged | |
 Payment plan for Shop 1 (385 sq. ft.)
| | |
| --- | --- |
| Total price (PKR) | 7,760,000 |
| Down payment (PKR) | 1,000,000 |
| Monthly Installments x 36 (PKR) | 177,000 |
| Possession (PKR) | 388,000 |
Shop 1 has a total price of PKR 7,760,000 with a PKR 1,000,000 down payment, while Shop 2 has a total price of PKR 8,700,000 with a PKR 1,000,000 down payment.
Payment plan for Shop 2 (435 sq. ft.)
| | |
| --- | --- |
| Total price (PKR) | 8,700,000 |
| Down payment (PKR) | 1,000,000 |
| Monthly Installments x 36 (PKR) | 202,000 |
| Possession (PKR) | 435,000 |
• A processing fee of PKR 5000/- will be paid at the time of booking