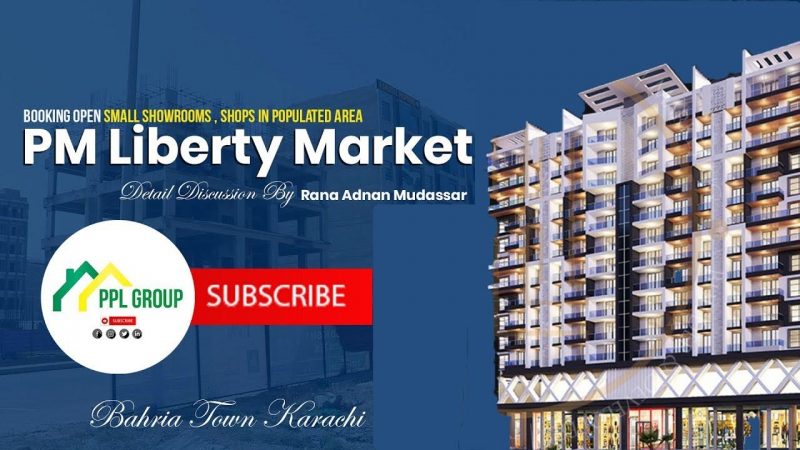 PM Liberty Market Bahria Town Karachi
Leading property management company Pakistan Property Leaders (PPL). PPL has developed a well-respected record for curating content that aids in informing and assisting local investors on issues related to real estate investment. No matter how difficult it becomes, Pakistan Property Leaders believe in offering their clients honest advice. Pakistan Property Leaders has a track record of buying and selling homes quickly and at the best possible price. All of this has been made possible by its strategic marketing and top-notch customer support. Having a wide network of customers around the nation, and take great pride in providing each one with the same level of commitment and excellence.
Property managers in Pakistan are giving it their all when it comes to dealing with real estate. The name of their newest incredible project, PM Liberty Market, indicates how well it was constructed. Property Leaders, the leading land association in Pakistan and the developer of the PM Liberty Market, provides a forum for communication with numerous property buyers and retailers from across the world. They provide our clients who live in Pakistan and overseas with competent and steadfast consulting. With time, we have been successful in extending our operations and exceeding expectations in providing essential incomes and benefits to every one of our clients.
About PM Liberty Market Project
PM Liberty Market is a masterpiece and a great small-scale investment opportunity because it has all the qualities of a top-notch market center. For individuals who have never had the chance to invest in the commercial market, PM Liberty Market is a fantastic opportunity. Additionally, they might invest here for the best return on investment and shortest payback duration.
Ideal Location
PM Liberty Market is a fully commercial project in Bahria Town Karachi Precinct 8. It was created by Pakistan's top real estate developers and consists of a basement, ground, and a two-story building. The location is excellent and increases the investment's value, which benefits and appeals to clients greatly. It can be located in Plot Number 96–97, next to Grand Jamia Masjid. It can be found at the closest Bahria High. The vicinity is entirely populated and developed.
A Modest Investment
PM Liberty market offers the best investment opportunity for both investors and customers. Investment in Bahria Town Karachi will be profitable because it is one of the markets for the nearby inhabitants where all the where all facilities are available.
The investment is a small scale with a significant and greater return. The payment schedule is incredibly simple and uncomplicated. People who want to invest their money in small amounts can invest here for sure to boost their earnings.
Additionally, smaller investments are preferred because they carry less risk and no investor would presumably want to lose his money.
Consistent Rental Income
There is no requirement that you launch a business here. By renting out their establishments to people who wish to launch or expand their businesses, investors can generate a steady stream of rental money. This results in a win-win scenario for all stakeholders, including the investor and the occupant of the store.
There aren't many stories in the PM Liberty Market because it's merely a two-story building with a ground floor. As a result, if you want the best retail location in Liberty Market. These retailers will be accessible on a first-come, first-served basis. The cost of the shops will increase as a result of the scarcity of shops. Therefore, it is worthwhile to put now before prices increase. Therefore, don't wait much longer and secure your commercial space at PM Liberty Market in Bahria Town, Karachi.
PM Liberty Market Apartments And Their Payment Schedule
For those who value exclusivity in their lives, PM Liberty Market offers a selection of stores and shops. In the market, there are options for about 2 floors and a ground floor. You can choose any floor shop. If you decide to invest in Liberty Market, you can earn so much from here. The project is only getting started, and reservations are still available. Great adventures are just around the corner at PM Liberty Market in the center of Bahria Town. When wanting to invest in the market, there are numerous possibilities available. The project has a breathtaking view. It is situated in a prominent and secure area
The floor plans that follow show the various configurations and plans of the apartments in PM Liberty Market.
The Basement Of PM Liberty Market
The basement of the PM Liberty Market consists of many shops. This project offers reasonable installment options, so you may benefit from them if you're interested in investing in basement shops. The payment plan for the basement is 19000/ꜱQ ꜰᴛ
The Ground Floor Of PM Liberty Market
The ground floor of PM Liberty Market consists of different sizes of shops with varying prices. As this project offers reasonable installment options, so you may benefit from them if you're interested in investing in the Ground Floor of PM Liberty Market. The payment plan for the ground floor is 50000/ꜱQ ꜰᴛ.
The First And Second Floor Of PM Liberty Market
Choosing a good store can be difficult, especially if you're looking for somewhere affordable and convenient to all the facilities you need. The retail stores located on PM Liberty Market's First and Second Floors are the best places for commercial shops. Customers can pay for this project using a fair installment schedule.
The payment schedule for PM Liberty Market's First Floor is 19000/ꜱQ ꜰᴛ and Second Floor is 17500/ꜱQ ꜰᴛ.
Developers Information
The PM Liberty Market is a project of a well-known company that is well-known for its reputation in real estate handling and marketing. They offer the greatest service in real estate dealing with the best team. The Pakistan Property Leaders' client requested a project from them for a high-class lifestyle. With the aid of our anticipated assistance, you will be sufficiently capable to polish your decisions before undertaking the ideal financial transaction of your life.
Call Us:
Call Pakistan Property Leaders for more details on renting a business property in PM Liberty Market Bahria Town Karachi. You can get far more current data on any real estate difficulties along with first-rate solutions. As dealerships of Bahria Town Karachi, Pakistan Property Leaders handle the projects with the utmost care, inspection, and dedication. For more information, get in touch with Pakistan Property Leaders.