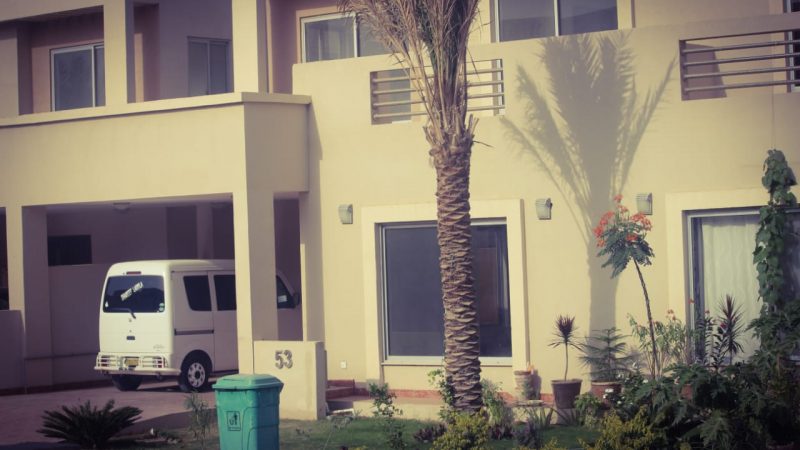 Life in Precinct 10 A Villas
Precinct 10 A Villas are close to the infrastructural and visual attraction of Bahria Heights. There are Mosques, Schools and Commercial areas right around the corner. This is a great way to stay in touch with your roots and live without the need to go far for the basic necessities. The Precinct is loaded with public areas, recreational spots and small parks for daily physical activity and gorging on vitamin-D. This town is predicated on the idea of living with ease. It fulfills just that with access to all kinds of facilities and services to help you live stress-free. Despite having a series of villas in the region this is going to be a noise-free region. It is free of noise pollution and can help in curbing the negative effects of noise, chaos, and delinquencies in the town.
Layout plan:
The layout allows privacy to the master bedroom keeping in mind the practical constraints and inspired by a European lifestyle. This can help keep the noise and the arguments from the children's room or the guest bed away from the master bedroom. It improves the privacy of a guest and helps in keeping the peaceful and serene part of the house to the one who needs the most.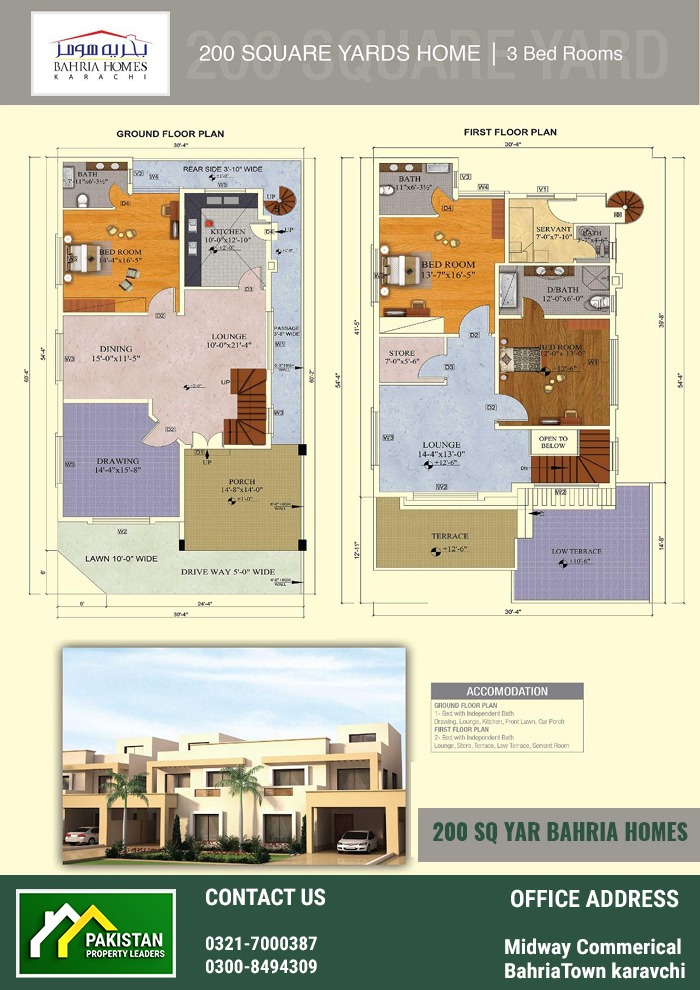 These houses are designed for practical living. None of the rooms are too big to cool with a medium-sized air conditioner, and all of the rooms including the kitchen area are equipped with essential dedicated spaces for everyday usage. The kitchen islands, sitting area, television lounge, terrace, and the garage are all designed and place for quick access and instant acquaintance. Users may extract very high user value out of these because of the critical design thinking that has supported its creation.
3 bedrooms of accommodation:
Ultimately these houses are created for living. Whether people buy them to invest in them as an option of investment, or in order to live there. The main idea behind the development of the Precinct 10 A Villas is to enable a high class living on a budget. The houses allow a small family or group of people to share a living space. These villas have 3-bedroom plans. This means that within one house, 3 sets of people can live at once with one bedroom each. This may be divided into three generations: a family, couples, children, siblings or friends. This helps in making the use of space most efficiently divided for all.
Ideal lifestyle
Bahria Town in the past has shaped the lifestyles of the community. This means that it has been able to shape up the way people live making their lives easier than before. Bahria Town Karachi gives the residents the ideal living culture and lifestyle through the creation of a peaceful and serene environment. This gives the end-users access to all infrastructural, recreational and developmental facilities that they may need including jobs, education acquiring and more in one region.
This eliminates the need to go out of town for anything at all. It makes things premium and stresses free by eliminating city traffic, managing the roads in a neat and tidy way and ensuring that there is no mess elsewhere.
Facilities:
Bahria Town Karachi Precinct 10 A Villas have all utility services available. These include natural gas supply, electricity, active municipal and horticulture organizations in place. The community is going to be fuelled by the beauty of the landscaping and thick carpeted roads for an uber living experience. These factors make every day to and fro in and out of your villa easier, safer and much more relaxing as compared to other parts of Karachi. These are constructed Villas so you will not need to call in any services for plumbing, carpentry, masonry and so on, this is because the construction of the house one to all is premium and is designed to keep such pains out of your life.
Price:
In order to acquire for yourself a house in the Precinct 10 A Villas, Bahria Town Karachi you may contact one of our representatives to guide you further. The price ranges from 1.8 Crores for a Villa to 1.26 Crores, depending on the particulars, location and more.
Location:
Precinct 10 A Villas Bahria Town Karachi, area located at the heart of the Precinct. There are dedicated public buildings, health and fitness centers, mosques, institutional areas, close-by apartments and more nearby. These factors make it very practical to live here. There is adequate space for commercial shops to be filled with bakeries, clothing, and retail brands as well as grocery stores and medical shops among other things. These are all crafted in a fashion to make it easier and effortless to be in the region.
200Sq yards:
A 200 Sq Yards house can be ideal for families of 4 or 5 people because it has 3 bedroom plans.
The size of these apartments is up to the needs of a small family. If you are a family of four or five individuals then you should really look into these options. Whilst if you are an investor this option is ideal for investment. This is because homes that suit the needs of families are less riskier to buy as a rental property for future turnover.
You can also invest in this option as the prices are low at the moment as compared to the finished projects of Bahria Town and the value increase they witness over time. Bahria Town has been a reputed name in the real estate world. This is because they have been delivering their projects as per promise without fail in numerous parts of the country.
Apart from these factors the world's third-largest mosque and Pakistan's first theme park is going to be situated in Bahria Town Karachi. These are major changes on the development map of Pakistan. If you wish to be on the prosperous side of history then you may contact one of our following agents to help you acquire yourself a piece of property or a villa as per your needs in Bahria Town Karachi.