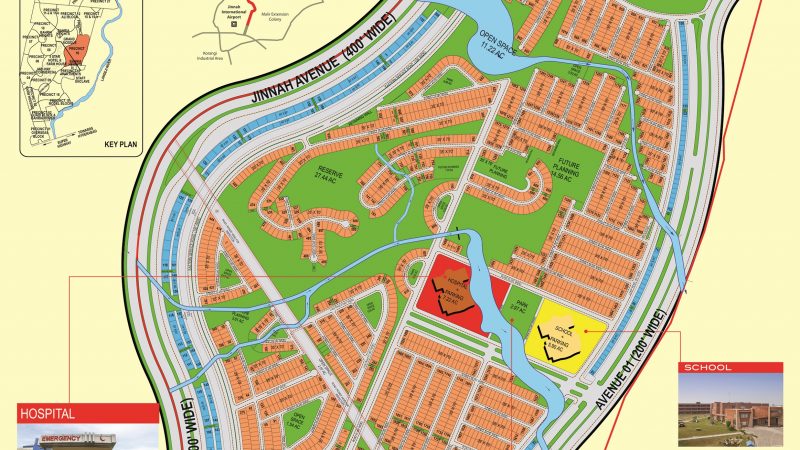 Precinct 16- Bahria Town Karachi
Bahria Town Karachi is an outstanding housing project in the country that has won the hearts of both domestic and international clients for the comfortable lifestyle it offers. There are several precincts in this complex, but Precinct 16 is a fantastic example of Bahria's superior architecture and management. This is yet another appealing precinct of Bahria Town Karachi, which is surrounded by numerous attractions. This precinct's incredible features and amenities have made it a top option for both residence and good investment.
Precinct 16-overview:
Precinct 16 is at the top of the list of people's favorite precincts because it has been completely created. Both of the plots are on the field and are 250 square yards in size. This precinct is simply a value-added point since it is located in a prime position but the prices of the available plots are still fair.
When the prices of 250 square yard plots available in Precinct 16 are compared to the same category of residential plots available in neighboring precincts, it is apparent that the prices are attractive enough to invest. Below are some additional info.
Location and Amazing Attractions
Precinct 16 has a high value in terms of location because of its fantastic location and the abundance of attractions that surround it. It is situated in front of the Grand Jamia Mosque on the main Jinnah Avenue. Bahria Paradise, Precinct 15, 14, and Paragon Towers surround it. Another feature that contributes to its superiority is that it is connected to a theme park.
Bahria Paradise is situated at the back of Precinct 16. The 350 sq. yard luxury villas of Bahria Paradise will be able to move in soon, and as soon as it is occupied, the value of this precinct will rise. It is adjacent to the commercial area near the Grand Jamia Mosque. If you look at the attractions, Precinct 16 is surrounded by incredible attractions on all four sides.
Development Status & Expected Possession
Another remarkable feature that distinguishes Precinct 16 from other precincts is its current state of growth. Yes, this precinct's construction is complete, and all that's left is for you to take possession. We anticipate hearing about it in the coming months. Buying is also strongly advised because it is the best way to spend at the right moment. Bahria allows minimum ground plus 1 floor construction for shifting of family.
Updated Prices of 250 Sq. Yards Plots in Precinct 16
Precinct 16 is made up of plots of 250 square yards that are beautifully laid out. These residential plots of 250 square yards were launched with a four-year installment plan that has already been completed. These plots are now available for purchase exclusively on a full payment basis.
The most recent prices for these plots have shown that a plot of 250 square yards can be purchased for the most unbelievable prices. These plots will be available for purchase at a price range of 70 to 85 lacs depending upon location.
The price of extra land that you would pay during possession is 10,000 per square meter. Villas that are ready to move in cost at least 2.5 crores. If you do your own construction, you can save at least 50,000.
Precinct 16 is the perfect choice for those looking to invest in real estate. Property leaders in Pakistan are often willing to assist their clients with details and property purchases. For more updates, please visit our website or subscribe to our YouTube channel.