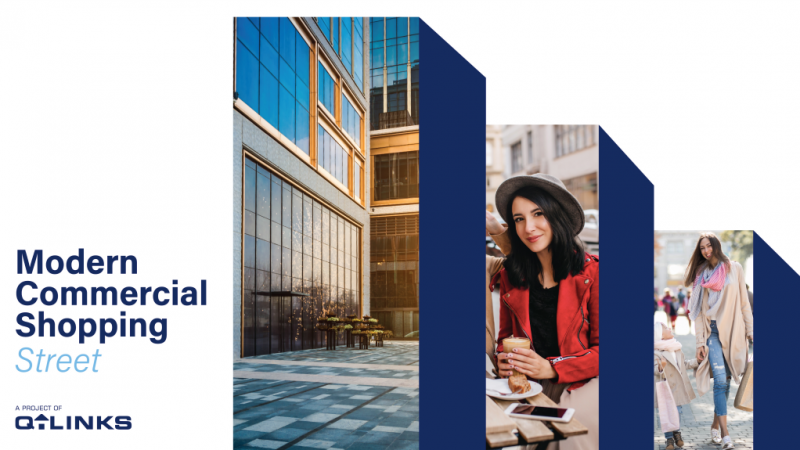 Q High Street – 4 Marla Commercial Plots
In Lahore, a new offering of commercial plots has just been made public. The renowned Q-Links Developers have launched cutting-edge Q High Street Commercial Plots. It offers 4 Marla plots, making it a prime investment opportunity for Pakistanis living in Pakistan and abroad who are looking for the greatest commercial properties. This project is situated on land that has been approved by the LDA, and it is conveniently located in the heart of Lahore Pine Ave Road near the Lake City Ring Road interchange
Q High Street On-Ground Commercial Plots On Installments
These plots' starting rates are affordable, and the remaining balance will be paid in convenient installments. These are primarily on-ground plots. Within a year following the booking, the plots will be delivered in possession. The following discussion goes into further depth about the deal's location, costs, and reservations:
It's a brand-new project with commercial plots of 4 Marla that are offered in two categories, some of which face dwellings and others of which face other businesses. Q High Street plots are already in place, and possession will be given to buyers in a year.
Where Is Q High Street Located?
Q-Links When deciding where to put a project, developers are almost usually in the lead. The Q High Street location, like all the previous developments, is excellent. The appropriate location for this project is Pine Avenue a housing development close to Lake City Lahore.
Nearby are several prestigious housing communities and business projects, including Lake City Lahore, Khaya Bane Amin, DHA Vl Rahbar, EDEN Abad, Al-Kabir Town Lahore, and Bahria Orchard Lahore. Due to these initiatives, Q-High Street in Lahore is likely to see a significant increase in foot traffic.
Pricing For Commercial Plots In 4 Marla Q High Street
The payment schedule for Q High Street is intended to be flexible and friendly. Investors and end users can take possession of their commercial plots in one year thanks to the 2-year installment plan. Development fees are included in the payment schedule, and the plots are being sold with plot numbers.

These 4 marla plots range in price from 3.25 crore to 3.45 crore, depending on where they are located. When making a reservation, a 20% down payment is needed. The next 20% down payment is due on or before February 20, 2023. Beginning on May 15, 2023, the 8 quarterly installment payments will be made.
The Brilliant Key Features
1,000,000+ sqft of Covered Area
Vibrant ground floor, basement,
Workplaces and Co-working Spaces
Mezzanine Plans (40 or more Units)
Fitness center, spa, hair salons
Prime Location in Lahore, close to the Lake City Ring Road Interchange
Enormous supermarket
A restaurant or a cafe
Strategically positioned in the heart of emerging areas
Restaurants and sky bars on rooftops
The first-class commercial shopping streets
Showrooms for furniture and decor
Offices for developers and real estate
Iconic and contemporary architecture
Activities and a food court
Retail establishments and showrooms
Fashion stores and brands
Wellness centers and dental clinics
Retailers of all kinds
Drug stores
ATMs and banks
Ample parking for cars and more
Benefits Of Investing
Q A 20% down payment will easily reserve a High Street site. In two years, the balance is due. These are plots that are on the ground, and possession will be given in a year. The launch pricing of these plots is quite reasonable, and the fact that they can be purchased in installments makes them perfect.
Due to the excellent location and anticipated high foot traffic, purchasing one of these plots will be beneficial.
You could build a business plaza and make a lot of money. The plots have inexpensive launching costs. Prices will reach up to 1 crore per marla in a short period. These commercial 4 Marla plots will be profitable as an investment throughout the long and short terms.
Why? Invest in Q High Street
Q High Street is a desirable investment opportunity for some reasons, including the following:
Q Links Pvt. Limited, a business with a track record of completing successful projects, developed the project.
Because of the premium location's great demand, businesses can flourish there.
A variety of investors can access it thanks to the variable payment schedule.
Conclusion:
Finally, Q High Street by Q Links Pvt. Limited offers investors and end users a special chance to purchase a commercial plot in a desirable location with a flexible payment schedule and the promise of prompt possession. Because there are so few plots available, this project guarantees exclusivity and great demand in the future. Don't pass up this chance to put money into a prestigious developer's world-class project.