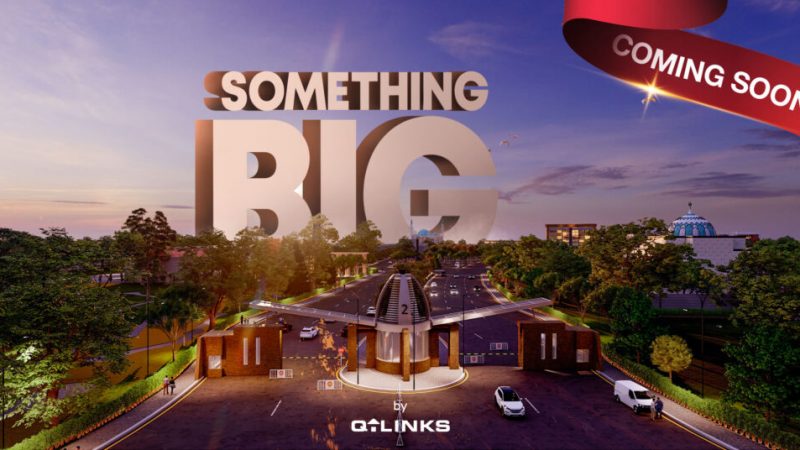 Q Link Developers Upcoming Project In Bahria Town Lahore

One of the greatest real estate developers in Pakistan has teased another great project that is coming soon. Q links developers are well known in the Pakistani real estate market, they have made their name stand out from the rest with great developmental projects in Bahria Town Karachi And Bahria Orchard Lahore.
All the investors who want to earn big on their investments or are waiting for some exciting project to come, your wait is over because Q-links Developers are here with the announcement of their upcoming project.

About Q Links Developer

Q Links developers are a well-known name that can be found in residential and commercial projects in Karachi And Lahore. They are present in the market for more than a decade and plan to stay with a commitment to providing modern architecture to Pakistan. Q links work to provide investors with great investment opportunities through their Development projects. Their project always maintains and represents Innovation, smart planning, and great ROI.

Something Big Is Coming Your Way

Q links Developers never disappoint and as always have teased the investors to be ready for something big that is coming. The new project that is being teased is known to be launched in Lahore, with the specifications of it being a residential commercial building.

Expected Project Layout And Design

The project being announced is known to be a residential commercial building, a modern architecture that accommodates all the good in it. The project will comprise a building designed to have commercial shops, showrooms, and a food court as well as hotel rooms and residential 2- and 3- bedroom apartments all in one building complex.
The building is going to be designed in a way that the first two floors will be holding the commercial real estate, which will include, Brand shops, showrooms of different genres, and a food court. Above will stand two tall towers that will not only enhance the beauty of the structure but also serve the main purpose.
One of the two towers will hold hotel service rooms, that can be booked by tourists and visitors to spend the night with all the necessities and more present just a few floors down. The other tower is made for residential purposes and will hold 2 – bedroom and 3- bedroom apartments. The residential unit will comprise all the basic needs and luxurious amenities as we have witnessed in other Q links projects.

Other Successful Projects By Q Links Developers

Because of the high success rate of Q links projects, we are sure that this project is also going to be a big hit and is a great investment opportunity for investors. Here are some other successful projects done by Q Links In Lahore and Karachi.

Jasmine Mall Bahria Town Lahore

One of the iconic malls in Bahria town Lahore is Jasmine mall, which serves as the main shopping attraction for the residents and visitors of Bahria Town Lahore. The Jasmine mall is a great commercial project located in the heart of Bahria town in Sector C. Jasmine Mall provides great amenities with access to local and international brands, a massive food court, a kids' play area, and many other activities. Jasmine Mall Bahria town is an operational big hit without any doubts.

Q – Hotel Studio And Apartments Karachi

An extraordinary residential project that makes the living dream come true. This project not only provides residential opportunities but also provides easy access to one of the best shopping malls you can find in Karachi in a few footsteps. This project holds all the world-class amenities one can wish for with great architecture and design at reasonable rates.

Q-Hotel Studio & Apartments are ideal for you if you wish to discover a new way of living in a premier area of Karachi and own a home that improves your lifestyle! Find yourself among the opulent amenities of Bahria Town in Karachi and raise your level of living. The top interior designers in the nation have individually created and decorated each room.

Orchard Homes Lahore

The second residential property deal for Bahria Orchard Lahore by Q-Links Developers is called Orchard Homes. These triple-story 5 Marla residences are available on a flexible payment schedule. Additionally, depending on your needs, you can invest in a single-story or the complete Orchard Home in this project. The development work of this project has started and going smoothly with a great success rate.

Eastern And Eastern Executive Villas Lahore

Most of the residential projects of Q Links in Bahria Orchard Lahore have been placed in Phase 4. However, this Eastern Villas and Eastern Executive Villas project of Q links is launched in Bahria Orchard Lahore Phase 1 exclusively. These five Marla double-story residences are fully developed and many of them have been occupied, and they are part of Bahria Orchard's first phase.
Although Eastern Executive Villas are the newest villa offering available in Eastern Extension Phase 1, Eastern Villas were introduced a few months ago. These two villas are both available for three-year payments.

Jasmine Mall Bahria Town Karachi

After the success of Jasmine Mall in Lahore, The Q-links Developers found it essential to launch the loved project in the city of lights, Karachi. The 5-Star premium shopping mall is spread across 165,000 Sq Ft. Jasmine Mall Bahria Town Karachi can hold hundreds of shops including massive parking spaces, Local and international brands, a huge food court, entertainment facilities for kids and adults with roof top sky bar, and Bahria street food.
Jasmine Mall Bahria Town Karachi holds all the best features one can desire to be present in a shopping mall, which includes; 24/7 security and CCTV, Back energy sources to avoid power cutouts, advanced and high-speed elevators, and escalators. This is another great project which enhances the portfolio of Q links.

Safari Villas Bahria Town Karachi

Safari villas are present in Bahria Greens, Karachi's first sustainable residential neighborhood, which was created to improve living without compromising the demands of coming generations. Q-Links offers a refined and opulent way of living. With their top-notch amenities, cutting-edge design, chic floor plan, and appealing aesthetic, Safari Villas are built to give you a life of luxury like no other.
Safari Villas Bahria Town Offers modern and aesthetic housing at affordable rates. All this is available without compromising on the amenities provided. Investors can enjoy 24/ 7 security, along with all the necessities of living present within a minute's distance. Residents can enjoy lush greenery, parks, and wide roads which makes living better.

Safari Homes In Bahria Orchard Lahore

After receiving a tremendous amount of interest from investors and customers in Q-Links Developers' residential project, the firm has proudly introduced Safari Homes. These five Marla independent residences are available on a three-year payment plan. These residences are situated in the G6 Block of Bahria Orchard Lahore Phase 4, which is also part of Bahria Orchard Phase 4.

Investing In Q-Links New Project

As witnessed in previous successful projects of Q-links developers, it is undoubtedly the best decision one can make whether to invest in commercial or residential projects. Q-links developer is a name of trust and a leading industry in the real estate market. making investments in Q-link's previous and upcoming projects is the right decision to gain large profits.
Lastly
The goal of Q-Links Developers is to provide people with better, more sustainable, and cutting-edge options. Their goal is to establish themselves as industry leaders by launching sizable projects in Lahore's real estate market. They already have a reputation for putting forth great and high-quality work. Their work on both business and residential buildings is undeniably luxurious, top-notch, and comfortable.