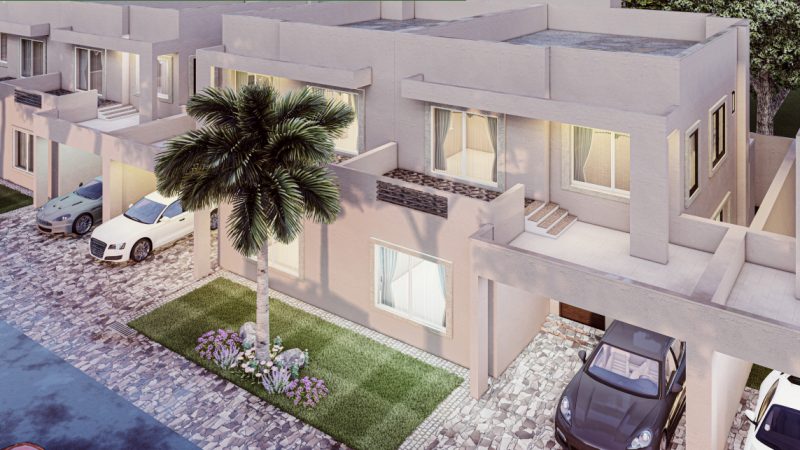 Residencia ARY Bahria Town Karachi
Residencia by ARY portrays the true image of a luxurious and opulent lifestyle that one wishes to lead. There is not a single facility that you can name that is not already available in Residencia by ARY. If you are planning to move to such a place then it would be beneficial for you.
For not only living purposes but investing in residencia by ARY is lucrative. This is so because it is located in the heart of Bahria Town. This place will reap lots of profit in terms of investments. Here are further details that you must know about Residencia by ARY.
Top-Grade Location
The highly splendid Residencia is located in Bahria Town's most top-notch location from where most of the important landmarks are nearby. The head office of this highly luxurious community is on the 6th floor of the Madinah City Mall at Haroon Road if you want to visit the office for detailed meetings and information.
Nearby Attractive Landmarks
There are some of the important landmarks nearby which add more importance and value to the Residencia by ARY. They are just a few minutes away from Residencia.
It is lucky if you get a highway near your place because it makes transportation easy and less time-consuming. The main highway is just 10 minutes of drive away.
It only takes a drive of 10 minutes to reach Bahria Town Head Office.
The golf club Is only 5 minutes away.
Bahria Town Adventure Land
Sometimes parents get frustrated about what to do when kids throw tantrums? One of the easiest solutions is available at Residencia by ARY which is a 5 minutes-drive away from adventure land.
What better option than a zoo where kids get to learn and have fun at the same time. The Danzoo is just 10 minutes away from Residencia by ARY.
Karachi Airport is located only 35 minutes of drive away.
You will only have to drive 10 minutes to reach the midway commercial.
What better option to kill the boredom than a cinema? Which is just at a distance of 10 minutes.
Details of Opulent Villas
The villas of Residencia by ARY are extremely opulent. The area they cover is 200 Square Yards with G+1 Flooring Plan. On the ground floor from the entrance, there is a car porch, next o which is a spacious drawing room, living room, and, dining room which are quite spacious. Then there is the kitchen which is majestic. And next to the kitchen is the master bedroom with an attached washroom.
On the first floor, there are two bedrooms with attached washrooms. A room for servants, and storage as well. The living room is quite spacious.
Payment Plan and Options
The total price of the villa is 21,800,000 PKR. 30% will be paid by a down payment which will be around 6,540,000. If you want to get possession then you will have to pay 10% which will be 2,180,000 PKR. The rest of the payment will be proceeded by a monthly installment of 436,000 PKR. These installments will be completed in a duration of 30 months.
You also have an option of paying the whole payment of the villa all at once.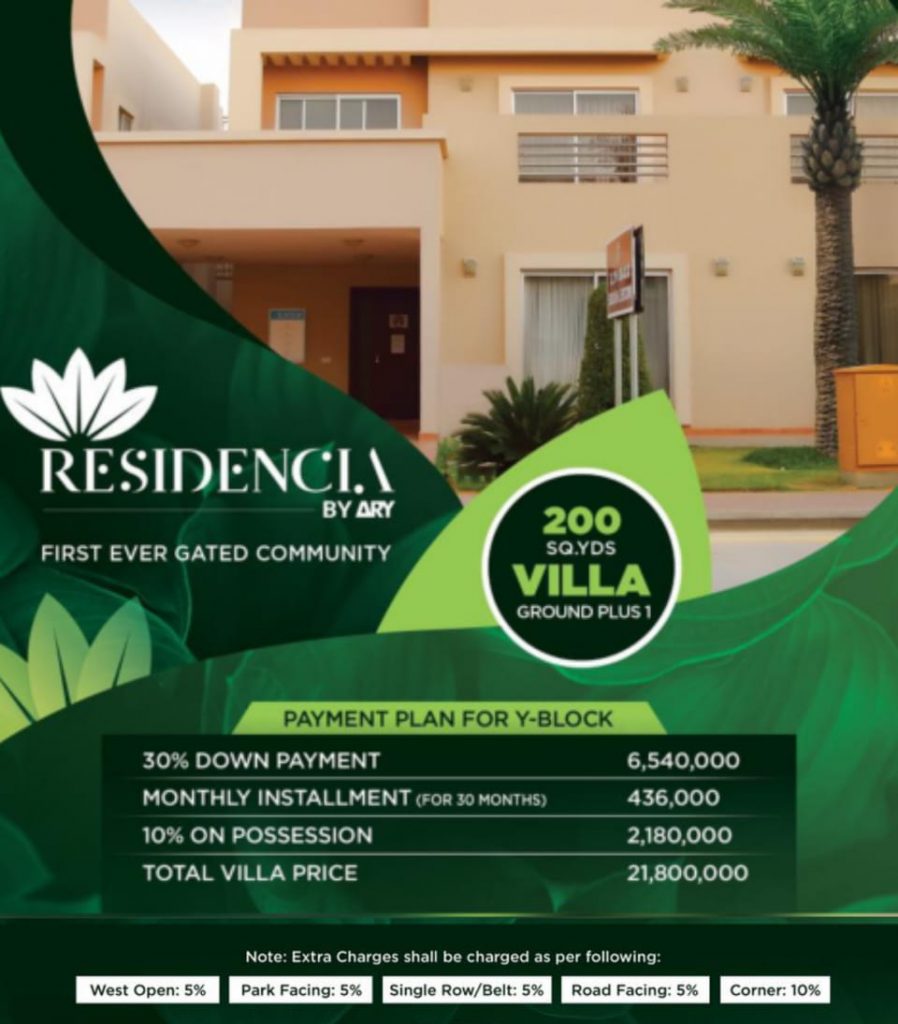 Details for Additional Charges
There will be extra charges on the whole payment of some of the places and conditions. The additional charges will be applied if and only if:
• If the villa is facing west opening then 5% on the total.
• If the villa is facing park, then additional 5% will be applied to the total value.
• If there is a green belt or single row to which the villa is facing then 5% additional payment.
• 10% additional will be charged to the corner plots and villas.
State of the Art Infrastructure
Residencia by ARY is the first ever community which is gated and the high-tech technology is used in its gating. The infra structure of the community is splendid and the infra structure of the villas is also done using the latest technologies and modern art.
1st high tech gated community
Luxurious Amenities
ARY residencia provides all the necessary amenities that one could need for a standardized luxury living.
36-Hole Majestic Golf Course
There are a lot of people who have golf hobby. If you have never played golf ever in your life the you can get a chance to. There are so many attractive memberships for the residents which are discounted.
Remembering the one who made you capable of achieving all what you have is extremely important and mosque is a pillar of every society and community. The Grand Mosque has a beautiful architecture and aesthetic vibes to it.
Rafi International Cricket Stadium
Rafi International Cricket Stadium holds great importance because it is the type of the land mark which will increase the property value of all of its nearby areas. It is nearby the Residencia by ARY.
Splendid Dancing Fountains of Bahria
They add a great view and vibes at night and day as well.
Life is tasteless without entertainment and hanging out with family and friends while watching a nice rom com at a luxurious cinema always sounds good. But because of huge distances we often reject this option. You need not to worry at all because Cine Gold Cinema is located nearby.
Gardens make the environment fresh, clean, and healthy. They keep on filtering the pollution from the environment. If you prefer morning walks then it is a great thing because there are so many gardens in Residencia by ARY.
Education is the most important thing for the future of the kids and there are multiple schools that will meet your standards.
A good Hospital that provides basic to complex medical services is all what a society can need. There are hospitals in the plan of the society.
Theme and adventure parks are a necessity if you are a family with kids. At Residencia by ARY, you get that amenity as well.
Conclusion
Residencia By ARY is the best option for both living and investing because of its lucrative options.