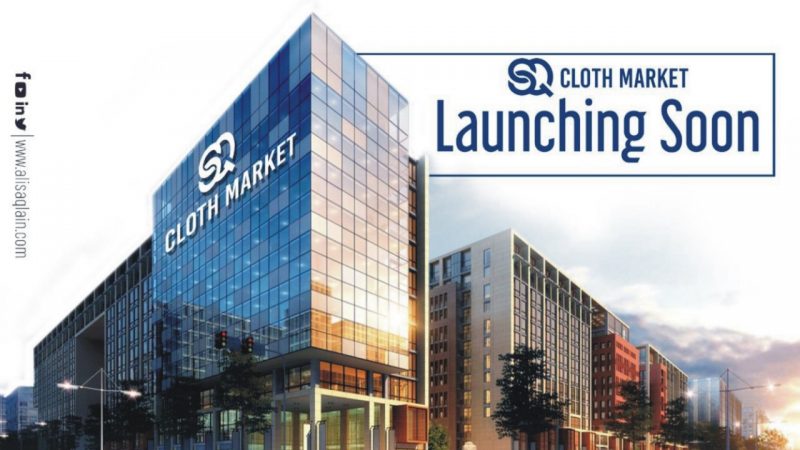 SQ Cloth Market in Bahria Town Karachi – Booking Start
Let's explore the detailed features and benefits of the SQ Cloth Market in Bahria Town Karachi and the kind of shops and businesses that will spur there in the coming 2-3 years.
The cloth market in Bahria town Karachi gives you a perfect place to shop for clothes. Under the same roof, you will easily find out the variety of clothes that you have been looking for. A place that provides you with a diversity of options, from the expensive most to the cheapest one with amazing quality. This market is famous for branded clothes to small shops for matching, with the exported material from all around Pakistan. customers always prefer to buy clothes from the market rather than online shopping, because clothing is something, we are all finicky about. Bahria town care for the residents has planned a cloth shopping mall that will give you a lifetime experience. Easy access to everything is what we are always looking for.
Bahria Town Karachi has been a blessing to Karachi's real estate investors, and while the market has been sluggish and prices have been down recently, it still provides a medium-scale and large-scale investment opportunity that no one will want to skip. You are in the right place if you are trying to take advantage of the chance. The cloth market is a perfect fit to invest in and besides they are providing medium-scale investors the chance to invest in this project.
You are always at the safer end when you invest in commercial because that is always profitable. The cloth market is the center of attention for all, this will provide higher returns in the future. More will be launched later and made accessible at a later stage for booking. If you want to make sound budget decisions, then this chance should not be overlooked.
Location:
It is located at the heart of Bahria, it is located near the theme park and the plot number 77, 78, 79, and 80 are located for the cloth market.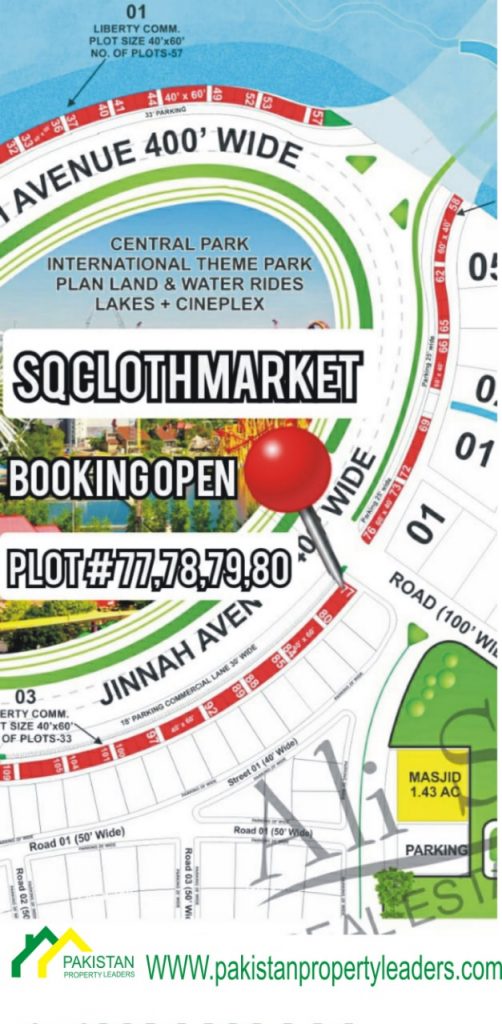 Surroundings:
From the main gate, it is at a distance of 2 kilometers only. The mall is facing the theme park. Imtiaz store is at the backside of the building. Left side if we see we can locate Jamia masjid and Ali villa at a distance. At the backside of the theme park, we have Bahria town main office. It's located in the middle of Bahria where it is easy for people to access and have everything available at a single spot, malls and stores are not scattered so it's convenient for everybody. A proper parking area is designed for the ease of customers.
Kind of shops:
Bahria has planned a lifestyle mall that features brands, small shops, and restaurants all in a single place. To cater to the need of a large segment of the population's rising lifestyle needs. It gives retailers outstanding benefits in which you have convenient access, a well-planned product mix, and excellent product and services to accommodate all kinds of customers. Upcoming brands in the mall are what all women and men look for, Asim Jofa, Junaid Jamshed, Khaadi, Alkaram, etc.
Showrooms available:
Showrooms available to capture the wholesaler and retail market, they have provided them with showrooms so that people have everything available in the mall. Showrooms are important for matching plus they are planning to target every kind of customer. To make their life hassle-free.
Shop sizes available:
Most of the shops range from 170 to 370 square feet which is an adequate size for a shop. There are in total of 468 shops.
Standards shop:
The standard shop in the building starts from 192.75 to 313.75 square feet.
Corner facing lobby
Corner facing lobby is almost 231.15 square feet.
Standard facing theme park ranges:
Standard facing theme park ranges from 263.29 to 354.017 square feet, the price for standard shop facing theme park varies a little then the regular ones.
The number of floors, the food court, and other facilities.
There are almost 12 floors in the building. All the floors have access to cargo lift and lift and escalator access for the customers. The food court is only available on floor 3rd, 6th, 9th, and 12th so that it is convenient for everybody. Having male and female washrooms on every floor. The prices vary from floor and location vise, the shops located on the 2nd floor have a high price while the ones located on the 12th floor have comparatively less price.
Available at easy installments:
The shop prices start from 15 lac to 1 crore. Making it easy for you they have also designed an installment plan for people who want to buy but cannot make the payment all at once. The affordable installment plan ranges from 14,000 to 60,000, making it easy for small shop buyers to easily manage to pay for a shop. The minimum down payment of 700,000 to 800,000 is required.
When is it expected to be completed? Construction?
It is expected to get completed in 2 years, within two years the prices will be on fire.
Merger Option:
Merger option is only for the cloth market and not for offices or supermarts, so they can manage people who did not get possession of Providing people with a merger option in case of disputed or nonexistent plots in Bahria town Karachi, in that case, they can exchange property with a shop with some additional money.
Conclusion:
Its better to get a hold of this opportunity, it's one of the safest investments that anybody can make. A commercial plot at this range is quite affordable. It's one of the best times to invest your money in the most reliable project.
Contact an agent to get an early bird discount now!