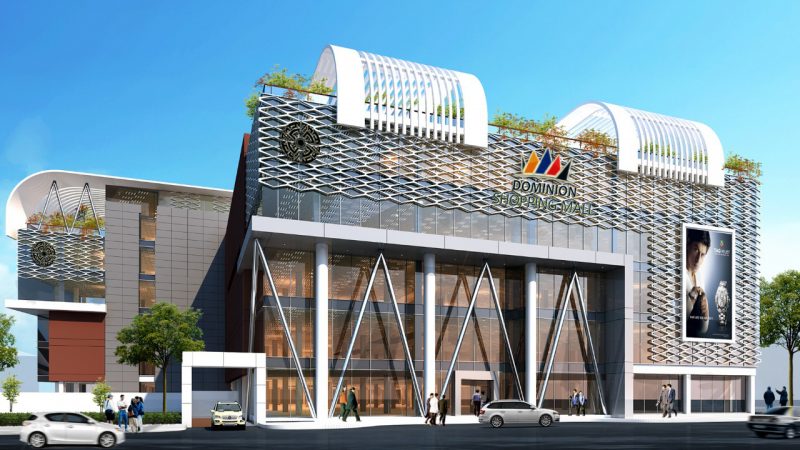 The Dominion Mall Bahria Town Karachi – Twin Tower
The Dominion Mall is located in Bahria Town, Karachi. It is a multi-storied building with some of the most interesting shops, penthouse, and banquet possibilities. If you are looking to invest in a name-worthy and forward-thinking project, then this one can be for you
Property in the Dominion Mall:
The Dominion Mall is a twin tower basically. It is spread over two buildings with 5 main floors on each one. There are residential, commercial, and corporate opportunities here. The top floor is dedicated to the banquet and the penthouses. The penthouses are an ideal investment for those looking to buy valuable, prestigious property near their place of work or business within Bahria Town Karachi.
The penthouses can be an excellent pairing with the shops on the lower floors. If you are a business that needs to invest in an office, then you can pair it with the offices too. The third floor on the Dominion Mall has a proper food court in it. Living in Bahria Town Karachi is like living in a fully planned urban city with all the amenities of life. But, This mall makes it easier for the residents and workers here to live by placing all shops, offices, and residential penthouses here together.
Dominion Mall for investment:
If you want to assess the mall for investment purposes then you should keep in mind a few valuable aspects. The mall is situated in the heart of Bahria Town Karachi. It can be accessed with ease from any of the precincts because it is situated in the main Bahria Town Karachi.
The Dominion Mall is a great investment for those who want good office space, display center, or a retail outlet in a prestigious building with luxurious residential or penthouse apartment opportunities.
The investors must keep in mind, that while this is a great project for those who want to rent out their shops, food court shops, display centers, offices, and penthouses in the future, it is rather better to stay here. This is because the rent will be great but this property is for sure interesting for the investor's own usage because it is premium.
However, if you want property for the investment purpose only, then you should look at the varied range of shops, food spots, and exciting apartments within the Mall or Business center. The twin towers surely will have an ideal property suited for your budget and style.
Your Resturant in Domionion Mall:
Dominion Mall also has a wide range of restaurant opportunities. These include the ones on the top floors apart from the food court. If you want a high-end location for your dream restaurant business in Bahria Town Karachi then that can be perfect for you.
In order to make a booking, you can contact us at Pakistan Property Leaders now. Remember, the early bird wins the prey, so seize the day.