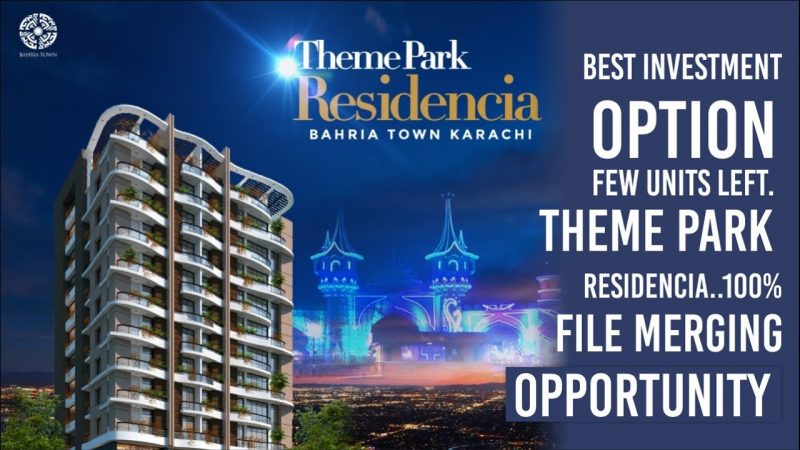 Theme Park Residency Apartment
The Theme Park Residency Apartment in Theme Park Commercials Bahria Town is located in Karachi. It brings the customers the state of luxurious apartments on easy installments. Which makes it easier for the customers to pay off. It is an amazing project for living in such a secured area with wonderfully designed apartments. The available apartments on booking with easy installments are as following;
03 Bed Luxury Lounge 1950 square feet for 1 crore 30 Lac.
Talking about what's nearest to The Theme Park Residency are as following;
It provides people with Bahria's biggest internationally operate Hospital with an amazing staff, A beautiful theme park where everyone can go and enjoy their time. A Grand Masjid to pray as well as a Green valley superstore which provides the residents with quality services. Then there is the Day-Night Safari Danzoo as well as a community center that provides many benefits to the residents. The Facilities present there are the gym and the yoga club. A beautiful kid's play area, sauna Bath, swimming pool, etc. The Exclusive System, with the CCTV, Cameras are available. Fast Elevators and huge Waiting areas with Reception Areas too. Moreover, Solar Panels for 24/7 Electricity is present and a luxury LifeStyle is provided.
Best in class lifestyle in the apartments
The theme Park View Residencies is an apartment project emerging stunningly in Karachi, Bahria Town. It is a first-class project offering special and innovative living areas at the maximum affordable prices. This project is mainly situated at the perfect location of Bahria Town Karachi. The theme Park View Residencies is a place planned with a fantastic combination of luxurious life, high quality, class, quality, and greatness.
These attractively strategic apartments are offering security, a high-class lifestyle as well as the best comfort and security that anyone can desire. The theme Park View Apartments are very beautifully decorated as well as developed according to the needs and international standards of living. These apartments are very well decorated and designed. The high-quality infrastructure and is located at the perfect location, these perfect apartments are best to invest your money in. It can be said that the Theme Park View Residencies is the perfect place to live your dream lifestyle in Bahria Town Karachi as everything required is present there!
Pricing and Installments
The prices vary for the theme park apartments. We can find the flats at different prices such as 46 lacs which includes The 1-bed apartments in this luxurious building that are available in installments.
The apartments are available on 8 easy and affordable installment plans which is for sure a great idea and deal one can get.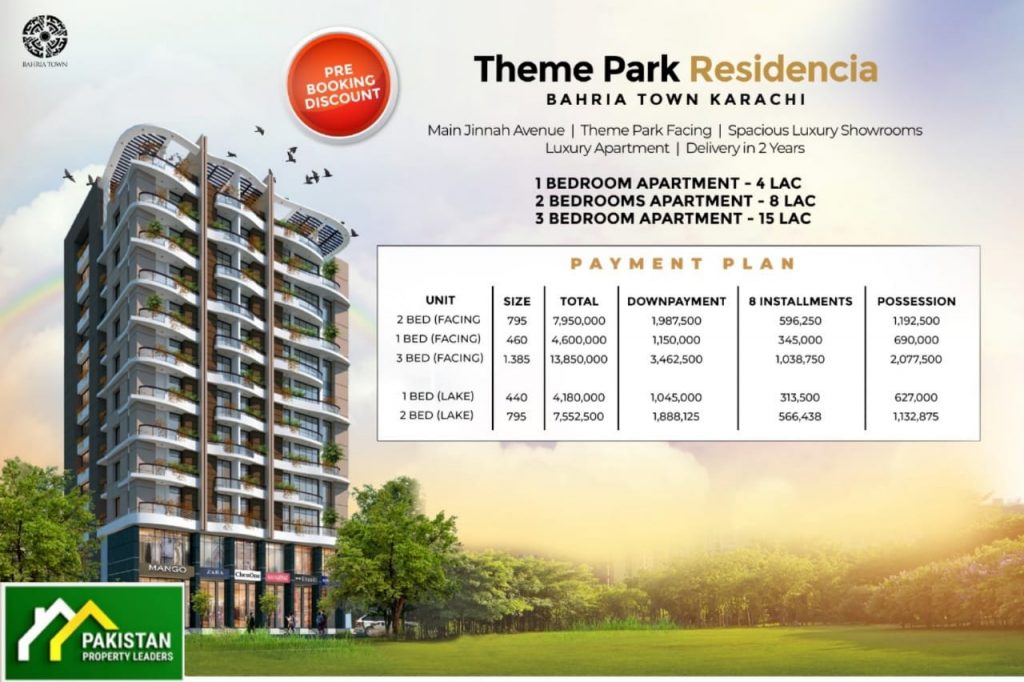 Apartments are for sale in Karachi and some have been already filled out. Theme Park View Residencies is mostly highlighting the one-bedroom apartments for sale in it. The apartments are very well-furnished offering wide and luxury spaces to live.
Luxury and Finesse
Theme Park luxury apartments are designed with balconies, attached bathrooms, and all the vital facilities. Furthermore, the whole indoor setup of these apartments is attractive as there, the customers will find the large bedrooms, spacious bathrooms, and a beautifully designed kitchen as well as the living room. The premise location of the project of Theme Park View Residencies, as the name clears that these are the best apartment project located in the nearness of Theme Park. The location of this project lies just right opposite to the Bahria Theme park and close to Bahria Town head office.
Conclusion and final word
The supreme location of these apartments simply grows the value and the demand for this scheme. Moving forward, a value-added point is easy access to this project from multiple routes which also increases their value. Therefore, Theme Park View Residencies is superbly designed to present new standards of living to the people of Karachi. It is a project with a high-class lifestyle and investment chances.
Whenever you want to learn more about the property available or the prices offered, then you can contact one of our established representatives at Pakistan Proper Leaders who can guide you further on the subject. This helps in making sure that you get all the information that you need to make a well-advised, informed decision to move forward with your investment into your secure future. So, here you go: