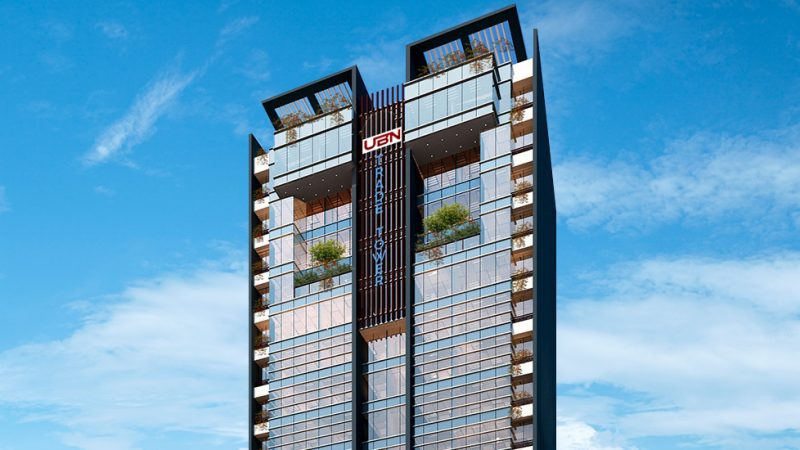 UBN Trade Tower Booking – Payment Plans | Bahria Town Karachi
Are you looking for a place that puts your business on the face of Karachi? The UBN Trade Tower in Bahria Town Karachi is designed to help businesses achieve that. If you want to put yourself on the map at prime location and mark your spot on the markets of Karachi, then this can be one of the most premium, safe and secure options.
The UBN Trade Tower in Bahria Town Karachi comes with a great deal of safety, security protocols, and prospective boosts that any business can benefit from. The UBN Trade Tower in Bahria Town Karachi is situated on the Jinnah Avenue Commercial. This is the main road that leads from the entry of Bahria Town Karachi to all of the precincts within this town. This is one of the most strategic areas for commercial activities happening in Bahria Town Karachi.
You can see the entire skyline of Bahria Town Karachi from the top of this tower. This is an ideal and surreal place to let your business grow and develop. The location will be soothing, refreshing and aesthetically perfect for premium businesses.
The Jinnah Avenue is developing at a rapid speed and offers landmarks that house many important retail, commercial and corporate sectors. Valuable buildings are designated to some of the major banks, investment houses and valuable institutions that are to become a part of Bahria Town Karachi. The UBN Trade Tower in Bahria Town Karachi is considered as one of the major landmarks on this broadway. It is one of the top brands to provide retail, commercial and corporate luxuries to those who want to locate in Bahria Town Karachi.
Business advantages:
The UBN Trade Tower in Bahria Town Karachi is a great way to introduce an existing, new or unique business on the map. Locating here can give you the kind of access you need to find the right audience for your business in terms of the capacity of an office, retail outlet and showroom. You will be able to capture a market of millions living in Karachi and in Bahria Town Karachi specifically right at the heart of the project in this tower.
The UBN Trade Tower in Bahria Town Karachi gives businesses the exposure they need and the ancillary firm advantages that most business owners look for when deciding to relocate.
Adjustment of Files:
The bookings for placements here is open at an initial level. This means low prices, higher gains, greater faith in your business. One of the key attractions for many investors is that you can get your files related to the faulty lands or undeveloped regions of Bahria Town Karachi here. These include the files of the Old Bahria Town Karachi, Bahria Paradise, Bahria Sports City, Gold City and so on. If you have had to face a debacle or stress with some of those nonexistent or stagnant files, then you can get those 100% adjusted in the UBN Trade Tower in Bahria Town Karachi.
If you are in need to get rid of the negative files with negative prices or those that are in utterly undeveloped regions then this can be the perfect opportunity for you. You will be able to make a swap that will get rid of your burden, rescue stress and convert the file into a fruitful prospect instantaneously.
Higher Standards:
The UBN Trade Tower in Bahria Town Karachi is built as per the construction parameters for Bahria town Karachi. The design, materials and the quality of the property is highly upto the standards of the Bahria Town Karachi administration that has very strict policies in place to manage such issues.
The UBN Trade Tower in Bahria Town Karachi is based on very high construction and delivery standards. They are finishing the work in the coming days. The map for example has been sent for approval. This is an 18 floor building.
We as Pakistan Property Leaders have the sole contract to deal with these property choices. It is an ideal option for those who know that the prospects of the disputed files are not likely to be compensated by others. You will be able to reduce the loss, and get something of equal value. The option is open to those who think that they are no longer interested in waiting on the older files.
Sizes:
You can invest in an office of 600 sq ft to 900 sq ft on the top floors. The biggest offices range from 1000 sq ft to 1100 Sq ft. The offices are perfect for everyone looking to start their business operations in Bahria Town Karachi which is a growing elite hub in the country.
Whatever your need maybe you can get a corresponding choice. The sizes of the offices allow you to choose from a variety. You can put yourself on the corporate landscape here with the least amount of investment possible using your existing file. Rather than waiting on the file to somehow become fruitful, you should exchange it and get a better deal on it than the status quo.
The sale agreement, permission letters, ownership documents, other files, and NOC's can be shared with you for your comfort and relaxation. You can manage your concerns with the help of the Pakistan Property Leaders. This is located on plot number 11 from Jinnah Avenue. If you want to visit the location and take a look at the development then you can visit and we can plan a tour for you. Pakistan Property Leaders is committed to your ultimate comfort. You can satisfy all your concerns here.
You can easily get your files managed and all of this ease has been created to help you get the best price possible. In order to make a booking or discuss the details with us, you will be able to contact us on the following contact details. Feel free to demand any information you need regarding the UBN Trade Tower in Bahria Town Karachi.