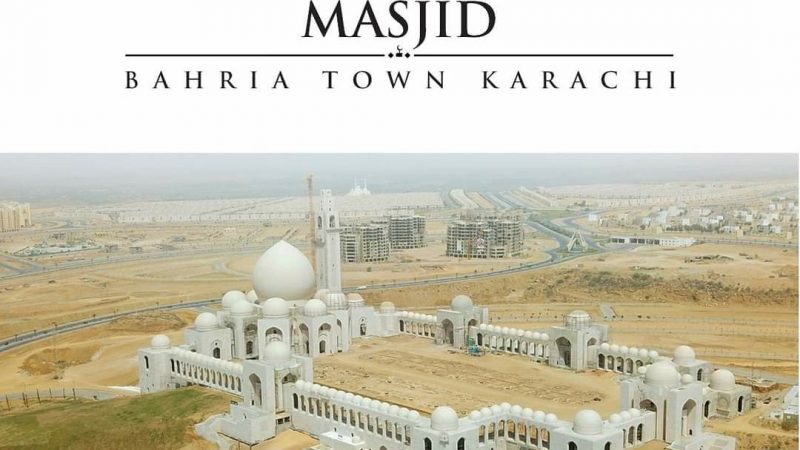 World's 3rd largest mosque-Details
The world's third largest mosque, Jamia Masjid-e-Riaz, is one of Bahria Town Karachi's biggest gifts to its citizens. This mosque is the world's third largest. Designed and conceptualized by Pakistan's finest architects. Jamia Masjid-e-Riaz is a magnificent fusion of Islamic and Mughal architecture. Thus The centrally placed Grand Jamia Masjid – e – Riaz, which sprawls over 200 acres of land and sits on a 60-feet-high plateau, has a majestic presence visible from every corner of Bahria Town Karachi.
Design and architecture:
The design of the Grand Jamia Masjid is mostly influenced by Mughal architecture, which is famed for producing magnificent buildings such as the Badshahi Masjid in Lahore and the Jama Masjid in Dehli.
What's more, the Grand Jamia Masjid in Bahria Town Karachi incorporates and draws inspiration from a variety of Islamic architectural styles, including those from Turkey, Malaysia, and Iran. The interior design will be a direct representation of Sindhi, Bukhara, Samarqand, and Mughal art.
The mosque, like many historical mosques throughout the Islamic world, will include a single 325-feet towering minaret that will be visible from various sections of Bahria Town Karachi and will add to the mosque's splendor.
OTHER FACILITIES IN Jamia Masjid-e-Riaz
The centrally air-conditioned Grand Jamia Masjid – e – Riaz, with a capacity of 800,000 worshipers, evokes a relaxing spiritual experience with its perfectly constructed interior and exterior. An Islamic Community Center, which includes a Central Library with 500,000 books, an Islamic Museum, an Islamic Cultural Center with state-of-the-art laboratories, an auditorium, and an International University, is also part of the concept. Similarly, there are separate praying places for males and women.
As a result, the Namazis will have access to features such as a Thermal Power House, Climate Control Air Conditioners, the greatest Azaan system that will cover the entire Bahria town, the best water supply system, Outdoor Shields for Namazis, Separate Iteqaf Rooms, and Digital Led Systems to show Qur'anic ayaat are just a few of the amenities available.
Latest Construction Update:
The materials used in the mosque, on the other hand, will be of excellent quality, and the best air conditioning system will be installed. Furthermore, Malik Riaz informed reporters that the mosque would be built in the shortest period feasible.
An Islamic institution will be established in Karachi, the world's third largest mosque. Leading academics will provide lectures, and international moots will be held.
For more information about Bahria Town Karachi, Contact us.