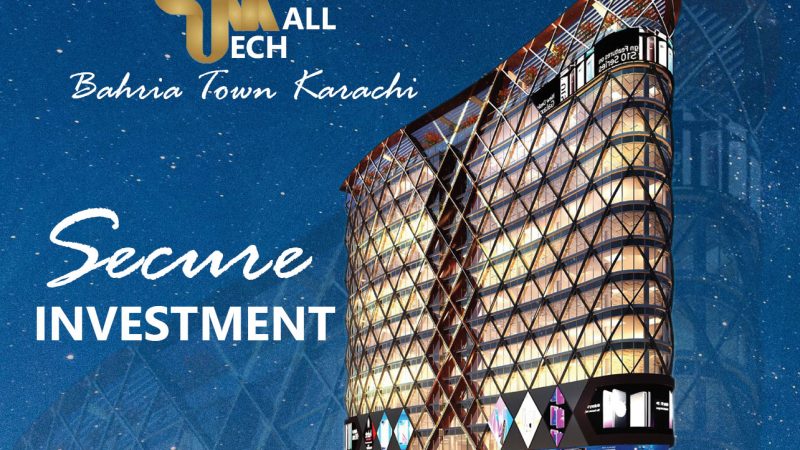 10 reasons why you need to know about the Tech Mall Karachi
The Tech Mall in Bahria town Karachi is a project under major development. This is a great opportunity for investors looking to expand their portfolio with minimum investment. The tech mall Karachi is located in Bahria Town Karachi.
This is a great opportunity for investors who may eventually want to use their scure property for themselves and their business purposes.
Buy or Rent a property in the business hub:
The Tech Mall Karachi is a way to secure shops and small kiosks for permanent buying basis as well as for rent.
The mall contains over 12 storeys of commercial shops and offices. The project is about development and it offers commercial property and estate for investors of all pocket sizes.
Become a part of the future:
This mall has been predicated on the idea of the future of technology. Upon completion, it will be Karachi and Pakistan's largest mobile and laptop hub. You can purchase the latest and the most exquisite items in this market of tomorrow designed for tech lovers, geeks and the common everyday shopper for Pakistan.
Invest in a sideline income for future
There are small to large sized investment opportunities here. Meaning that the mall is a great way to invest into a business site as well as a rental property for your small to large sized income for future.
Diversify your investment portfolio
This also allows an increase of your assets over time as the mall becomes more popular and the demand further rises.
Adjustment of files into the Tech Mall
Many people are looking to develop their files of disputed areas of Bahria Town Karachi into the secure shops and constructed offices of the Tech Mall. This allows an improved investment flow and reduces the stress from the non developing regions of Bahria Town.
Targets the Largest City of Pakistan
The Tech Mall is situated in Bahria Town Karachi. Since it targets a large population of Karachi itself as well as all residents of nearby communities settled around the suburbs of the metropolitan, it will have a massive reach in terms of the customer base and target audience.
If you are looking to start a business in Pakistan in the realms of technology, gadgets, and or mobile phones, then the Tech Mall is an ideal environment for growth and Ancillary firm advantages.
So if you are looking for the right place for business development, a small or large shop site or the perfect location for an office that features technology based products, then this could be the right match for you.
In order to learn more and explore your opportunities in the largest electronics market of Pakistan, you may contact a representative expert from Pakistan Property Leaders on the following contact link. CLICK HERE