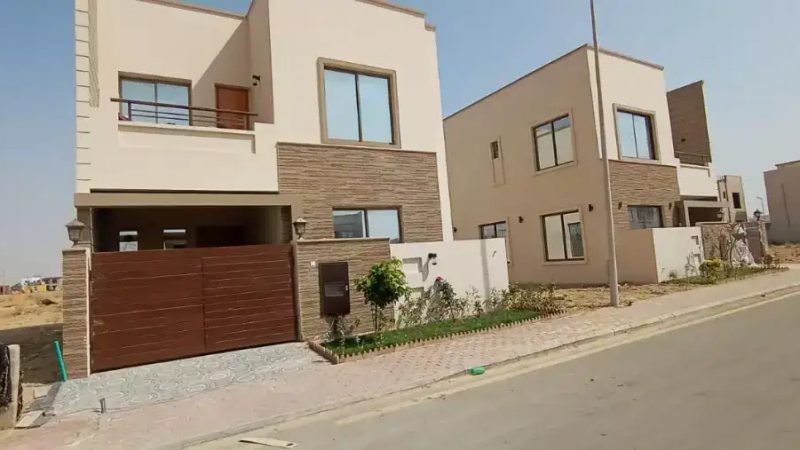 7 Reasons why you should adjust your Sports city, Paradise Files into Ali Block Villas
Many Bahria Town file owners are facing serious stress around files in Sports City and Bahria Karachi Paradise. These files are nonexistent and the development in the allocated region is close to zero. This is why many people who own files here have shifted their business to other places within Bahria Town Karachi.
The main concern with the plots in Sports City and Bahria Paradise is that some of the regions here are not developed. Even after 4 or 5 years, the pace of development is nonexistent. These files are disputed. Rather than wasting time on these files, owners are looking for ways to get them adjusted in some way to get back the money invested in them. The stagnant growth is one of the main reasons why people are looking for alternatives. Bahria management also announced that the file owners may get refunds in installments if the property they own is disputed.
Bahria Town Karachi opened registration to get their properties refunded or readjusted. The registration closed. All applicants who applied are being given cheques that are dated ahead of time. They can redeem the money they paid through these cheques over the next couple of years. there are two issues with this process. Firstly, the application has closed, secondly, the process is slow. Thus, all remaining file owners who could not apply to the program now must find another way to get their files sorted.
This is where private consultants, property, and real estate dealers come in place. People with big stakes in the market of Bahria Town Karachi are offering compensation of your file into a perfect property. For example, Pakistan Property Leaders in the past have exchanged the nonexistent files in the different regions of Bahria Town Karachi for shops, apartments, and fully constructed homes. We have successfully exchanged many disputed files into proper shops and houses that have an actual return on investment and an actual existence.
Rather than having some imaginary property that seems to not develop, it is better that you have a real property that is ready to yield benefits right away. You can move into these new properties right after possession. You can pay in installments. And you can get rid of any issues or stress associated with your files without forgoing or wasting your invested money. The adjustment will get you a discount and you will go home with a better offer than the one that was made by Bahria Town Karachi's administration.
So if you are ready to invest, exchange, and get started on a better offer, then here are 7 reasons why you should adjust your Sports city, Paradise Files into Ali Block Villas:
1: Sports City and Bahria Paradise are sluggish
Disputed property in the Sports City and Bahria Paradise is sluggish and too slow to move at the moment. The growth in the prospects here of the faulty precincts seems bleak. If you are okay with your money lying in a bleak future, then it is alright you do not need to exchange your property.
However, if you want your money to be shifted to a better place elsewhere then the sluggish growth can be left behind, and you can move to better things in business and investment.
2: Ali Block is fully developed
One of the best things about moving in the properties in Ali Block, Bahria Town Karachi is that the Ali Block is fully developed. It is ready for you to move in. There are shops, commercial regions, public facilities, and proper roads here. Many families and homeowners have already moved into their properties in the region. This is a great opportunity for potential homeowners with problematic files to shift into the developed and functional region rather than the vague hope associated with some areas of the Bahria Sports City and Bahria Paradise.
3: You can get a perfect house
Homes in Bahria Town's Ali block are a perfect size. These are not too big, these are not too small. You will get a 125 sq yards in exchange for your file. For many people, the files are a waste. It is better for them to finally yield some return and benefit in the shape of this house. After all, a house can be lived in, it can be rented, it can be sold at a later stage. It is the perfect investment as compared to disputed plots.
4: Perfect for a small to medium family
You can get a 3 bedroom accommodation house here. The house is perfect for a family of 4-6 people. The master bedroom is ideal for couples, whereas there are suitable rooms for children, parents, siblings and so on. The houses can be ideal for any family that wants to move into a new and contemporary society like Bahria Town Karachi.
5: Reasonable price
A house in Bahria Town Karachi's Ali block can be bought in 1 crore 30 lacs. This is a fair price for a fully constructed house. You can pay the price on installments as well. The best thing about this is that the house will be developed par excellence.
6: Save yourself the hassle of building a house
While living in the Bahria Town Karachi comes with its own set of benefits and class, building a house for yourself in Bahria Town is never simple. The building requires a plot to be bought. It requires plans, designs, approvals, audits, and more. You will take a minimum of 6 months to get your house ready for living in it. While you can argue that it will be how you want it to be, the real deal is that in Bahria Town Karachi, all houses are similar to a great extent due to the by-laws.
Instead of you buying a plot and then constructing based on the requirements and by-laws of Bahria Town Karachi, you can just quickly invest in this. It is much more reasonable than going out getting your plan, materials, designs, etc approved. It is a fair bargain.
7: Keep yourself sane, at peace and worry-free
These houses are a safe investment. You know what you are buying. You can even see it. Unlike the property in the disputed regions that can not be seen or touched because some of it does no longer exist. These houses will not get you to worry about asking for their updates. It will not give you pain about figuring out a way to get your refund. The area is developed. Everything you need such as schools, hospitals, shops, and even entertainment spots are close to it. And there is no stress about loss associated with a dead file in this region. You can get your possession as soon as possible like many people already have. This gives you better peace of mind than a dead file can.
These were just a few reasons why you should adjust your Sports city and Paradise Files into Ali Block Villas. While there are numerous more, and everyone should have the right to invest in the property of their choice. The prosperous and advantageous choice here seems like making the swap with a house in Ali block rather than an unknown land in the disputed, problematic regions.
If you are ready to make the switch and willing to get yourself a house that you can move into or rent out or sell in the future, then you can contact one of our experts on the subject of Bahria Town Karachi below. Pakistan Property Leaders is always ready to assist you in such tricky matters. You can easily make better choices with us.