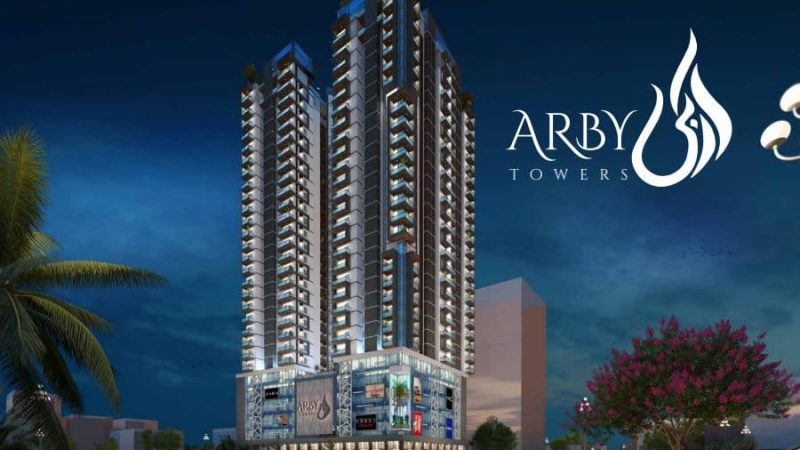 Arby Towers Bahria Town Karachi Overview
we've got some exciting news for you. Have you heard about the Arby Towers Luxury Apartments in Bahria Town Karachi? It's a brand-new project by Gihan Builders, a well-established and trusted name in the construction industry, known for their quality work in Hyderabad and Karachi.

These luxury apartments are located in the heart of Bahria Town, right near AQ Supermarket and Imtiaz Mega Store, surrounded by other impressive commercial buildings. Arby Towers rise up to 28 floors, and they've got shops, commercial spaces, and parking areas on the lower levels.
Here's the best part – Pakistan Property Leaders is offering 2-bedroom apartments at a very affordable rate of just Rs 8000 per square foot. But hurry, we only have a few apartments left, and they're going fast because this project is creating quite a buzz.

Construction is well underway, with all the groundwork, including soil testing and excavation, already completed. You can even visit the site to see the progress for yourself. Trust me, it's moving along quickly, and the project will be completed before you know it.
Now, when it comes to quality and credibility, Arby Internationals is a name you can count on. Feel free to Google them for more information about their past projects and reputation.
Arby Towers Luxury Apartments is an excellent investment opportunity. The location is prime, the builders have a stellar track record, and the apartments are selling like hotcakes. So, if you're in the market for a luxurious living space in Bahria Town Karachi that's not only top-notch but also affordable in installments, this is the place for you.
If you have any questions or concerns, don't hesitate to visit the site, where our friendly agents will be happy to assist you. And if you're ready to book an apartment or need more details, just reach out to Pakistan Property Leaders. This is your chance to live a high life without breaking the bank!
WE ARE HERE TO HELP
If you are looking for the best Investment Opportunity in Bahria Town Karachi give us a call!