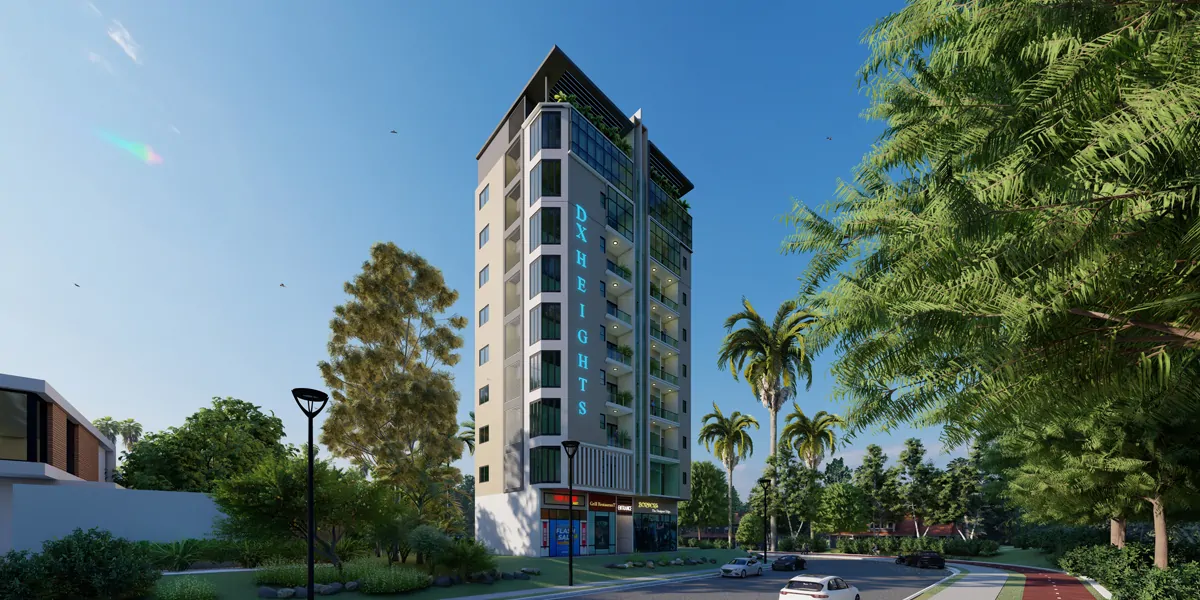 Dx Luxury Apartment Bahria Town Karachi
Bahria Town Karachi is the ultimate living society one may desire with all the amenities needed for a luxury living style. Located at a prime destination in Bahria Town. As you can get an idea by their name this apartment is specially designed for a luxury living experience in the heart of the town.
The DX luxury Apartments Project focus on the large population that want to experience luxury living without the issues present outside of Bahria Town in Karachi. The major advantages include 100% power backups to ensure 24/7 electricity, modern environments, greenery, and an advanced architectural structure to bring you a whole different vibe.
Types Of Apartments:
Dx Luxury apartments offer accordingly to family needs, you can find two- and three-bedroom apartments for booking in the project. Being one of the biggest residential societies these apartments focus on family living and providing.
Layout of Apartment
The general layout of a DX luxury apartment consists of the following features;
Bedroom 2 or 3
Bathrooms: 2 or 3
Servant Quarters: 1
Drawing Room
Dining Room
Kitchen
Study Room
Powder Room
Lounge or Sitting Room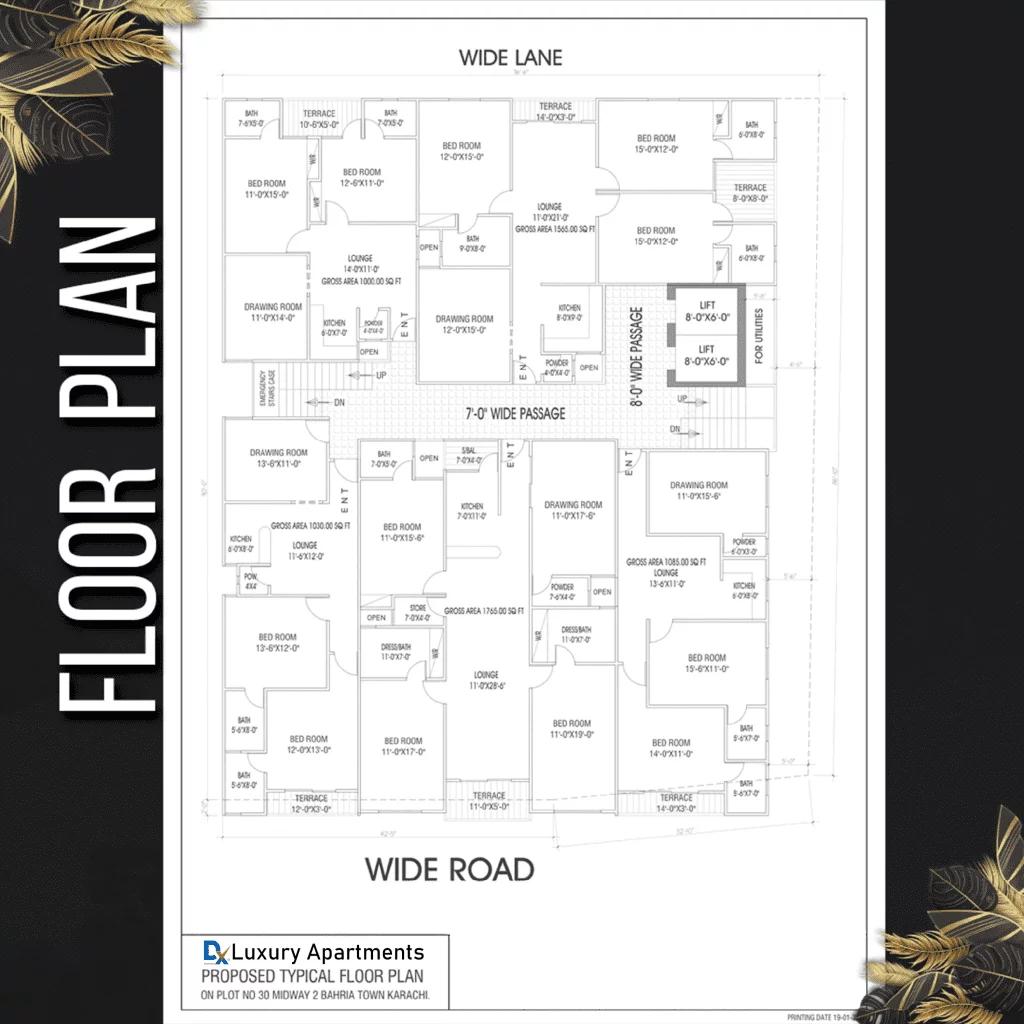 Two Bedroom Apartment
Dx Luxury 2 Bedrooms is a cleverly designed apartment with two large bedrooms and big windows that can be opened when you want some fresh air. For making a worthwhile investment or purchasing a home for yourself, we provide you with the greatest that a realtor has to offer. As new developments occur, Bahria Town Karachi is renowned for its consistent property value. The residents of this area of Bahria Town in Karachi are guaranteed to be close to anything they could need.
Three Bedroom Apartment
The three magnificent bedrooms include adjoining bathrooms, a large living room, and a kitchen. One of the 3 beds is a master bedroom, and all of them include opulent architecture to give the property a contemporary appearance. The apartments are all 1600 square feet. The flats have large windows that provide excellent ventilation. There are two types of Apartments in the DX luxury apartment project, one road-facing, and the other with views of the Grand Jamia Masjid, this will provide you with a lovely scene right outside of the window to begin a new morning with a such captivating view.
Location:
In the center of Bahria Town in Karachi, the Dx Luxury Apartments offers a breathtaking view of the Grand Jamia Mosque. It provides an opulent setting with stunning views from which to unwind.
The optimal location is on Midway Commercial 2, where it is located. Due to its prominent location and ease of access, Dx Luxury Apartments may be seen even from a distance. From the Main gate, it takes 7-8 minutes to get there.
This building will feature every amenity you could want, as well as a separate, roomy parking lot. The building will be surrounded by lovely, thick vegetation, which will further accentuate its beauty.
Facilities:
The Dx Luxury Apartments will be the height of luxury for those who are accustomed to extravagant lifestyles. This place is going to be the best decision that they can make for a luxury living with the amazing facilities and amenities present not just in the building but also in its surroundings.
To summarize all the amenities that will be accessible to the tenants here is the list present below:
Main Features:
Parking Spaces: Huge parking spaces are present with security for the residents and visitors to park their vehicles without any worries.
Double Glazed Windows: Increase the aesthetics of your house without the fear of breaking easily or scratching.
Central Air Conditioning And Central Heating: central air conditioning and heating keep a moderate environment throughout the year so that you stay safe from extreme weather.
Electricity Backup: 100% electricity backup provides 24/7 electricity so that the residents do not have to face power loss.
Elevators: For a building having 18 floors high-speed elevators are present for residents to use for easy transport.
Waste Disposal: keeping in view hygienic condition waste disposal facility is available within the buildings.
Service Elevators in Building: service elevators to help you transport heavy stuff from the ground to the upper floors.
Community Features
Kids Play Area: Dx Luxury Apartments is a project for families hence play area is made so that your kids can play when they feel bored at home.
Maintenance Staff: 24/7 maintenance is available to deal with any inconvenience.
Security Staff and CCTV: 24/7 CCTV and security are available in the building and on the ground to ensure the safety of every resident and visitor.
Laundry and Dry-Cleaning Facility: laundry facility at your doorstep can be availed.
Pricing
The pricing for this project starts at 9,894,000 Pkr for a two-bedroom apartment with 1020sq ft with a down payment of 2,473,500 Pkr. And for a 3-bedroom apartment, the rates start at 15,035,000 and a down payment of 3,758,750 for 1550.
There are various payment options available. The first option is to make a single payment, which requires that you pay the entire sum. If you choose the booking option, you will need to put down 25% of the total cost, or 44 lacs, to reserve a dx premium flat. You may also choose a three-month investment plan.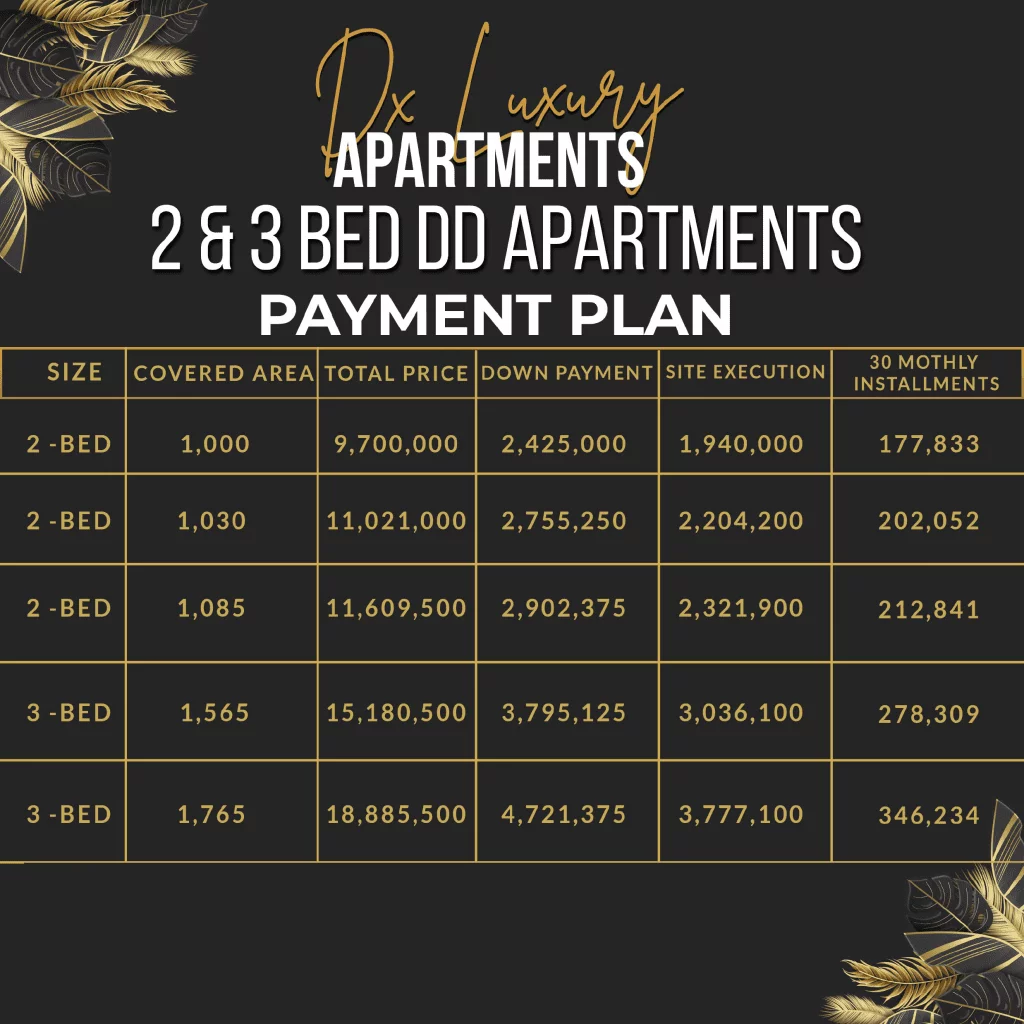 Developers:
Dx Luxury Apartments is a project by salaam estate and DreamsNex construction company is a highly regarded company in Karachi and Bahria town. Top Bahria Town Karachi Construction Company: DreamsNex. Surprisingly, the entrance to all your building answers is DreamsNex builders, a prominent construction firm in Karachi. Customers' needs and financial capacity have always been the company's main priorities when recommending the best course of action.
Nearby Surroundings:
Dx luxury apartments are located at a prime destination so that all major necessities of life fall close to them. the building is present in a gated community with the following locations nearby:
Nearby Schools within a 5 km radius
Nearby Hospitals within a 5km radius
Mosque within 1 km radius
Park 1km radius.
Nearby Shopping Malls
Nearby Restaurants
Distance From Airport (km)
Dx Luxury Apartments in Bahria Town, Karachi. These flats will be opulent and equipped with everything a wealthy person might desire. The ultra-modern design and complete power backup are only two of the flats' many appealing selling factors. All of the apartments, including the ones in the back of the building and those facing the Grand Jamia Mosque, are presently open for reservations.