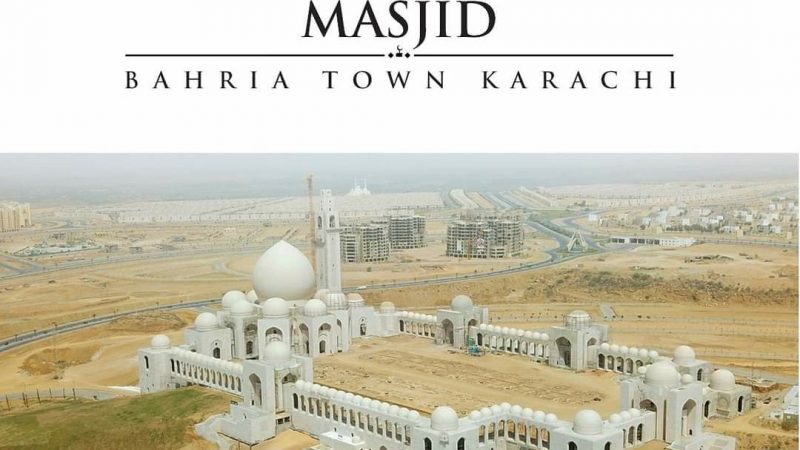 Mosques in Bahria Town Karachi
In Bahria Town Karachi, there are numerous mosques. Precinct 13 is home to the Grand Mosque. It is thought to be the world's third-largest mosque. It has the capability to house nearly 800,000 namazis. It is connected to Jinnah Avenue, which is 400 feet wide, making it accessible from all parts of Bahria Town. . It is based on Islamic and Mughal architecture and draws inspiration from masjids in Malaysia, Turkey, Iran, the United Arab Emirates, and Kuwait. There is a library with 5000 books in it. An Islamic museum, an Islamic community center, a cutting-edge Islamic Research Center, and an international university will also be included.
The Grand Jamia Mosque, Karachi, also known as the Bahria Town Jamia Masjid Complex, is a cultural complex in Bahria Town, Karachi, Pakistan, that is currently under development. When finished, the complex will house Pakistan's and the world's largest mosques in terms of capacity. It also has a cutting-edge thermal power plant, as well as the best air-conditioning and water delivery systems.
Infrastructure:
The building is a mix of Mughal, Persian, and Turkish styles. The mosque was built on a 50-acre (20-hectare) plot at the top of a 60-foot (18-meter) elevation so that it could be seen from miles away. A single-monument minaret of 325 feet (99 meters) is included in the design. The Mosque has a total of 150 domes. The largest single dome stands 75 meters tall. The building is made of high-quality beige-colored marble from Balochistan. On all four sides, enormous gardens will encircle the complex, which will be enclosed by arch-shaped walls.
There are also other mosques in all sectors as well, namely Masjid Usman Allah Rakhio, Jamia Masjid Farooqi, and Bilal Masjid.
Bahria Town Karachi is a great area to live with all of the amenities. So don't delay, come see us or contact our realtor to find your dream home. Alternatively, if you wish to invest in this incredible initiative, go to our YouTube channel and invest there. Please contact us for additional details.