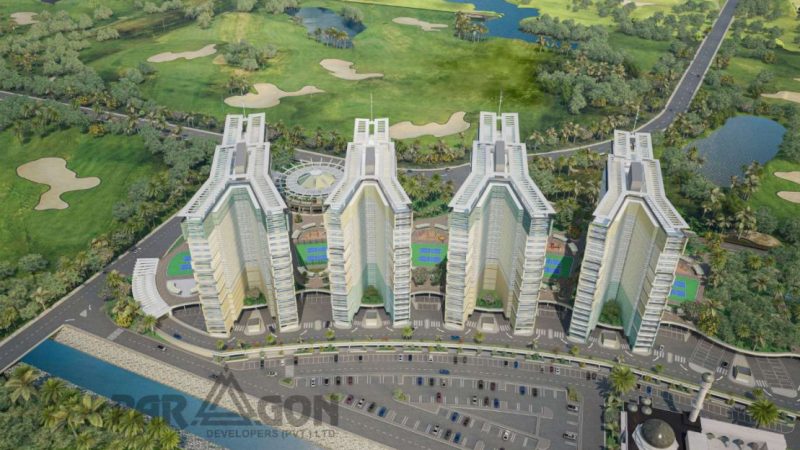 Paragon Golf View 3 Bedroom Apartments
A brand-new apartment building called Paragon Golf View Apartments will soon be opening in Bahria Golf City. These are luxurious living areas with heartwarming facilities, as the name suggests. It's a development of apartments with a golf course view that's close to Western Service Road Precinct 20. It is also attentively conceived and will be developed following worldwide development standards. The company behind it, Paragon Construction Pvt. Ltd, is also the owner of Paragon Towers in Bahria Town, Karachi.
Paragon Golf View Apartments Location:
As the location is everything. This project is currently under construction inside Precinct 20 of Bahria Golf City. These Golf View Apartments are close to Precinct 27A and have access to Main Jinnah Avenue and Western Service Road. Only 5–6 KM separate this location from the main gate. Additionally, Grand Jamia Mosque is nearby. Golf View Apartments are close to all of Bahria Town Karachi's amenities and attractions.
This was a Paragon Construction Pvt. Ltd. project. A lot of respect has been shown to the developer for this exquisite and remarkable development. Everywhere, international criteria are used to establish a location of significance.
Project Plan:
This plan calls for five skyscrapers that rise around ten floors above the ground. Because this project provides you and your family with top-notch housing options, you may live the lifestyle of your dreams here. The penthouses and huge, opulent 2-, 3-, and 4-bedroom flats were expertly constructed to offer solitude, comfort, and exclusivity. Apartments come in three main varieties: ones with two bedrooms.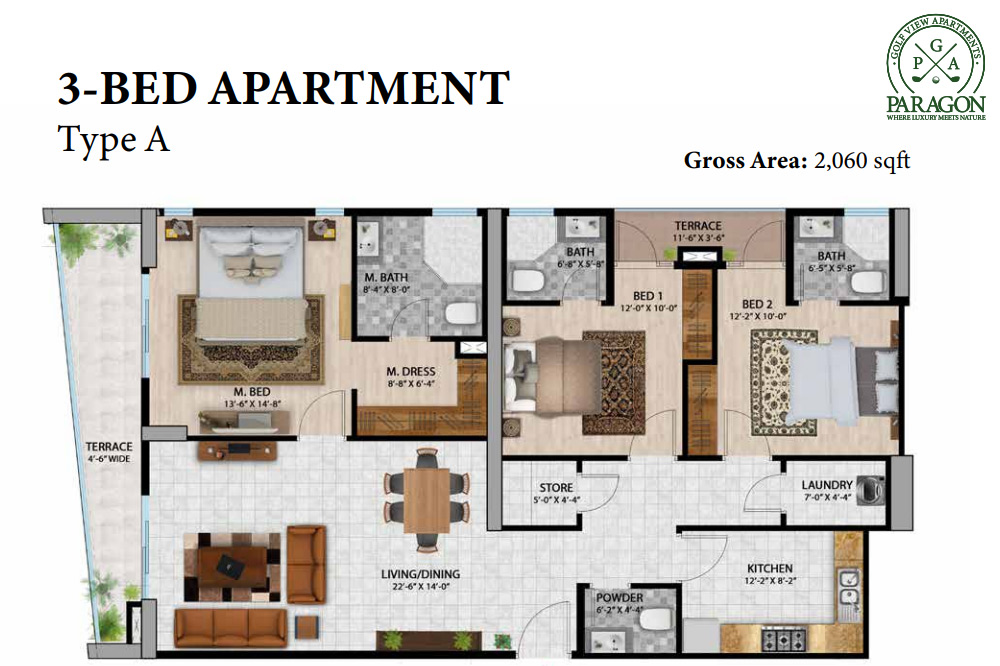 3-Bedrooms Penthouse Type A
Size: 2625 Sqft 3 Bedrooms Penthouse
3-Bedrooms Penthouse Type B
Size: 2625 Sqft 3 Bedrooms Penthouse
3-Bedrooms Apartment Type A
Size: 2060 Sqft 3 Bedrooms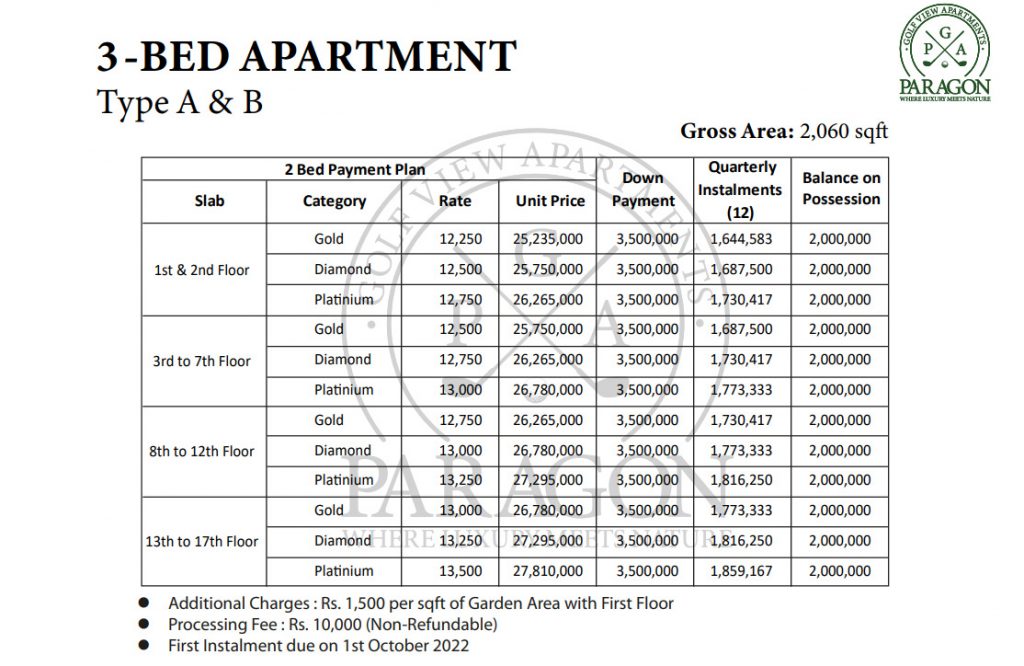 Amazing Characteristics Paragon Golf View Apartment 3 Bedrooms
The Paragon golf view apartments offer the best payment options along with top-notch specs. These apartments warmly greet you and are exquisitely designed with all elegance and charm. Upon entering, you are given a very warm greeting, full attention, and everything you could need. Eternal, alluring, and exceptional in terms of resources and feelings. You are cordially invited to elegance and discrete magnificence at Paragon Golf View Apartments.
24/7 Customer Service at Your Service
24/7 CCTV
The Paragon Golf View Apartment offers the finest in luxury living in a stunning setting.
Modern living and dining facilities
Where love begins: the contemporary kitchen
Great view from the room'
The arrangement of the apartment exudes affluent resort-style living while elevating it to a new level by becoming infinitely more comforting. Five skyscrapers with 10 floors above the ground make up the project. The Paragon Apartments' ground level will also include a reception and service room. Other appealing features of this project include:
Parking Lot, Food Court, and Masjid
Swimming pool and recreation facilities indoor gaming
24-hour CCTV monitoring
Each tower has 5 elevators.
Courts for tennis and badminton
Waste Management and Recycling
In The End:
At the end of this topic, we have seen all about the amazing paragon golf view 3- bedrooms, and apartment. You should always make a wise choice for the greatest living situation, but when it comes to Paragon Golf View Apartments, all of your concerns should vanish as it is the name of reliability and the future. The Paragon Group has been providing its best services at cutting-edge developments since 1991. Since laying its first foundations 30 years ago, Paragon has transformed Pakistan's building sector.