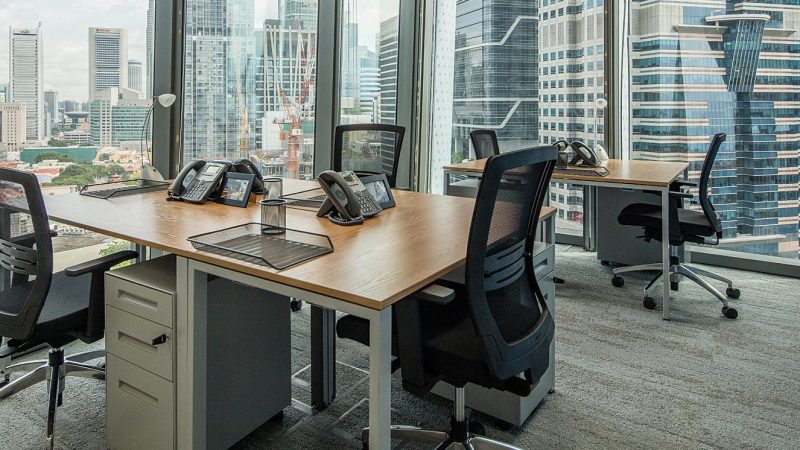 Bookings in Abul Qasim Mall – Book your office in AQ Mall
If you are looking for bookings in a high-quality commercial space within Bahria Town Karachi, then the Abul Qasim Mall can be your hot choice. One of the best things about this mall is that it is located near the main entrance of the town. The second best thing about the mall is that it attracts a lot of footfall due to its main location and high-end construction. The main reason why you should get the property and shops here is that it offers you to enjoy a lot of high end features t very affordable price points.
Apart from already being very affordable, the mall is easily one of the best ones when it comes to installment plans. You can get the shops in various sizes on low and simple installments that will not strain your budget. The beauty of this investment is that in the long run you will be able to maintain your shops and even rent it out but the kind of investment needed right now is very minimal. Nominal payments and investment can yield a high response in the future and also help you build your asset.
Whether you are a small business or a very big one, buying this property can help you in landing good opportunities and a clientele from across Bahria Town Karachi. It is very hard to find similar pace of delivery and similar quality of construction in other parts of the town.
Sizes and Opportunities in Abul Qasim Mall and Residency
One of the best attractions about the Abul Qasim Mall and Residency is that if you own a shop here as well as an apartment then life becomes very easy for you. You will be able to monitor your business and get a comfortable high-end living experience that you want both in one place at very reasonable prices.
You can get yourself an apartment or a shop in the building through easy monthly and quarterly installments. Some prospective buyers buying n bulk can also choose a custom installment plan that is most suited to their needs.
If however you are only concerned with the size and the location of the property then you should choose the office that suits your needs now. Before the property is run out or the best corner offices and the stylistically hot choices are sold out to the competitive buyers. As you might have noticed the prices have already increased since the independence day and they are expected to rise again before winter.
This indicates an opportunity for you to make a lot of revenue. Should you be interested in capital gains then too you should pick your plan now and refrain from the rising costs of the assets in here.
Two of the most common sizes that people go for when choosing their offices in here are:
Office size: 550 sqft Office In Abul Qasim Mall
Office size: 1150 sqft Office In Abul Qasim Mall
Book your office in Abul Qasim Mall for the Office size of 550 sq ft Office size and the 1150 sq ft on easy and simple installments with us. The plan is available for other opportunities such as apartments, shops, and showrooms as well.
In order to choose the Office size of 550 sq ft on installments, you should head onto the installment plan linked here.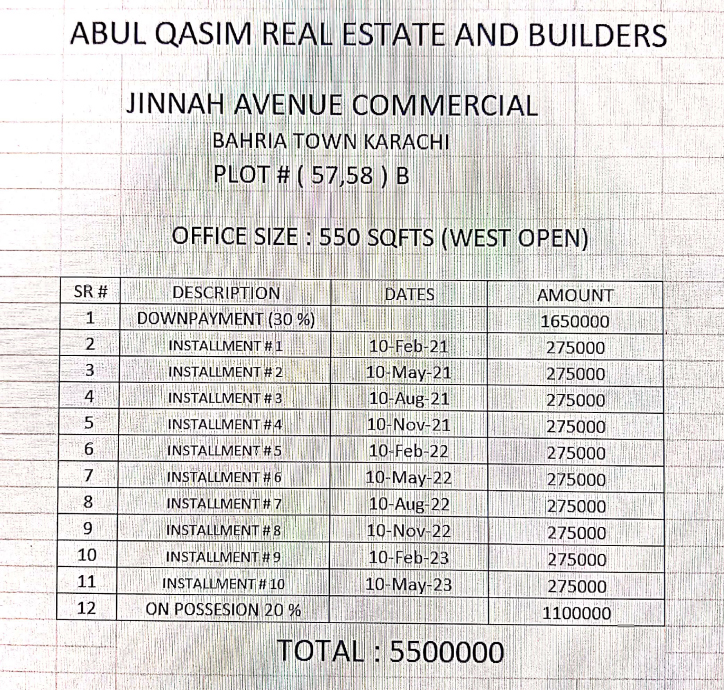 1150 Sqft Office Installment Plan:
In order to choose the Office size of 1150 sq ft on Instalments, you should head onto the installment plan linked here.
Always remember that Pakistan Property Leader is always with you when you need a little help in choosing your assets. Build your assets and expand your capital with us at any point in time, trust us that we have your best interest at our hearts. We use our influence to find the best opportunities in the market and present them to you so that you can grow and so can the market. In order to book a consultancy or to choose your office with us, you can contact one of our experts at the following linked details