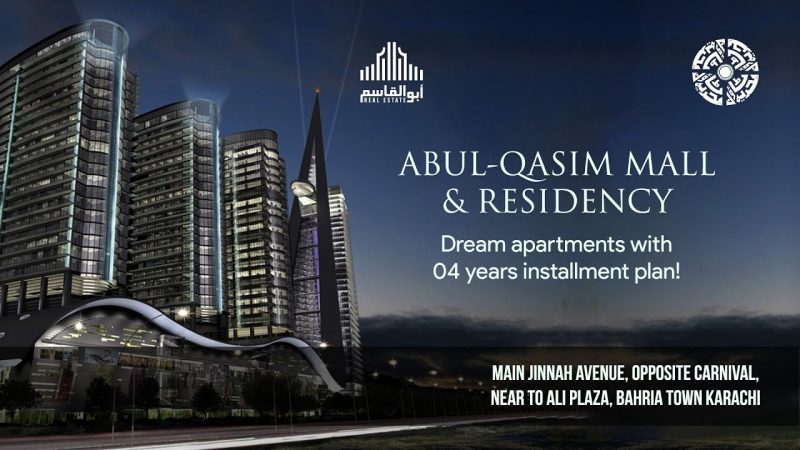 Prices of Abul Qasim mall Karachi about to increase
Abul Qasim mall is once again the subject of our news. This mall is being constructed at a rapid pace of advancement. Like other projects delivered by its builders this one too is soaring high. However, this growth means that there is going to be an increase in the prices after the brief dip in morale due to COVID-19. The situation has improved immensely as various lockdowns have been eased out and the situation has changed nationally.
Pakistan's property prices have begun to rise again as seen in the posh areas of Lahore, Karachi and Islamabad Capital Territory. This includes some of the top projects that are ongoing including DHA, Bahria Town and so on.
Abul Qasim Mall and Residency is one of the ongoing projects in Karachi that has seen a positive response from the investors and those who are keen to buy property in attractive areas.
Abul Qasim builders' 4th project
Developing the AQ mall in Bahria precinct 17 is going to be the 4th project of the builders. They are not new when it comes to construction, commercial projects and delivering high quality results as promised.
Bahria Town Karachi is the most reliable project in Karachi these days where builders are constructing malls, supermarkets, houses, and buildings for investment purposes. Well-renowned builders have constructed a number of supermarkets, malls and apartments, and one of them is the AQ Mall. The constructors of Abul Qasim project have designed eco-friendly and built some other prominent projects in Bahria Town Karachi thus resulting in a big time success.
The Abul Qasim Mall is already in limelight and doesn't require any overwhelming introduction since there are already many other reputable projects under construction by same builders in Bahria Town Karachi as well as some other megacities of Pakistan. However it is going to set a trademark for the development of BKT in near future. You will be able to access the whole town from this mall within a radius of 5 km, you might be able to capture an inevitable market of 1000-1500 families.
Executive location and area of the mall:
Abdul Qasim Mall is located at a very prime location in Theme Park precinct. Close by, in front of Imtiaz Super Market, adjacent to Bahria International hospital facing towards precinct 19 Apartments, and Danzoo Safari park which is going to be a tourist, leisure and entertainment spot for the residents besides is close to PSO petrol pump.
Predominantly this mall is situated 400 KM away from the main gate of Bahria Town. More than half of the mall is completed and it is claimed that the possession will be handed over in 2023 October.
The total area of the mall is spread across 9000 square feet, allotting into three floors, a Lower ground floor, ground floor, and the first floor. There is enough car parking space for about 370 cars in the basement and 400cars in the premises on the ground floor. Abul Qasim Mall is designed and shaped in a way that will provide 3 side openings.
This means that the mall can be accessed from all 3 entrances and exits for ease and give a hassle-free experience to the citizens visiting the mall.
Investment details of the AQ mall for future:
The shops in the AQ Mall can be a healthy investment. As the builder is offering to sell small shops at a good price with business opportunities to serve the target audience and engage their time with your food, clothing, accessories or gadget related shops with versatile variety. During this current COVID-19 pandemic with good business plans then this opportunity can be a great chance for you to enjoy higher profit-gains in future.
You can purchase a shop on the Lower ground floor for rupees `10 lacs. It will cost about 24,000per sqr feet. Likewise if you want to purchase a shop on the Ground floor then it will be for rupees 12 lacs. Coming to the first floor of the mall the purchasing price for the shop will cost you rupees '10 lacs. The current price per sqr feet will be around rupees 16,000.
Other than the regular shops, the whole floor is dedicated towards Mobile shops. These shops are smaller and located on the top floor also known as the first floor. Depending on the sizes some shops are for rupees 6 lacs at the moment. AQ mall builders are also facilitating investors with the facility of, down payment, payment plan and installments that will divide the cost over the level of convenience that you will choose.
Facilities:
To avoid unnecessary rush and parking issues the designated parking of the mall will be payable. One will have to pay to park or purchase a particular parking spot for their vehicle. Each parking spot will cost you2 lacs additional.
It is an extra charge on your pocket but can also be seen as a token of security. The builders do not believe in applying hidden charges. Moreover the charges for the parking of other shop owners will cost them around 3 lacs.
The AQ mall is and will be well equipped with a proper food court, shopping arcade, residential wing for apartments in the surrounding and parking areas. There are a variety of apartment sizes and configurations for different kinds of investors to invest in AQ malls with lower prices in this CORONAVIRUS Pandemic.
Whether you are planning to invest for a short-term period or for long-term purposes this definitely is going to be a great opportunity for trusted and well-reputed developers or investors as well as local residents in near future. The residents or locals from the nearby societies in the external vicinity of Bahria Town visiting heritage clubs will also fascinate more customers walking into the mall. Therefore all the above mentioned facilities allow the prices of the shops available for buying to rise steadily and consistently while the pandemic is at its end.
It is not that easy to purchase a shop in a prominent and well reputed project at the good prices the builders are offering. It is going to benefit both the entities, the builder of the AQ mall as well Bahria town city since the residents who want to live in the vicinity have maximum tourist spots located nearby the mall. This functionality will push the prices and demand to purchase shops at the mall will increase.
Nevertheless one of the most attractive features of this project is its credibility. Citizens have started to trust in the projects by these builders as a safe investment option. Lastly, most of the shops and are being sold already as less area for shops is left and more people to buy in, this again makes the prices of the mall to increase rapidly.
Conclusion:
Abul Qasim mall will not be limited for catering to its local residents or investors but also to all the other housing societies situated on the main highway in the outskirts of Bahria Town Karachi. Thus Precinct 17 and 18 have homes of 1000, and 500 sq yards.
It shows that it will be the lavish home area nearby hence a major market that can be leveraged by providing the day to day supplies. Nevertheless as mentioned above the mall is very close to the commercial theme park Danzoo which is a perfect tourist spot for citizens. The recreational advantage makes this a good choice for budget food areas and spots.
The farmhouses Precinct is also close by driving a large chunk of customers to walk in the mall for shopping. It is also close to the Danzoo which is a great tourist and residential entertainment and leisure spot. The recreational advantage makes this a good choice for budget food areas and spots.
So whenever you are ready to make an investment that fits your future needs and you need more information about this ongoing project then you can make sure that you contact one of our agents who will be able to guide you better. The experts at Pakistan Property Leaders are always keen on helping you get what you need, when you need it with the maximum amount of information that is required to make a suitable decision.
Hence, contact us now to get the property in Abul Qasim Mall before the prices rise. Make a decision that gives you net capital gains a good return on your investment.